At the turn of the year, Republic of Ireland's Niamh Farrelly was about to take a major step in her career.
The 21-year-old had just been part of Peamount United's double-winning season but was joining the Dublin club's Champions League opponents from last November, Glasgow City FC, having impressed in that fixture, prompting the Scottish club's head coach Scott Booth to get in touch.
However, the Covid-19 pandemic means that she was only able to make her debut for the Scottish Women's Premier League's most successful team on Sunday after the league was permitted to resume.
But it was a debut to remember as Farrelly got on the scoresheet in a 3-0 win over Celtic which helps Glasgow keep pace with Rangers at the top of the table.
"It was a long time coming because when I did move over there on New Year's Day this year, obviously everything kind of shut off in Scotland due to coronavirus. So that was my first game," she says.
"So I was over there for three months but yesterday playing against Celtic, getting the start, my professional debut and then getting a goal... I haven't really thought about it much. It's been a mad few hours, so I'm delighted."
With that long-awaited debut now out of the way - and successfully so - thoughts immediately turn to international duty as she links up with Ireland head coach Vera Pauw's squad for friendlies against Denmark on Thursday and then Belgium three days later.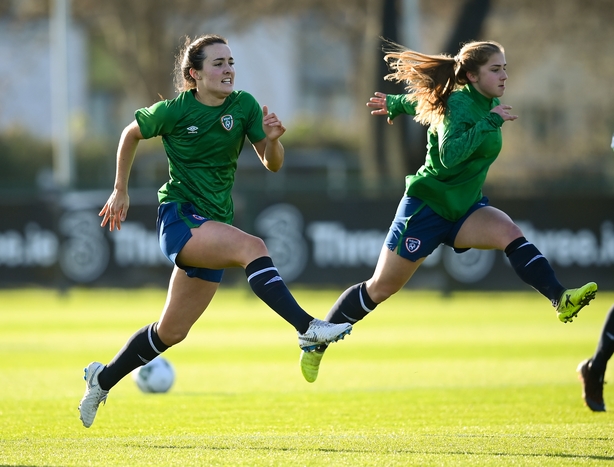 A fixture against Brazil fell by the wayside due to the pandemic and although missing the opportunity to take on one of the giants of the game is "disappointing", Farrelly tells RTÉ Sport that all of the Ireland team's focus remains squarely on the Danes and the Belgians who provide a warm-up act ahead of the draw for the World Cup qualifiers.
And Farrelly will be hopeful of featuring significantly from here on in as the Glasgow move offers the opportunity of full-time football. Pauw was one of the key people Farrelly spoke to about the potential transfer and her international team boss' backing proved instrumental in signing on the dotted line.
"I did let Vera know that it was in my intentions to maybe go abroad and then when I brought up that Glasgow were interested, she was happy for me and she said it would be good for my development as a player," she says.
"Obviously, you're training more in a professional environment. So yeah I did speak to her and she gave me all her support."
Glasgow City already had a notable Irish contingent, with Clare Shine and Manchester City loanee Tyler Toland at the club. 
And striker Aoife Colvill, who also found the net against Celtic, can be added to the list soon. Eligible for Ireland, she was among a quartet invited to link up with the squad by Pauw and Farrelly believes her new club team-mate will add more firepower once she becomes available for matchday action.
"Aoife is a great player. I haven't seen much of Aoife but from what I've seen in training, because we haven't had matches, she had a great game yesterday against Celtic," says Farrelly.
"She's a strong, physical player, good finisher, so she'll be a great addition to the squad and she was chatting to me about the Ireland camp and stuff and how things are run and obviously I was all praise because it's great and all. All the girls are great here and they'll all be very welcoming for when Aoife comes in."