Ireland may still be smarting from missing out on Euro 2022 qualification, however, Vera Pauw's international unit are starting to make noises amongst the top teams in the global game.
Defeat in a game that they dominated in Ukraine will haunt the Irish side for the foreseeable future as they missed out on a play-off for the England-hosted event next summer.
Ukraine advanced and will now play Northern Ireland for a place at the tournament on Friday, and while the Republic would put themselves at a higher level than both sides, they must instead look towards qualification for the next World Cup, which takes place in Australia and New Zealand in 2023.
Ireland host Denmark in a friendly international at Tallaght Stadium on Thursday, however, they could also have been playing Brazil only for Covid regulations preventing the glamour encounter from being arranged.
Ireland competed both home and away against the world's number two-ranked side, Germany, in the recent qualifying campaign, most notably in the performance at Tallaght Stadium, where Pauw's side took the game to their esteemed opponents.
And as a result, Pauw believes that Ireland no longer have to travel to get to play the top-tier nations, and expects to see high-profile games in Dublin in the future.
"We had planned to use last month's window for a friendly against Northern Ireland, but it got called off at the last minute," said Pauw, speaking at Sunday's press conference. "England would not allow us to travel in."
"It is not the case anymore that Ireland is seen as a country that needs to travel. Brazil contacted us because the coach wanted to play us in Ireland. That was because of our style and play; we are getting a different status internationally."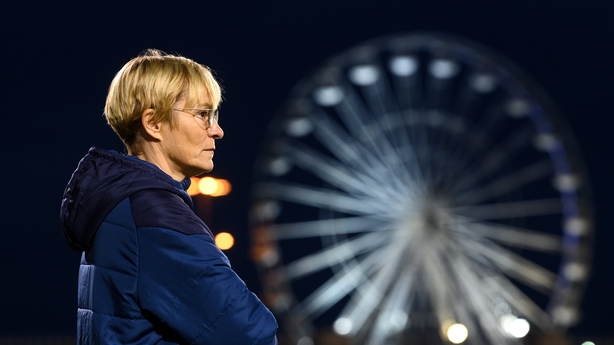 In essence, the road to the World Cup begins at Tallaght Stadium on Thursday night as Ireland take on the world number 14-ranked side, before travelling to Belgium for Sunday's game in Brussels.
The draw for the World Cup qualifiers will take place on 30 April and group games could begin as early as this September.
And while Pauw impressed during her maiden campaign with the national side, she said that she feels that there is a lot more to come from this group of players.
The manager's style of play has also been praised, and while she said that the last campaign showed her footballing philosophy, she said that it would continue to evolve based on the level of players that she has in her squad.
"I adapt to the qualities and the talents of the players, and we play a style that suits those players, and so in that sense, you have seen my style.
"If you ask where this team can grow to? We haven't seen their ceiling yet, and we can grow a lot in possession and controlling games under high pressure.
"That's why we have chosen to play against two very good teams, we need to learn to show our quality and to be composed with each other with team-work under the highest pressure."
Looking ahead to the two friendly encounters, Pauw has not placed any importance on the results, and in fact said that Ireland can afford to lose the games against the higher ranked sides, as the matches will help make her own team better in the process.
"We asked [Denmark] to come here. I wanted a fixture here against a top team but also a team that we can build up the play under high pressure," said Pauw.
"We could get lower-ranked teams, but I decided to take the chance and play Belgium.
"We can lose both games, because they are ranked 14th [Denmark] and 17th [Belgium] in the world whereas we are ranked [joint 31st], but I don't fear losing at this point. In this stage, we need to learn as much as we can."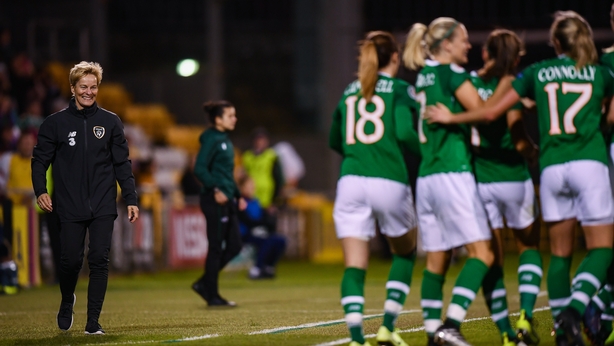 Unlike her male counterpart, Stephen Kenny, Pauw has already watched her side win games and has the luxury of not having to secure results to keep the critics off her back.
And while she did not offer too much insight into the men's performances last week, as she is "not part of the group", she does believe that things will start to improve under the new manager.
"What I do see is that there are many young players, and many players who could not be there, and the coach tried to get the best out of them.
"The results have not been his way, but that will come, because that will grow and there will be more players gaining more experience and I have huge respect for the situation that Stephen is in and the way that he is handling it. I think that is very, very good."
Pauw was again asked about the issue of equal pay for the women's team in realtion to their male counterparts, however, she re-iterated that fact that she believes creating a culture of equal opportunities is the best approach to the situation.
"We have of course had discussions. Equal pay is on the table and we will grow towards that, but everyone knows the FAI's circumstances. It's more about equity and the opportunities to develop, equal pay is a separate issue.
"Equity is developing a pathway for every single player in the same way that boys do. At the moment, that is separate. Equal pay is reward for your performances in the international team and that is a different subject."
Meanwhile, the FAI released an updated squad for the two matches where injuries have ruled out Megan Campbell, Leanne Kiernan and Clare Shine, while goalkeeper Niamh Reid-Burke retired from international football.
Julie-Ann Russell and Nicole Douglas cannot travel due to Covid restrictions and Harriet Scott is undertaking exams.
There are also invites extended to the quartet of defender Florence Gamby (London Bees), midfielders Lily Agg (London City Lionesses) and Emily Murphy (Birmingham City), and forward Aoife Colvill (Glasgow City), who are eligible to declare for Ireland but will not be part of the match-day squad for this camp.A number of players from the original provisional list are on standby, while DLR Waves goalkeeper Eve Badana will join the squad for sessions at the FAI National Training Centre.
Republic of Ireland squad
Goalkeepers: Courtney Brosnan (West Ham United), Marie Hourihan (SC Braga), Grace Moloney (Reading)
Defenders: Keeva Keenan (Celtic), Claire O'Riordan (MSV Duisburg), Louise Quinn (Fiorentina), Niamh Fahey (Liverpool), Diane Caldwell (North Carolina Courage), Claire Walsh (Peamount United), Niamh Farrelly (Glasgow City), Áine O'Gorman (Peamount United)
Midfielders: Megan Connolly (Brighton & Hove Albion), Denise O'Sullivan (North Carolina Courage), Ellen Molloy (Wexford Youths), Jamie Finn (Shelbourne), Hayley Nolan (London City Lionesses), Ruesha Littlejohn (Birmingham City), Emily Whelan (Shelbourne), Alli Murphy (London City Lionesses), Katie McCabe (Arsenal)
Forwards: Rianna Jarrett (Brighton & Hove Albion), Amber Barrett (FC Koln), Heather Payne (Florida State University), Kyra Carusa (HB Hoge)