Much of Stephen Kenny's post-match interview with RTÉ Sport after Tuesday night's draw against Qatar consisted of the sort of stoic soundbites you'd expect.
"We're disappointed to draw", "we had chances to win it", "it was a good display", "I'm happy with the evolution of the squad".
Towards the end though, there was a sudden and significant change of tone. It was as if the Republic of Ireland manager said, 'to hell with it', as he cast off the shackles that can prevent a man in his position showing his true emotions in front of the camera.
"I'm used to winning every week," Kenny stressed, his voice rising not just in volume but in pitch.
"For about five years [with Dundalk] I lost hardly any matches. With the Under-21s we nearly won every match. The reason I was given the job is because of my record.
"We're disappointed about Luxembourg. You've everyone coming out of the woodwork now wanting to kick us when we're down. That's alright. That's the gig we're in, that's part of it and you have to accept it.
"But I have great belief in the players we have in this squad. I think we're going to formulate a very good squad over the next couple of years and I'm certainly going to be a part of that. I'm going to manage that and make sure we're even better."
"You've everyone coming out of the woodwork wanting to kick us while we're down and that's alright... but I've great belief in the players and I think we're going to formulate a very good squad"

Watch Stephen Kenny's full post-match chat with @Corktod #RTESoccer #QATIRL pic.twitter.com/Bdg0ivdYYh

— RTÉ Soccer (@RTEsoccer) March 30, 2021
It was a rallying cry, emotional but controlled. He continued the theme in the press conference later on.
Asked if he'd been hurt by some of the criticism in the wake of the defeat to Luxembourg, Kenny replied: "It doesn't hurt me because, you know what? I don't care. I know what I'm doing. I have real clarity in what I'm trying to implement. I don't care what anyone says."
That may be true. Kenny is entitled to point out he built a winning machine at Dundalk that ultimately earned him his dream job but he's known leaner times too, notably at Dunfermline and Shamrock Rovers.
This is a man who's been in management for well over 20 years and even if this is easily the highest profile position he's ever had, there are universal truths in football. When you're winning, you can do no wrong. When you're not winning, every decision you make is questioned.
Kenny's reign so far has split supporters down the middle. There are many who see him as a figure of enlightenment, a principled and brave coach who is trying to peel Irish football away from an out-of-date, technically inept style of play that's at odds with the rest of Europe.
Others read the cold stats and raise an eyebrow: 11 games played, no wins. Four goals scored, nine conceded. Defeats to Finland [twice], Wales, Serbia and Luxembourg.
Both opinions hold truck. Kenny is attempting to completely change the style and approach of this Ireland team; but in doing so he's encountered terrible luck and some teething problems.
On a weekend where Gabriel Clarke's outstanding Finding Jack Charlton documentary again allowed the country to bathe in the warm glow of the glory days, Ireland felt the distance of a million Packie Bonner kickouts from those dizzy heights. That is hardly all Stephen Kenny's fault.
The Luxembourg result - which felt like an electric jolt down the spine - has probably been coming for a while. It wasn't the enormous upset we might like to believe either.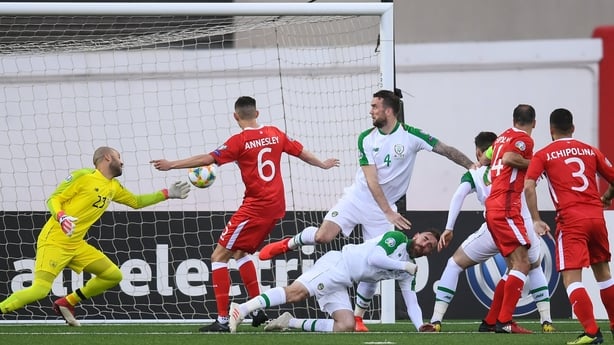 Mick McCarthy sort of tread water in his one-campaign return to the hot seat but in his first game in charge he came perilously close to slipping up in Gibraltar, currently ranked 195th in the world [Luxembourg are 98th].
Jeff Hendrick's second-half goal got Ireland out of the Rock with a win but only just - Darren Randolph pulled of a brilliant save to deny Roy Chipolina when a dire game was still scoreless (above).
Against Luxembourg on Saturday Ireland should have taken the lead through James Collins who failed to finish off a sweeping move that started at the feet of young keeper Gavin Bazunu. In the end a tight game was settled by a good finish from Gerson Rodrigues, the Dynamo Kyiv player who scored again three days later against Portugal, the country of his birth.
Luxembourg finished second in League C Group 1 of the Nations League, just missing out on promotion behind Montenegro. Ireland finished third in League B Group 4, failing to win a game and avoiding relegation by a point.
One of Ireland's strongest performances of the last two years came against Slovakia in the Euros play-offs semi-final, when they were unlucky to lose on penalties. On Saturday night, Slovakia drew 2-2 with Malta, who were two up at half-time.
All across Europe traditional minnows have been improving pretty steadily, becoming more organised and generally benefiting from most of their players playing in decent professional leagues around the continent, as Luxembourg have.
That's not to excuse this grim current winless run but it's useful to have context. It's also worth pointing out some of the "evolution" Kenny has referenced.
The shape and organised press was good against Serbia and last night too, albeit in both games Ireland faded after the break, testament perhaps to the fact that players have to expound far more energy than before.
The midfield and wing-backs in Kenny's 3-5-2 system really do have to work hard, which may also explain his decision to go with younger players like Jayson Molumby, Jason Knight and Josh Cullen in the two qualifier games.
Kevin Doyle analyses James McClean's goal and highlights coach Anthony Barry's potential role in the set-piece routine that led to it

Second half updates: https://t.co/oV8GbUjetH

Live now @RTE2 and @RTEplayer #RTESoccer #QATIRL pic.twitter.com/yZu5Jh2UPw

— RTÉ Soccer (@RTEsoccer) March 30, 2021
And McClean's goal against Qatar was tangible evidence of a team doing productive work on the training ground, a very clever three-man setpiece involving Daryl Horgan, Robbie Brady and finally McClean, though others like Shane Long and Shane Duffy also made important movements to open it up. It was the type of play that just wouldn't have been considered under Martin O'Neill for example, who took a minimalist approach to preparations.
There will doubtless be more tactical tweaking when Ireland head to Spain in June for a nine-day training camp that will include games against Hungary and Andorra in friendlies in June. It is an important spell for the manager given the next World Cup qualifier comes in September away to Portugal.
Andorra were beaten 3-0 by Poland on Sunday. They finished bottom of their group in League D of the Nations League, failing to win a game against the Faroe Islands, Malta and Latvia. They are ranked 151st in the world.
Hungary are in the same World Cup qualifying group as Andorra. They drew 3-3 with Poland last Thursday and then beat San Marino 3-0. The Hungarians gained promotion from League B of the Nations League ahead of Russia, Serbia and Turkey and qualified for this summer's Euros thanks to a dramatic fightback against Iceland in the play-off final.
June offers two tests of varying degrees but any win will do now.
Back in 2007 after Steve Staunton oversaw a cataclysmic 5-2 loss in Cyprus he staggered on for 12 more games.
Kenny's challenge now is to prove the Luxembourg game was a turning point for the right reasons, to be able to hold up a win or two to vindicate the more expansive direction he's taking this team, and to keep his critics in the woodwork by proving his methods can deliver results.