Stephen Kenny has lambasted the critics who "have been coming out of the woodwork" to question both his side and his methods following Ireland's disappointing defeat to Luxembourg on Saturday.
Speaking after tonight's international friendly against Qatar in Hungary, which ended 1-1, Kenny asserted that he was not really concerned about those calling his methods and tactics into question.
Kenny was adamant that the squad were on the right track to succeed, they were going to get even better over the next couple of years, and that he would be the man to lead them for the foreseeable future.
Ireland's winless run has now stretched to eleven games since Kenny took over the national side, and while the manager admitted that a victory against Qatar, where his side again lost an early lead, would have been welcome from a statistical point of, he is still more concerned by the defeat on Saturday and added that the squad were still kicking themselves over the result.
"You've everyone coming out of the woodwork wanting to kick us while we're down and that's alright... but I've great belief in the players and I think we're going to formulate a very good squad"

Watch Stephen Kenny's full post-match chat with @Corktod #RTESoccer #QATIRL pic.twitter.com/Bdg0ivdYYh

— RTÉ Soccer (@RTEsoccer) March 30, 2021
And while the draw in Qatar was a chance to again work his new system and get the players more familiar with his techniques and tactics, he appeared more concerned with closing the door on the result in Dublin, where Luxembourg all-but ended the side's chances of reaching next year's World Cup.
"There's nothing we can do about that now, we can just look forward," said Kenny, speaking to RTÉ Sport after the game.
"It's only six months since our first match and we've been implementing a completely new style. We want a brilliant culture in this squad going forward, there's a real togetherness, but we just let ourselves down by not beating Luxembourg. We know that. We're kicking ourselves.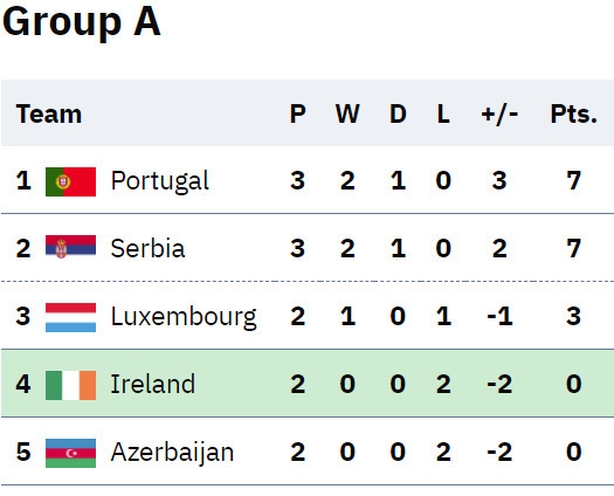 "I'm used to winning every week. For about five years [with Dundalk] I lost hardly any matches. With the Under-21s we nearly won every match. The reason I was given the job is because of my record. I'm happy with the way the players are progressing at the moment.
"We're disappointed about Luxembourg. You've everyone coming out of the woodwork now wanting to kick us when we're down. That's alright. That's the gig we're in, that's part of it and you have to accept it.
"But I have great belief in the players we have in this squad. I think we're going to formulate a very good squad over the next couple of years and I'm certainly going to be a part of that. I'm going to manage that and make sure we're even better."
Looking back on tonight's game, where Ireland made eight changes from the side that lost to Luxembourg, Kenny said that he felt that his side should probably have won the match.
"I thought it was a decent game," said Kenny.
"Qatar played some good football, quick on the counter-attack. Again, we probably had the much better chances, so I'm disappointed to draw, I felt we had some good chances to win it. I don't know how we didn't score at the end. We're disappointed not to win the game overall."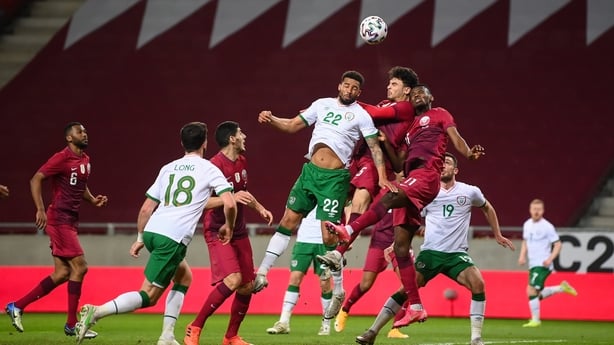 The game in Debrecen ends the March international window and apart from a training camp in June that should see Ireland play Hungary and Andorra, Kenny's side must wait until September for their next competitive action.
During this international window, Ireland lost in Serbia before the shock defeat to Luxembourg, which leaves them with no points from the opening two games of the qualifying campaign, and while the manager admits that he would have liked to have done better, he is also encouraged by the progress that his new-look side have made.
"Of course, we would have wanted to do better, but there is a lot of encouragement with some of the displays," said Kenny.
"You can see the integration of the young players and the experienced players. The spirit was terrific this year, and we have to transmit that into results,
"There was a lot of good football played in the matches, but we need to improve, we know that.
"And there are some good players to come back into the team who've missed out as well this week. John Egan, Conor Hourihane, Aaron Connolly both of the goalkeepers, Darren Randolph and Caoimhin Kelleher."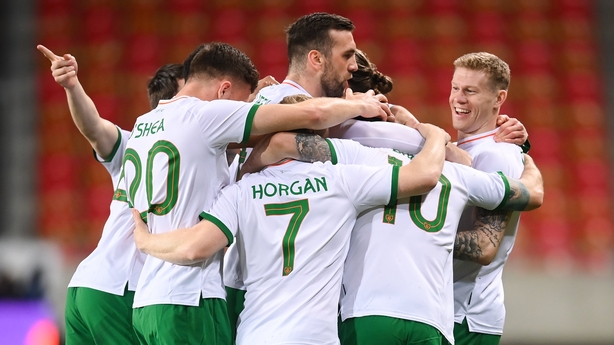 Another positive to be taken from the camp is that the manager believes that there is now real competition for places, which is especially needed for three-game windows.
And while Kenny appeared to blend the youth into the team without upsetting the senior players who missed out, he emphasised that it is an honour to play for your country and everyone knows that they have to sacrifice their own aspirations for the greater good.
"All of a sudden the midfield has genuine competition," said Kenny. " There is a lot more competition for places, and we will need that for the intensity of three games in six days.
"It's an honour and a privilege to be selected for the international squad, it's an honour that every player acknowledges and understands.
"Wearing the grean shirt is pretty special and that's made obvious by all the players, particularly the captain Seamus Coleman, and all the players they understand the importance of wearing it.
"It's an honour to be in the squad, to be selected, whether playing, coming on or not involved.
"It's all about the country, doing it for the country, you have to sacrifice yourself for your country, that's the way we view it."