James McClean insists that the Republic of Ireland players are firmly behind manager Stephen Kenny but accepts that a win would do wonders for morale after a 1-1 friendly draw with Qatar.
McClean gave Ireland an early lead in Debrecen but Mohammed Muntari equalised shortly after the restart.
A draw was some relief after back-to-back defeats to Serbia and Luxembourg but the focus will again be on Kenny's wait - 11 games now - for a first victory in charge.
"We went 1-0 up and it was a well-worked goal but conceded straight after half-time and that's disappointing," McClean told RTÉ Sport.
"We didn't take our chances when they came and that's the difference at this level.
"It would have been nice tonight, for ourselves, for the manager and for the nation to get that win. Hopefully when the first one comes, the rest follow."
McClean said that Kenny's attempt to revolutionise Ireland's style of play deserved patience.
"We have been a one-style nation for as long as I can remember.
"The manager has got his own ideas and so far the results haven't been how we want them to be but hopefully, the pain of Luxembourg, that's a turning point.

"We're really trying to put the ideas from the training ground, the manager's philosophy out there, to be what some might call a more 'pleasing on the eye' team, and it's going to take time. We've got new players now.
"But hopefully we can get a win soon because I think when we do that get first one, things will look a lot brighter going forward."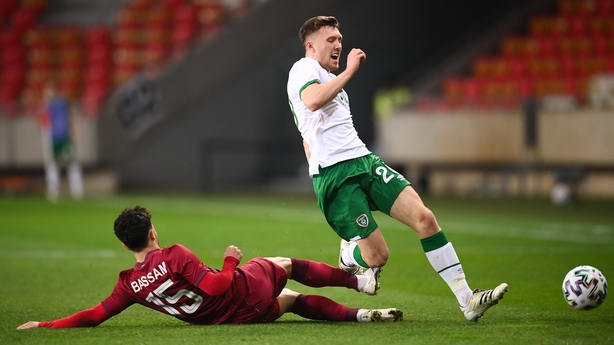 Centre-back Dara O'Shea said that the players had been motivated to atone for Saturday's shock defeat and declared that "everyone is behind the manager".
"It was in back of our minds coming into this game," he said of the 1-0 loss to Luxembourg.
"We played well in spells today, everyone was hurting and embarrassed from the other night and had a point to prove and put things right.
"The other night, the players need to take that. The manager and staff prepared us well for the game and it was up to us to perform and we didn't turn up and we didn't perform and we got punished.
"That's what happened at this level. You have to be clinical and take your chances and not leave is so late to try and win a game.
"For it [Qatar's equaliser] to happen so early in the second half was tough on us. It's not okay, we need to be resolute and start second half well. We started the first half well and we needed to do same in the second. Obviously a lack of concentration and a breakaway and they punished us."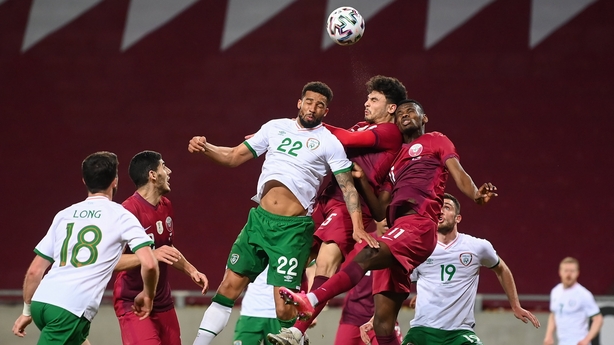 Cyrus Christie, who said he felt comfortable in what was an unfamiliar right wing-back role, felt Ireland's strong start was down to the eight players who came in having something to prove.
"There was a lot passion. We played it as if it wasn't a friendly.
"There's the bare minimum that you have to do when we represent our country - hard work, determination and pride. When we give that we're a tough team to play against.
"A lot of boys were maybe upset that they didn't feature in the previous two games because they believed they could have added a different impetus to the game. We had to come out and stake our claim.
"Everyone is desperate to get a win for the manager. It's not good enough that we haven't won in 11. But we have to keep going and we can't get down."