VENUE
Wednesday 24 March, Stadion Rajko Mitic, Belgrade, 7.45pm (Irish time)
TV
Live coverage on RTÉ 2 and RTÉ Player from 7pm
ONLINE
Live blog on RTÉ.ie and the RTÉ News app from 7pm
RADIO
Live commentary on Game On on RTÉ 2fm
If we'd ducks, they'd pull a hamstring
The beginning of a World Cup campaign and we should be full of gusto and full of beans. Instead, there's a sense of dread and trepidation.
The lead-up has been dominated by Ireland's injury list, which crossed over from chronic to comical at the weekend.
Four players from the squad pencilled in last week were forced to pull out. Caoimhin Kelleher has failed to recover from his stomach-muscle injury meaning that Ireland are, remarkably, without their two main goalkeepers.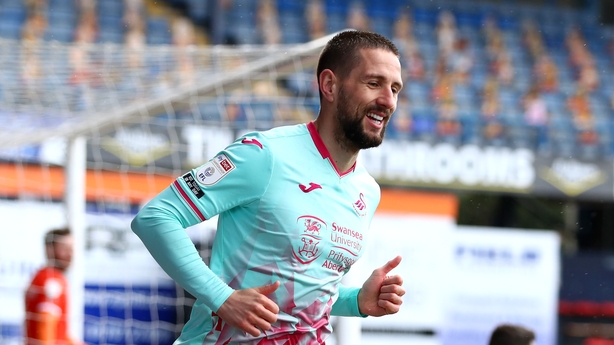 Conor Hourihane, who missed a sitter in Slovakia, but who has shone for Swansea City playing in a more advanced role in the Championship this season, suffered a hamstring injury against Cardiff City.
A hamstring injury has also laid Callum O'Dowda low, while Kevin Long is ruled out, though the nature of the injury hasn't been confirmed.
James McCarthy, Adam Idah and John Egan - the latter being deemed central to how we wish to play by Kenny - have long been known to be absent.
Napoleon wanted lucky generals rather than good ones and on that basis he'd already have told Stephen Kenny to get lost and never darken his door again.
Darragh Lenihan and Conor Coventry have been called up to the squad in place of the late absentees, while there is some uncertainty over James McClean's level of fitness.
"I don't think he's fit enough," said Stoke boss Michael O'Neill at the weekend, expressing surprise at his inclusion.
In better news, Aaron Connolly, initially ruled out, has been deemed okay to play, heading over for international duty with the blessing of Graham Potter.
And at least no one has Covid-19 this time around.
---
We need your consent to load this SoundCloud contentWe use SoundCloud to manage extra content that can set cookies on your device and collect data about your activity. Please review their details and accept them to load the content.Manage Preferences
Listen to the RTÉ Soccer podcast on Apple Podcasts, SoundCloud, Spotify or wherever you get your podcasts.
---
Standard goals lament
Stephen Kenny precipitated a bit of a culture war skirmish in Irish football late last year, with the intellectuals and the podcasters earnestly welcoming his 'progressive' approach, while the sceptics looked at their watch and wondered aloud whether there's "e're a chance of a goal being scored here soon".
Ireland endured ruinous luck on the coronavirus front and did play some nice stuff at times, in Slovakia in particular, where they were unfortunate not to win in the 120 minutes of play.
Given the horribly depleted nature of the squad, the performance at home to Wales three days afterwards was also reasonably impressive and somewhat under-appreciated.
For all that, scoring one goal in eight matches is pushing it a bit. It is asking rather a lot of Kenny's advocates to continue defending that situation, no matter the mitigating circumstances.
Shane Duffy's form for Celtic has been so calamitous that for many, it was imperative that we find a way of getting him out of the national team as soon as possible.
Even with John Egan absent through injury, Ciaran Clark and Dara O'Shea look a more in-form option at centre-back. Nonetheless, someone will correctly point out here that Shane Duffy is the only player to score in the Stephen Kenny era thus far. His threat at set-pieces may see him feature in the game in some shape or form.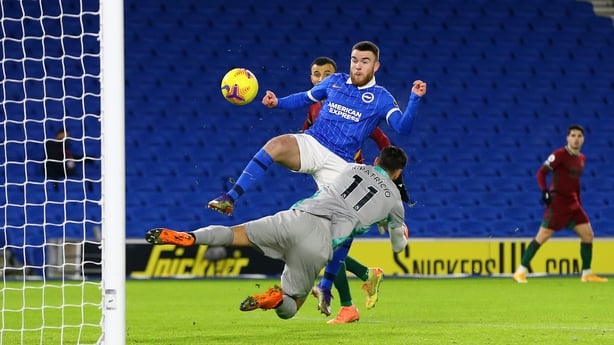 As for the guys who are supposed to be doing the scoring, it hasn't been a great old season. In pure numbers' terms, James Collins and Ronan Curtis are faring best, both having notched 10 goals in 2020-21, with the former operating in a higher division.
Our Premier League strikers have endured patchy seasons and have only a couple of goals apiece to their name.
Callum Robinson, who played well alongside David McGoldrick in Bratislava, has fallen out of favour at West Brom since Sam Allardyce's arrival and hasn't scored since a brace against Chelsea in September.
Aaron Connolly looks Ireland's most complete and threatening attacker at present but isn't yet a reliable goalscorer, scoring most recently on New Year's Day against Wolves.
Troy Parrott did at least break his duck at senior level for Ipswich Town recently and depending on the scenario, he may be tossed in as a bolter.
Serbia in upheaval
The fog of pessimism enveloping Irish football currently may have blinded us to the reality that Serbia are not in rude health either.
Like Ireland, they failed to reach Euro 2020, an even more ignominious feat on their part given they found themselves in League C of the 2018-19 Nations League.
A third spot finish in the standard qualifying campaign - behind Ukraine (who they lost to 5-0 away from home) and Portugal - saw them forced to take their chances via the cat-flap of the Nations League.
After pipping Norway, a win at home to Scotland would have done the trick. They proceeded to lose on penalties, allowing the jubilant Scots to reach their first major tournament of the 21st century.
Ljubiša Tumbaković was out as head coach - Serbian legend and Arsene Wenger protege, Dragan Stojković, was drafted in.
Elsewhere, their federation chief, Mr Slaviska Kokeza, is being assailed by headlines like this one from ESPN: "Serbian FA chief questioned by police over fan mafia links".
Despite recent yips, they boast reasonable talent up the pitch, particularly with Dusan Tadic and Luka Jovic, though the previously prolific Aleksandar Mitrovic is out of sorts at Fulham.
Serbian journalist Nebojsa Markovic spoke to RTÉ Sport's Raf Diallo this week ahead of the game, giving the lowdown on the hosts.
We need your consent to load this YouTube contentWe use YouTube to manage extra content that can set cookies on your device and collect data about your activity. Please review their details and accept them to load the content.Manage Preferences
"Usually when we play against sides like Republic of Ireland, we believe that we have a better team in terms of individuals and all that kind of stuff," says Markovic.
"But we also know that we're the kind of team that can mess it up against any side or we can be brilliant against any side.
"As Forrest Gump would say, 'it's a box of chocolates', you never know what you're going to get from us. The games against Norway and Scotland are basically the ideal way to show what kind of team Serbia are. Sometimes Serbia are brilliant and sometimes appalling."
History corner
Given the convulsions in that part of the world over the past three and a half decades, getting a handle on Serbia's football history is a bit tricky.
According to FIFA's rulings on the subject, they are deemed the only official successor to the pre-1992 Yugoslavian team, rather in the same way Russia inherited the results of the old USSR.
The old Yugoslav team was a powerful entity - younger readers should imagine an amalgamation of Croatia, Serbia, Montenegro, Slovenia, Bosnia & Herzogovina and a couple others. They reached the last-four of the World Cup in 1962 as well as the final of the inaugural Euros in 1960 and again in 1968, losing both.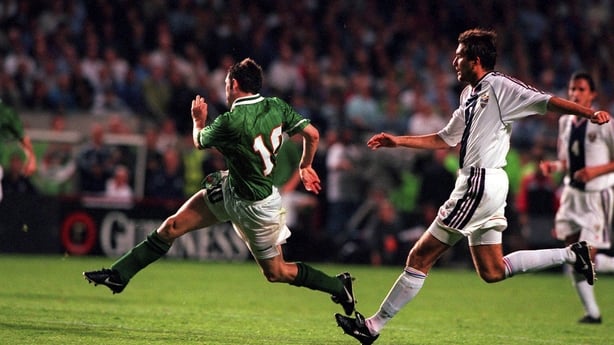 The Serbs can hardly take sole or even primary credit for that. Most of that team's best players tended to be Croats.
One of their finest teams arrived just as the whole geo-political situation blew up in the early 90s. In 1990, they were unlucky to exit the World Cup in the quarter-finals after a shoot-out loss to Argentina. The following year, Red Star Belgrade won the European Cup and the Yugoslavs sauntered through Euro 92 qualifying, leaving second-placed Denmark trailing distantly in their wake. We know what happened next.
Their history with Ireland is slight enough but notable.
The story of the 1955 friendly has gone far and wide, with the Catholic hierarchy and several establishment figures urging the cancellation of the game, in protest at Tito's regime. President Sean T O'Kelly rejected the invitation to attend the match but the FAI resisted the pressure to cancel and 22,000 spectators showed up, many as a mark of defiance. On Liam Tuohy's debut, the Yugoslavs won 4-1.
Our first competitive tie-in with Yugoslavia (this being the post-split FR Yugoslavia outfit) came in the Euro 2000 qualifiers. Croatia and Macedonia were also drawn in that qualifying group, leaving Mick McCarthy's Ireland very much the odd-team-out in a Balkan grudge-fest.
Predrag Mijatovic - the only scorer in the Champions League final the previous May - scored the winner in an uneventful qualifier in Belgrade in November '98.
Ireland were due to host the Yugoslavian team in summer '99 but the small matter of the NATO bombing campaign disrupted the schedule. The Milosevic regime had rendered their country pariahs among the western nations.
UEFA wanted the game to proceed, the Irish government did not, with the FAI stuck in the middle.
In the end, the match was postponed for three months, with FAI being forced to pay 50,000 francs to a Swiss charity for the Irish show of insubordination. The re-scheduled match was uplifting however, Robbie Keane and Mark Kennedy scoring superb goals in a 2-1 win.
There have been five games against Serbia in their current guise, three of them friendlies, the first being Giovanni's Trapattoni's introduction to the Irish public in 2008.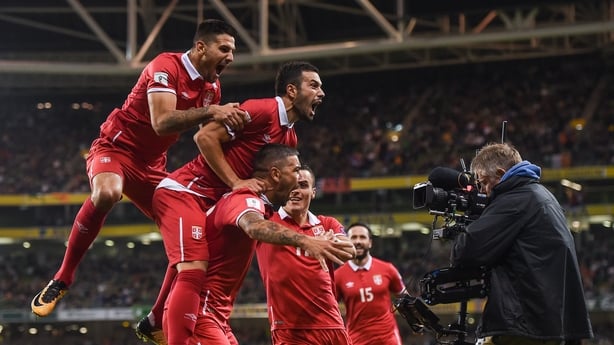 The 2018 World Cup qualifiers provided us a rather chaotic 2-2 draw in the opener in autumn 2016 and then a 1-0 win for the Serbians in Lansdowne Road, which appeared, at a time, to have sunk Ireland's qualification chances below the waterline before an improbable lifeline in Cardiff.
Verdict:
Serbia 1-0 Republic of Ireland
No amount of patriotic ardour could leave you feeling too bullish about this one. The Serbians may have problems of their own but they surely pale next to ours.
Follow Serbia v Republic of Ireland via our live blog on RTÉ.ie/sport and RTÉ News app, watch live on RTÉ2 and the RTÉ Player or listen to commentary on RTÉ 2fm's Game On