Wolves manager Nuno Espirito Santo says goalkeeper Rui Patricio is "OK" and is "going to recover" after suffering a worrying head injury in the 1-0 defeat to Liverpool on Monday.
The Portugal international needed lengthy treatment and was carried off on a stretcher in stoppage time of the Premier League fixture when he was accidentally caught in the head by club captain Conor Coady.
The pair collided trying to stop Liverpool's Mo Salah with five minutes remaining.
It was the second head injury concern for Wolves this season after striker Raul Jimenez fractured his skull at Arsenal in November.
Giving an update on Patricio after the match, Wolves boss Nuno Espirito Santo told Sky Sports: "He is OK, he is conscious, he remembers what happened, he is aware. So the doctor told me he is OK.
"It was a collision with Coady, I think the knee of Coady, on the head. But he's OK. We speak already.
"All these situations when it is a concussion in the head gets all of us worried. But he's OK. He's going to recover, so everything is OK."
Liverpool boss Jurgen Klopp said of the Patricio incident: "What an awful situation. I didn't see it really. Diogo spoke to one of the staff there and they are rather positive. It was a proper shock."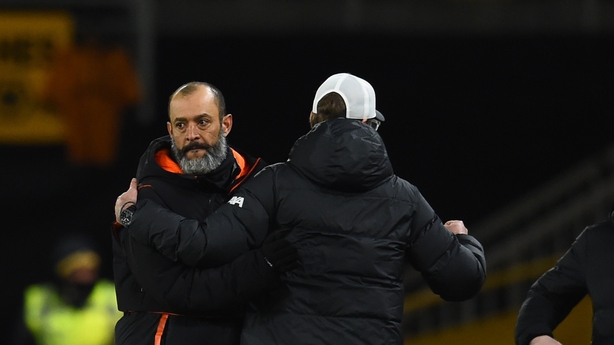 Regarding the result and his side's performance, he added: "Diogo [Jota] has had an impact since he has been back and it makes it more special he was able to score. It was a perfect moment to score, a second before the half-time whistle.
"The rest of the game was a lot of defending but I'm completely fine with that. It's what I wanted to see, that we understand the situation. It's not about being Liverpool on a gala night.
"I'm really happy about the performance. I couldn't be more happier with the dirty three points.
"We had very good moments where we should have done better. Defensively the whole game was really good, but I didn't like the start, we weren't active enough."
Diogo Jota, scorer of Liverpool's winning goal, said his thoughts were with his former team-mate Patricio, adding: "I hope it is nothing too serious and I wish him a speedy recovery."
Asked how it felt to come back to Molineux and score against his old club, he said: "Very special.
"I've been here for over three years, working every day with almost everyone in that dressing room. So obviously it was special. I just wish the fans could be here as well, but anyway, a good result for us and for me."