Republic of Ireland international James McClean has described the latest abuse and threats against him this morning as "mind-blowing" and that it is "baffling" that such hatred exists against him.
McClean and his wife Erin spoke on RTÉ's Today with Claire Byrne this morning, hours after the latest instance of online threats. 
Earlier this week, Erin McClean referenced a threat received about burning down their family home in England.
A message has since been sent to McClean's brother Patrick, saying that "rather than burning down the family home, they would rather tie James to a chair and set him on fire" and make his wife  Erin and their children view.  
James McClean said watching the effect it has on his wife, and that she has to go through it because of their marriage, is just one burden to carry from the many years of receiving messages. 
"I saw it," he said in reference to the latest social media message.
"The kid, he looks like he is 13 or 14. To have that anger and hatred at that age is mind-blowing. I don't understand it at that age. I think back to when I was that age.
"To have that amount of hate for someone you don't know in you, and to carry out (the threat), is baffling."
We need your consent to load this rte-player contentWe use rte-player to manage extra content that can set cookies on your device and collect data about your activity. Please review their details and accept them to load the content.Manage Preferences
McClean believes that he has become a figure of hatred in England because of children and adults being influenced by family members or through the media.
He feels he has been painted as someone who is anti-British. 
"It comes from being told it at home or seeing it in the media. The media is a powerful entity. They can make or break a person. They are never held accountable for what they write or say. In the media, I have done so much charity work over the years and there is always a section about the poppy in it.
"The media portray me, especially in England, as this (anti-British) person.
"People, without educating themselves, believe it. That is the world we live in. People believe what they read nowadays, especially in the media. Without knowing me or taking the time to educate themselves, they see me as that character. It fuels hate."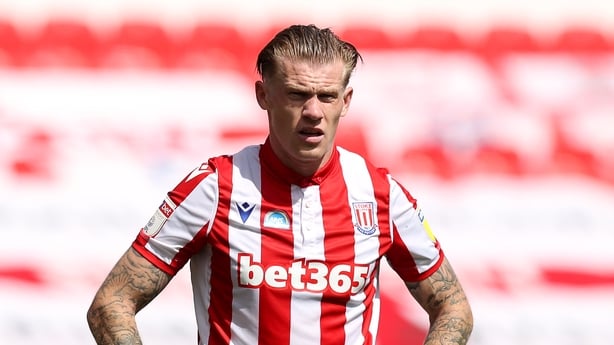 The McCleans say they are speaking out now to prevent the next generation of Irish footballers from suffering from similar threats.
Erin revealed she has spoken to their oldest daughter, aged 7, who raised concerns about her father being disliked, and has tried to blame it on football rivalry.
"It is just how it has been. That is why we are speaking out because we don't want anyone else to have to go through what he has been through for a decade. Our son is football-mad. You ask him what he wants to be when he's older and the answer is a footballer for Stoke.
"If that is what he wants to be, or any other young Irish lads, you don't want them to come over and have to endure any form of abuse like we have."
The Republic of Ireland international has raised concerns over Kick It Out – an anti-racism body in football in Britain – not offering more support recently and said he does not want the attention on the matter to eke away while the problem still remains.
"I'm still waiting on their support (Kick It Out). I haven't heard anything from them the past few weeks. Maybe they will write to me or maybe they won't. 
"You bang on enough doors and shout loud enough; eventually someone is going to hear you. I don't want this to be a one-off because the abuse isn't a one-off.
"I don't want to be seen it as condemning the abuse and then the abuse keeps continuing. They'll say we gave you support that once. The abuse isn't a once-off. If the abuse continues, action needs to be taken."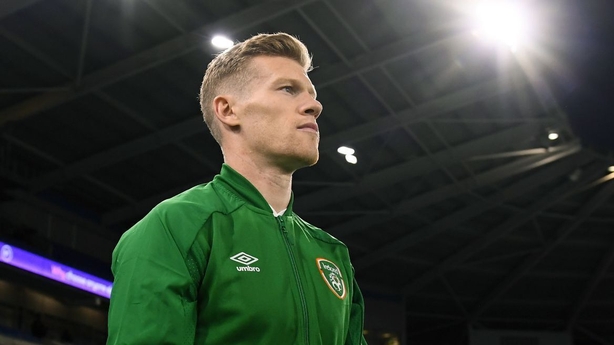 The former Derry City player regrets a social media post last year in which he was pictured wearing a balaclava in front of his children and described it as a reaction to nearly a decade of abuse.
"If you are honestly insane enough to think I sat down my children at seven and five and think I told them about the Troubles and Irish history, then I can't help them because that is just something I would never do. It's madness.
"If people think that the conversation took place, then I can't help them. The balaclava post was supposed to be funny. It was supposed to be a jibe back that you portray me this way, here is two fingers up at you, without really thinking of the consequences and the hurt it might cause.
"I quickly tried to take the post down. With the way social media is, when it's out there. I'm portrayed as the person in the balaclava, that I'm a Provo-loving this and that.
"It annoyed me because it has given people justification to continue their abuse because they post that picture and say you don't help yourself. This picture was in June or July. The level of the abuse that has been going on day-in and day-out for nine years.
"Everyone has a breaking point. I would say to the people who say I bring it on myself to put yourself in my shoes.  You live my life every day and see the messages I get. At some point, right or wrong, you are going to react. I reacted and didn't think."
McClean's refusal to wear an embroidered poppy on his football shirt – a modern tradition in England – was the catalyst for the hate he receives in England.
In 2014 he wrote to then Wigan chairman Dave Whelan to explain why had to take such a stance.
Speaking today, almost seven years on from when he wrote it, he asked those in England who view him so negatively to read it.
"Take the time to read it. See my reasons for not wearing a poppy. Understand that I grew up differently to you, I had a different upbringing and I have different views to you. 
"I don't push my views on anyone else. I might not agree with people's views but I don't push mine on them or abuse them for their views. I respect their views, even if I don't agree."
Meanwhile, Northern Ireland First Minister Arlene Foster has offered her support to McClean in light of the most recent threats.
Speaking to RTÉ News, she said: "I very much feel for James McClean and his family. Often for those of us in the spotlight, like myself and James McClean, we become a little bit immune to it.
"But when our families are subjected to abuse as well (it becomes harder).
"I absolutely stand with all of those who suffer abuse at the hands of anonymous trolls.
"I have called on social media platforms to stop the anonymity of these people so they can be held accountable for some of the vile views and positions they put up."
We need your consent to load this SoundCloud contentWe use SoundCloud to manage extra content that can set cookies on your device and collect data about your activity. Please review their details and accept them to load the content.Manage Preferences