When it comes to Irish players and the FA Cup, Padraig Amond has become indelibly linked with the competition in the modern era.
The Carlow native has a dozen goals to his name in the competition proper, sharing that mark with Robbie Keane and Jonathan Walters, while John Giles currently leads the way with 17 goals for Leeds and Manchester United in the 1960s and '70s.
This weekend, Amond will be hoping to make it a lucky 13th goal when he and his Newport County team-mates welcome Premier League Brighton and Hove Albion to Rodney Parade in Sunday night's third round clash.
But given the giant-killing nature of Amond in recent seasons and the fact that he has racked up goals against the likes of Manchester City, Leicester, Tottenham and Middlesbrough in the FA Cup, the former Shamrock Rovers striker has little reason to be daunted about his chances of making his mark.
As the 32-year-old told RTÉ Sport ahead of Sunday's clash, Newport can treat the Brighton game as a "free shot" given the expectation the League Two club won't have to deal with in comparison to the Seagulls - although the Welsh side's opponents will be wary given a growing ability to cause shocks.
We need your consent to load this YouTube contentWe use YouTube to manage extra content that can set cookies on your device and collect data about your activity. Please review their details and accept them to load the content.Manage Preferences
"There's no pressure when it's a Premier League team," he says.
"First and foremost, you're going out there and hoping they don't play to 100% because if you play to 100% and they play to 100%, generally they'll win the game.
"You're hoping first that you don't get battered in the game because you see drubbings in big games like this and you're just hoping you're not involved in them and obviously, we've been lucky enough to get some very good results so maybe now there's little bit more of an expectation on us coming into this game and not saying that other teams took us lightly but Brighton will be a lot more worried about Newport County than maybe they would have been five years ago."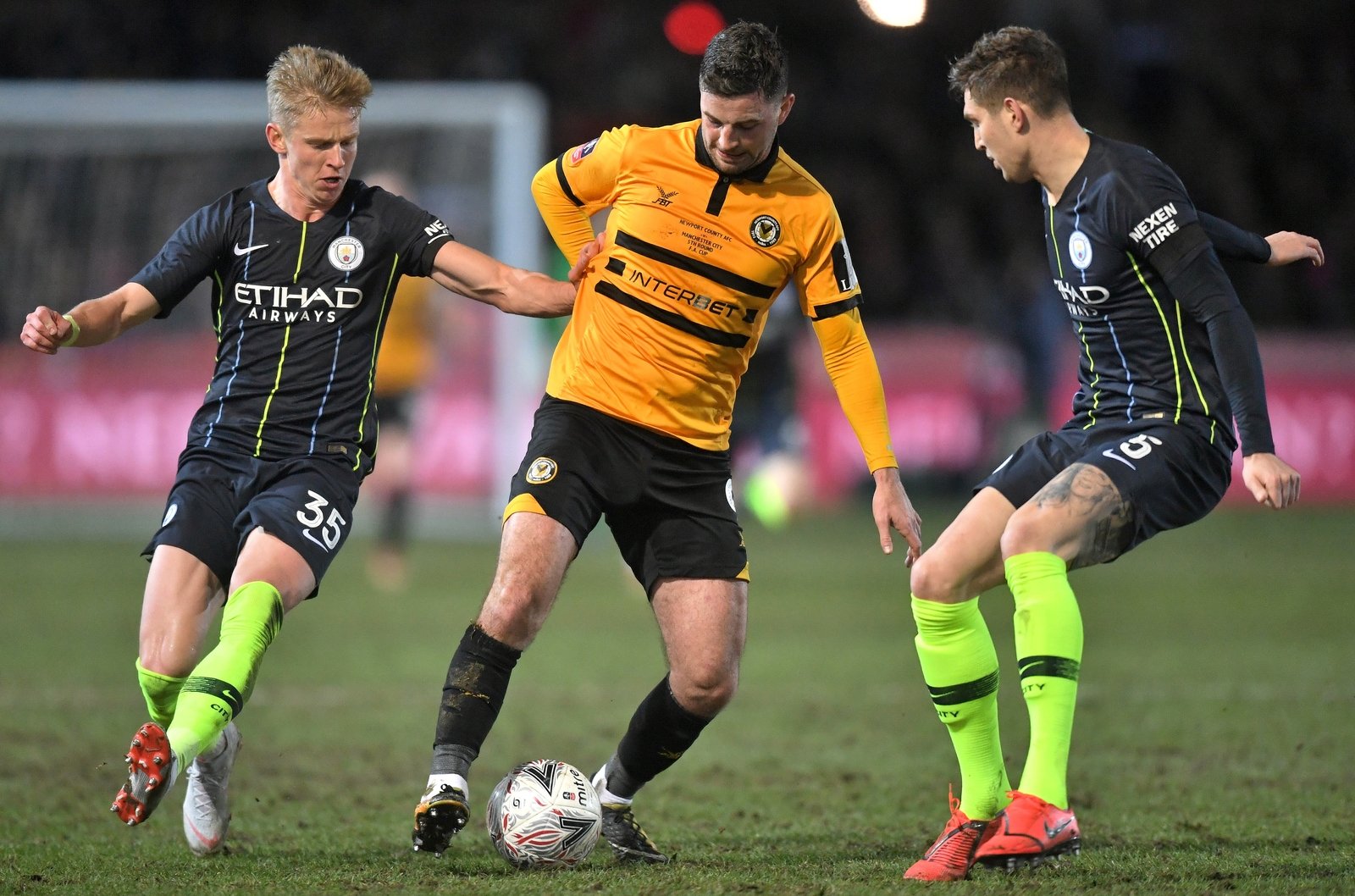 Much of that is down to Amond's goals. His 10th FA Cup goal for Newport which he netted against Salford City in November helped book their place in the third round.
And while his personal record reads as 12 goals due to a brace against St Albans for then-non league Grimsby in late 2015, he in fact has 14 goals in the competition overall if you count the preliminary rounds.
His first two FA Cup goals came against Harrogate in the fourth qualifying round weeks earlier, a memory that still remains crystal clear.
"I can remember them like they were yesterday," he recalls.
"My wife's parents had come over for the game as well and I think we won 4-1 and it was the excitement for the non-league teams in that last fourth round qualifying game to get to the first round proper and then to almost have the dream of getting to the third round because every lower league or non-league team dreams of the third round against a Premier League side on TV away from home or at home, whatever it might be.
"Because financially it's worth a lot of money to the clubs and people talk about maybe scrapping replays - and I know replays are gone for this year but it's a unique year we've just had - but replays in the FA Cup, especially for lower league teams, they're worth an awful lot of money and scrapping replays would only benefit the top five or six in the Premier League whereas there are 92 teams from the Premier League down to League Two and there are obviously a lot more non-league teams.
"So it would benefit five or so teams rather than 120 or 130 sides, and the money they get can be life-changing for a club."
The question of money is especially relevant in the wake of the Covid-19 pandemic. Last season, League Two was among the divisions to end the campaign early, with about 10 games to go and has since resumed without supporters in place. The fact that the season was ended towards the tail end mitigated some of the concerns for Amond and other players.
"There were 10 games left in the season. If it had been 10 games gone in the season it might have been a different situation. It would have been a longer period without football," he says.
"Look, there's bigger things going on in the world now so we're very lucky that we're getting the opportunity to do our jobs and trying to do everything the best that we can.
"We're in the training ground as quick as possible, socially distancing at all times and just enjoying the fact that we can have some sort of a bit of normality throughout the week, and then on a Saturday bring some sort of normality to supporters who have to stay at home and watch the games on TV."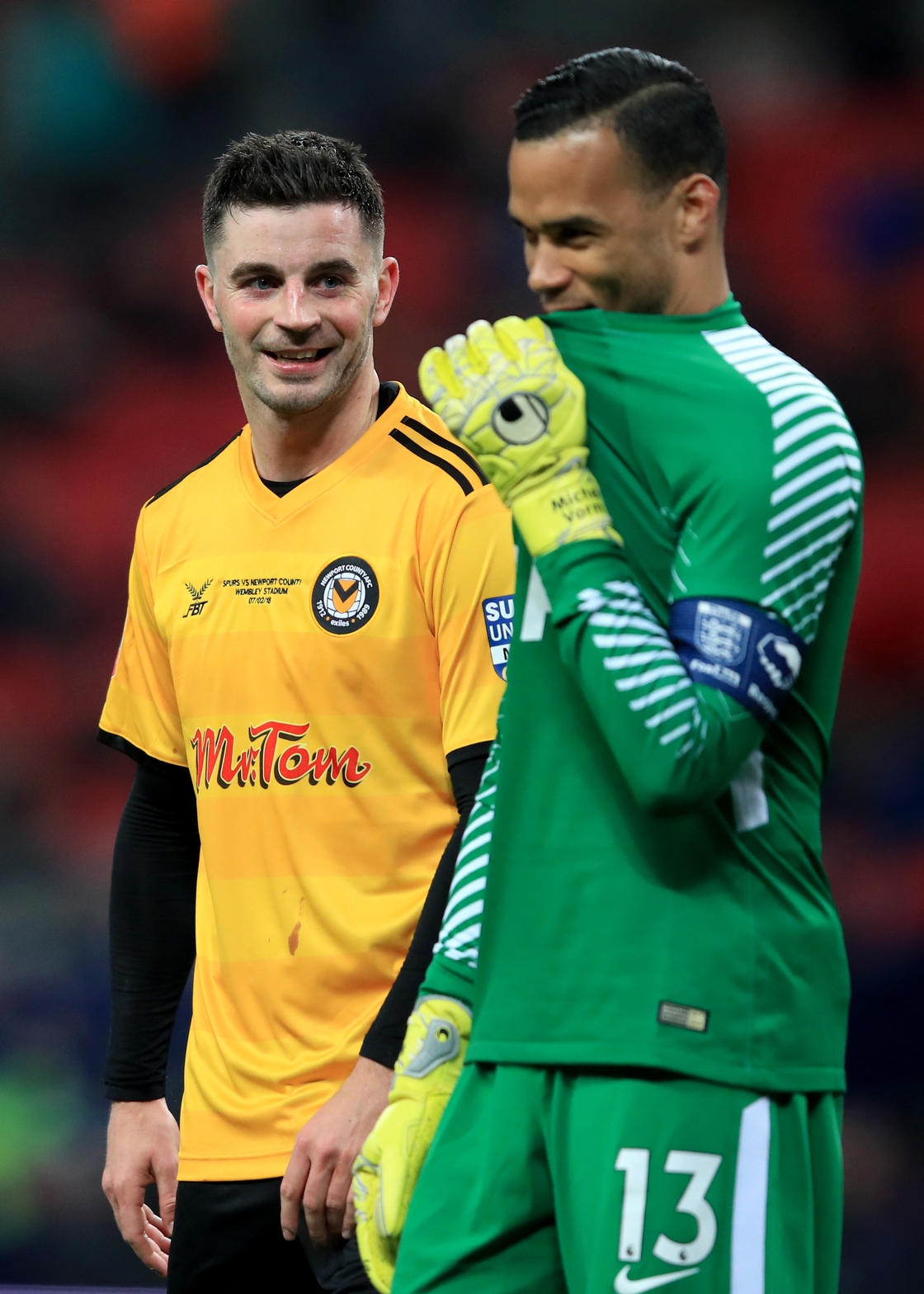 The absence of supporters on the streets and in Rodney Parade means a very different atmosphere to deal with for Newport's players on a FA Cup weekend where a Premier League side are in town.
"The one thing that I've noticed since the first year when we went on that first run is, if you're in and around Newport, you'd see people walking around in Man United, Liverpool or Cardiff tops but now you see people wearing Newport County tops.
"Their club has been put on the map by the players and the staff who have done so well in those games and that's what you want to see - young kids walking around proud to wear their hometown shirt and it's great also for those fans as well, because they get to see world class players coming to play at their stadium.
"For some of them to see them in the flesh has been brilliant."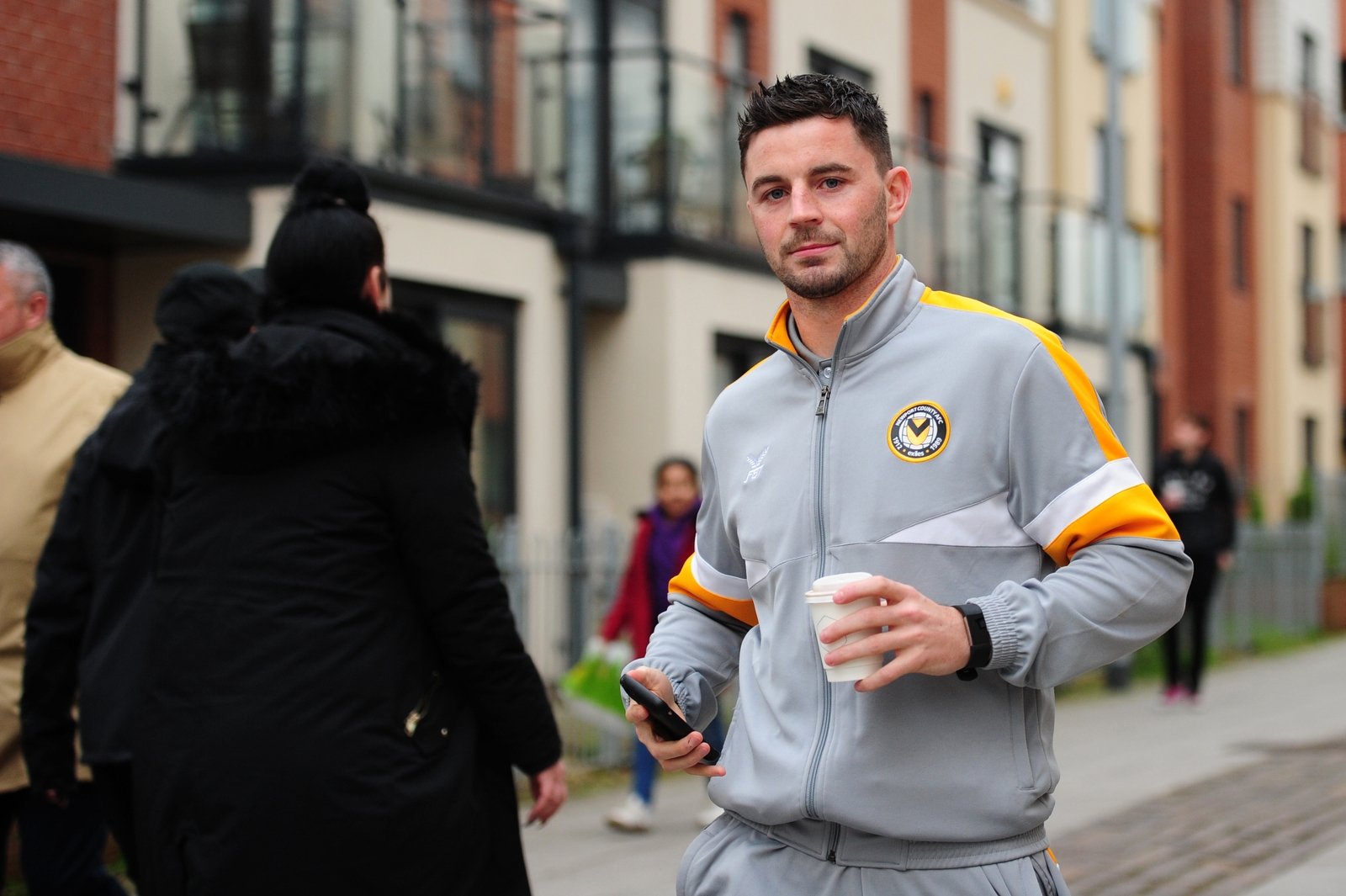 That run of Newport giant killings and commendable performances against the big boys has come with a solid core of players of which Amond has been part for the past four years - and a manager in the shape of Michael Flynn who is from the town and played for the club - which has helped him settle well and also propelled him to club top scorer status for three seasons running.
"There are seven or eight lads, who have been involved in every FA Cup game since I've been here, still at the club and if it wasn't for those players putting their performances in, we wouldn't have had those opportunities. I wouldn't have had those opportunities to score the goals," he says.
"I think with regards to Newport here, it's a good set of lads. As I said, there are seven to eight lads who have been throughout it all so we have a good core group that are your mates. They're friends of yours, not just team-mates.
"You enjoy socialising with them - obviously we haven't got to socialise for about a year - but you enjoy being around them and working hard for them because you know they are going to work hard for you as well and never going to let you down."
All the while, he is also flying the flag for Carlow and for Irish footballers who have emerged from counties who do not host League of Ireland or top level clubs.
While playing other sports including hurling in Carlow as a youth, it was Dublin and specifically Shamrock Rovers that initially paved the way for his rise from the age of 11.
Producing players from previously untapped areas is something he is hoping to see happen more and more.
"I think what's happened in the last 10 years with the FAI Emerging Talent Programme has been very important," he says.
"I travelled to Dublin to play in the top league in the country at the time. The DDSL might still be the top league in the country but players don't need to travel now to play in that to be noticed because with the Emerging Talent Programme and the regional sides, you have players that are getting opportunities now to showcase themselves and there are players coming through. We've had underage internationals in Carlow in men's and women's football and I'm sure every other county is the exact same.
"It's good to have the spread around the country and people being able to stay and play in their local leagues as well but knowing that they can play in the Emerging Talent Programme. It takes time. It's not going to happen overnight but what they're doing at the moment is important."
Additionally, Amond still feels the benefits of his decision to play for Portuguese top flight club Pacos de Ferreira between 2010 and 2012 - a spell that yielded 17 appearances.
"Coming to England isn't the be all and end all," he says.
"Sometimes it doesn't suit the player. Probably being over here suits me a lot better than what playing on the continent did but you have certain players - let's say Wes Hoolahan for example.
"Even though Wes Hoolahan ended up playing in the Premier League and having such a fantastic career, if he was Spanish or Portuguese, the team would be built around him.
"For a lot of the time here, it was other people saying he's too small. But technically he's a fantastic player and you see Jack Byrne moving over to APOEL Nicosia in the last couple of weeks - obviously Mick [McCarthy] has left - but Jack has shown that he's not afraid to make moves like that.
"He's gone to Holland before. Playing that style of football, he's only going to help our international team I think. People who are comfortable on the ball and people who want to be creative because we can be pigeon-holed sometimes in the style of football that we play and Stephen Kenny is trying to change that and I think he's doing a very good job at this moment, considering how strange the past year has been.
"Playing abroad, I think people need to look at that a little bit more. It suits players to play on the continent and it's only going to have more benefits for the country in the longer-term."
In the short-term though, Amond, who earned a call-up to the Ireland provisional squad in March 2019 after his FA Cup exploits, will be hoping to add to his personal successes in the oldest cup competition of them all as Newport look to clip Brighton's wings.
Listen to the full Depth Chat with Padraig Amond on Apple Podcasts, Spotify or watch on YouTube.