She started on the right, eventually moved left and then proved decisive when popping up in the middle.
All in all, it was an all-action captain's display from Republic of Ireland international Aine O'Gorman as Peamount United achieved the double by thrashing Cork City 6-0 in the Women's FAI Cup final, adding another trophy to the league title earned last month.
O'Gorman scored Peamount's third midway through the second half, having already finished the Women's National League season as top scorer.
"It's obviously been a difficult season as well with the break with Covid and stuff like that, so it was an honour to captain the team and lead a special squad of players to the double as well," said O'Gorman as she reflected on individual and collective achievements.
It's celebration time for @peamountutd at Tallaght Stadium. #FAIWomensCupFinal pic.twitter.com/XQMqlDXrD2

— RTÉ Soccer (@RTEsoccer) December 12, 2020
"So we can put the feet up and enjoy Christmas."
O'Gorman pointed to Peamount's squad depth as key with the ability to play "11 v 11 in training".
"It's nearly like for like and it's really good to push us on week in week out and you have to work really hard to keep your place in the team," she added.
On her own performance popping up across a number of positions, she credited the team for giving her the freedom to play that total football game.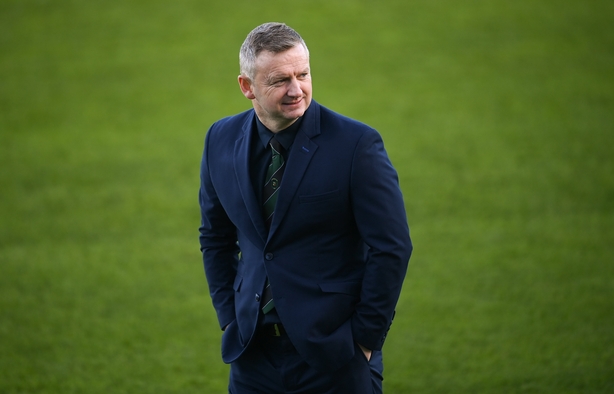 "We're quite flexible. Once someone covers positions and make the recovery runs and defend well and press on top, it worked pretty well that we can interchange positions," said O'Gorman.
Her manager James O'Callaghan felt that fluid swapping of roles, especially on the flanks, helped get the best out of both O'Gorman and fellow wide player Alannah McEvoy.
"There's nothing complicated about it, just swapping the wingers over. If it wasn't going for them one wing, just move them over to the other side and see does it happen for them with Alannah, and Aine then had a phenomenal game as well with Alannah," he said.
With Peamount beginning to coast after taking a commanding lead thanks to Stephanie Roche's brace just after the break, the full-backs pushed forward even more rather than sitting back and preserving the lead, aided by O'Gorman and McEvoy's movement on the flanks, which ultimately paid dividends in adding further gloss to the final scoreline.
"Our full-backs Lauryn [ O'Callaghan] and Dearbhaile [Beirne] are very good attacking full-backs and we tried to get them going in the first half and they actually did quite well in the first half I thought in fairness to them," he said.
"But that is a feature of our play is trying to get the full-backs attacking and linking in with the wingers and getting the ball in behind."
With the squad having matched its own potential by winning the league and Cup, O'Callaghan acknowledged that there will be changes in the future with flexibility in planning crucial as they look to go again and build on their progress in 2021.
"Obviously players are going to come and go now. It happens every season. It's probably the last time that squad will be together like that," he said.
"We'll take a break for Christmas and then start looking at next season."
He also echoed midfielder Karen Duggan's pre-match observation that Tallaght Stadium would be a more fitting venue for Peamount than the Aviva Stadium, adding that,"It probably helped us not having it in the Aviva. A more of a low key event probably suited us and in the second half and they were just phenomenal."