Republic of Ireland head coach Vera Pauw admits the Covid-19 pandemic remains a major worry in terms of its impact on player availability as her squad prepare for the final European Championship qualifier against Germany.
The Group I table toppers take on her Irish side in Dublin on 1 December. Ireland will need third-placed Ukraine to lose at home to Montenegro on the same day if they cannot get a result in the daunting task against the Germans, who are one of the highest ranked teams in the world and beat the Irish side 3-0 in September's head-to-head fixture.
But as Pauw prepares to name her squad, the pandemic is already having an impact on player availability, although no Irish players have tested positive.
Alli Murphy and Hayley Nolan are ruled out due to being close contacts of affected team-mates at London City Lionesses, while Kyra Carusa is also unavailable due to the Covid regulations in Denmark, where she plays for HB Hoge.
Defender Louise Quinn is expected to arrive in camp by Tuesday after undergoing a period of isolation following a Covid case in her Fiorentina squad.
"It's a very big worry," said Pauw of the potential impact of the pandemic.
"We are very much affected although we have not had one case in our camp. There's not one player infected so far."
Pauw also confirmed midfielder Megan Connolly is unavailable due to concussion protocols, while Harriet Scott will arrive in camp by the end of this week as she completes university work.
With German league-based players in her plans, Pauw is hopeful that the likes of Diane Caldwell and Amber Barrett's experience of facing key players from their next opponents on a regular basis will be beneficial.
"Of course playing in that league means that they feel the resistance and they meet the resistance, although Amber is playing in the second Bundesliga so a level lower but she did play there and she does feel the resistance, so we are trying all options," she said.
"We have a little bit more time now because we have a week and a half with them instead of only two tactical sessions which brings a lot of opportunities to see where the limits of the players are really, not only for Amber but also the young players that are now coming in."
Pauw was in attendance as Peamount United beat Shelbourne in a Women's National League title decider and relished the opportunity to finally be able to see a match first hand for the first time since the Covid-19 pandemic began.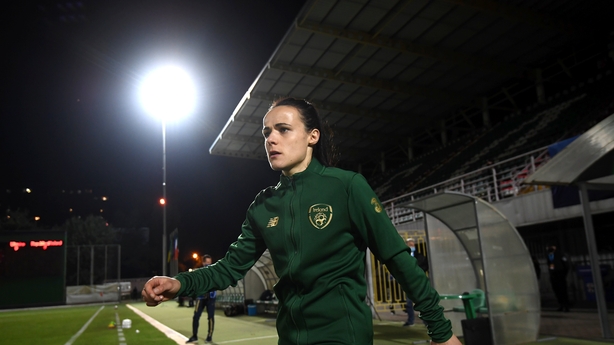 "It was great to finally see a live game after being away from Ireland since early March," she said.
"It was fantastic that we could organise that we could be there. It was very, very good to see the players live. There's such a difference seeing them live as seeing them behind the screen.
"There were even players where I had to ask, 'Who's that?' Whereas on the screen, you have the lineup next to it.
"But if you're down along the sideline, you feel that huge difference. It was good that we've been there and I hope that we can see maybe other games."
Aine O'Gorman, who scored an own goal in the crucial loss against Ukraine last month, was a key part of the Peamount success and Pauw feels the player is dealing with that past setback in the right manner.
"It seems that she's coping with it very well," said Pauw.
"She does understand that something like that happens in football and she has done so many wonderful things for women's football in Ireland on and off the pitch."
Pauw also touched on the issue of leaks of information from a squad environment into the public domain in light of what occurred with the Ireland's men's squad in recent days.
"I think that is for every single coach, you agree with each other when you start that things stay between the four walls, so it must be heartbreaking for the team - not only for the staff but for the whole team - if things are leaked," she said, adding that the word "betrayal" would be a "harsh word" to describe an incident of leaking.