As weekends go, last weekend was up there with one of the most memorable yet for Cork star Saoirse Noonan.
A crucial goal for the Cork footballers on Saturday against close rivals Kerry was followed up just 24 hours later with two goals for Cork City in their FAI Cup semi-final win over Treaty United.
As the Grange native began to wind down after a hectic weekend, a phone call from Cork City manager Ronan Collins on Monday evening made the tiredness and slight aches all worthwhile for Noonan.
Her phone call with Ronan was to tell her about a call he had just had himself with Ireland manager Vera Pauw and to let her know she would be in the squad when it was announced yesterday morning. A first senior call up for Noonan and a proud moment for her and her family.
"On Monday night, I was just in the car with my sister and Ronan rang me to tell me the good news. We both looked at each other straight away and in shock, the tears in our eyes started as well." reflected Noonan on the special moment.
"It was a lovely moment as it was something we had talked about before and now for it to be coming true having worked so hard is just surreal. It was a lovely moment.
Vera Pauw is hoping that anything is possible when her #IRLWNT squad take on Germany in a crucial #Euro2022 qualifier, while also singing the praises of @saoirse_noonan who excelled across a couple of codes last weekend @Corktod #rtesoccer pic.twitter.com/U8BcltCyju

— RTÉ Soccer (@RTEsoccer) November 10, 2020
"Vera had rang Ronan and he contacted me to let me know the team would be released then on the Tuesday. I would know a good few of the girls from playing against them in the Women's National League and I'd be friendly enough with one or two from the underage international teams so that will help for sure.
"To get called into the senior squad is something I've been working towards personally I'll be honest. When Colin [Bell] was involved a few years ago I would have been on the fringes at home-based sessions and that.
"To now have my name in the squad for the first time is so encouraging and I need to just keep working hard and continue to improve as much as I possibly can every day."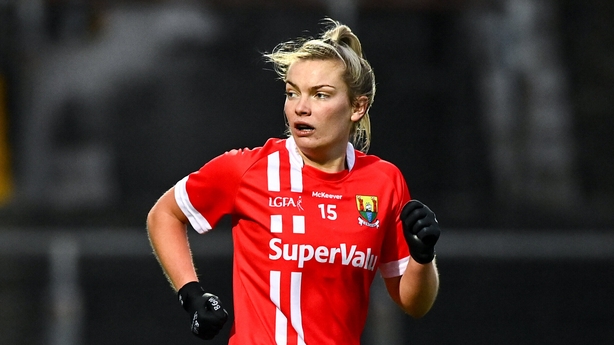 The 21-year-old has always been hugely ambitious since a young age and in terms of her sporting goals for the moment, three is the magic number.
"At the very beginning when I started playing for Ireland at U15 and playing GAA with Cork, I set myself a few big goals right from the outset.
"They were to play for the Ireland senior team, to win an All-Ireland with Cork Ladies and to play in the Aviva. Hopefully this year I can tick another two of those off.
"I played in the Aviva with Cork City and won the cup final in 2017 so at the age of 21 to be ticking off some of my main sporting goals in life is huge. I am someone who sets small weekly goals for myself and I would be someone who is hugely ambitious so it's going well but I have so much more I want to achieve."
Noonan has had a ball at her feet since she could just about walk with sport a huge part of her life from a young age.
"I think from the age of four really, I would have been at my dad's matches soloing with a football waiting for the game to end and keeping an eye on it too.
"Myself and my sister used to stroll down to my brother's sessions as well to watch and do our own little skill sets in a grassy area over in the corner. As I got older I was allowed to join in with the boys and began then to really focus on honing my own skills.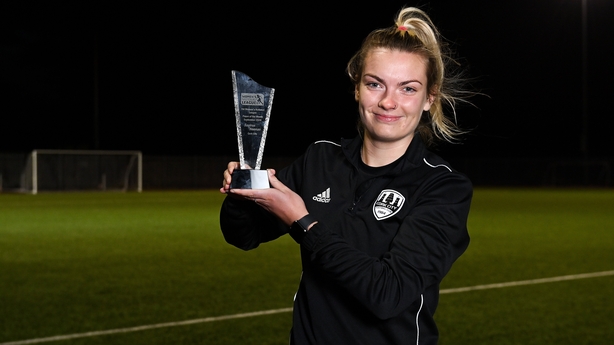 "It has always been a balance between sports right from the word go for me, I started off with Gaelic football, camogie, basketball which was my main sport when I was starting out. It took up most of my time but as I got a bit older you have to start choosing and I decided to stick with the camogie, football and soccer.
"It has always been sports, sports, sports in this house from the time we were toddlers and I wouldn't have it any other way. The support network that I have around me is incredible and I wouldn't be anywhere near where I am without them to be honest. They are always so positive no matter what it is.I really am very lucky to have that."
No doubt there are plenty of young aspiring sports stars in Cork and around the country who one day want to emulate the rising star that is Saoirse Noonan but who was it she looked up to when she was dreaming of how her own sporting career might pan out?
"I watched every single Cork Ladies match when I was growing up and never missed one. One player who really stood out for me would be Valerie Mulcahy. Left leg, right leg, fisted points she could do absolutely anything and was so good to watch.
"She actually came and played with Cork City for a spell so that was great to get that close and up front insight into how she plays and what works for her."
In the most condensed sporting calendar we've ever witnessed the big games just keep on coming for Noonan, not least an FAI Cup final day out against current WNL league champions Peamount United on 12 December, a game you'll be able to see live on RTÉ.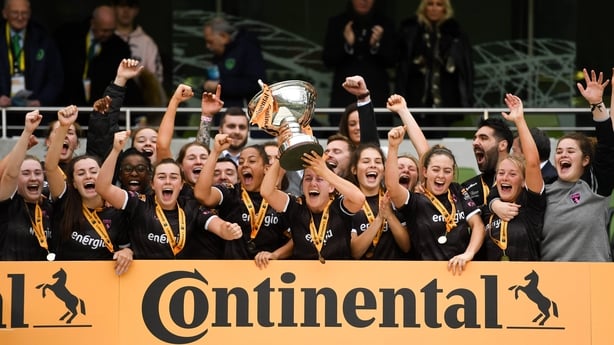 It has been a hugely successful year for Cork City domestically in the WNL in terms of progression as a club. Noonan says herself and the girls will go into the final with plenty of confidence but also disappointed that it won't be to the Aviva they'll be heading.
"Peamount are an incredible side, they've done it all, Champions League, cup finals, league winners you name it," she pointed out.
"It will be as tough as we've faced all year but on cup final day anything can happen, we've been the underdogs before and done well so there's nothing stopping us from doing it again. We do have a bit of confidence about us at the moment which is great but we also appreciate how good a team Peamount are.
"Of course I'd like it to be in the Aviva, playing in your national stadium is huge crowd or no crowd. Tallaght is a top stadium as well but I'd prefer the Aviva myself and there's no comparison really. It's a bit upsetting I suppose when we are talking about equality in sport but then the men will still have their cup final in the Aviva and ours is moved to Tallaght.
"That is something that there must be a question mark over but at the same time we must stay focused on the game at hand. There'll still be supporters to wish us well on the morning of the final, text messages phone calls and plenty watching on the telly so we'll try to feed off that and do our very best."