As soon as Ukraine had dispatched Greece in last month's qualifier, a result which confirmed the stiff nature of Ireland's challenge in their final group game, manager Vera Pauw sought to pick up her players by sending them on a video of a rather famous goal from five years ago.
Realistically, Pauw's team need to win against the imperious Germans in Tallaght Stadium on 1 December or else hope that Ukraine somehow slip up at home to Group I minnows Montenegro.
With Germany slaughtering all-comers in this campaign, as had been forecast by everyone, this is not regarded by most neutral observers as a realistic proposition.
However, Pauw, who today named a 31-woman squad, insists that the team have not given up the ghost and is using Shane Long's heroics as inspiration.
"I sent that goal from the famous 2015 game, immediately after the Ukraine-Greece game to the players," a smiling Pauw recalls. "It is possible. Ireland has done it before so why would we not be able to have a night like that!?"
We need your consent to load this rte-player contentWe use rte-player to manage extra content that can set cookies on your device and collect data about your activity. Please review their details and accept them to load the content.Manage Preferences

In truth, the Republic of Ireland women face a much taller order next month than the men's team did in October 2015.
The statistics paint a discouraging picture. Since the turn of the 21st century, Germany have failed to win just two qualifying games.
Their progress through Group I has been as serene as ever. Ireland's 3-0 loss in Essen in September represented probably the Germans' most competitive encounter in this campaign - and it required quite a defensive effort from Pauw's team to keep the score at that.
With a draw almost certain to be insufficient, the nature of Ireland's task verges close to the impossible.
However, Pauw rejects the notion that Ireland should abandon any thought of qualification and concentrate instead on building for the next campaign.
"There's two things to consider. One is that everyone knows the difficulty (of this game). We're realistic and we've played them already.
"But secondly, our players are Irish. And Irish players go for everything. The finish line is after 90 minutes, plus injury-time, and we'll see after that.
"But we will prepare for a win, of course. Which starts with not losing. But it must be a win. A draw is not enough."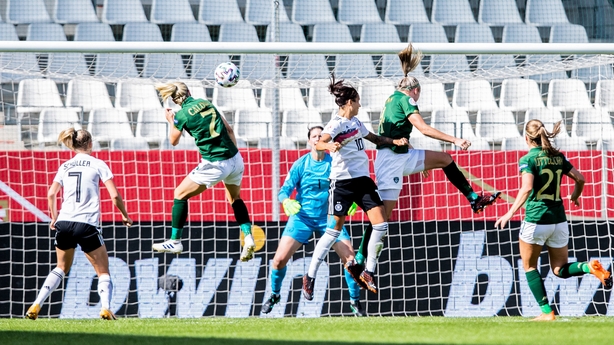 Improbable results aren't beyond this Ireland team.
Under Colin Bell, Ireland miraculously held European champions Netherlands to a 0-0 draw in a World Cup qualifier in Nijmegan, repelling a furious, non-stop barrage for 90 minutes.
By the end of the game, Marie Hourihan's net somehow remained unruffled. Alas, Ireland were unable to replicate the feat in Tallaght, the 2-0 loss conclusively ending hopes of qualification for France.
Pauw, however, is quick to remind us that the upcoming test is considerably more difficult.
"The Netherlands play a completely different type of game to Germany. If you stick in with the Netherlands, you can get a result.
"Against the Germans, you have to be smarter. Just fighting against the Germans will not be enough. We have to be able to create. If we don't create, we won't win.
"The game against Netherlands was more about holding them. We have to create to be able to score against Germany and we have to score.
"We need to be smart, we need to be realistic. We have to know the strength of the Germans. And we have to do more than just hold them."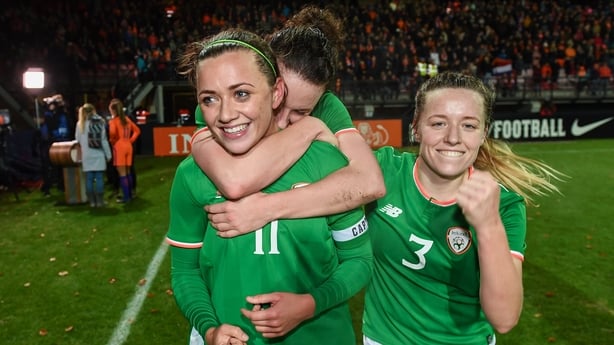 The aftermath of the Ukraine game continues to occupy minds. Ireland still boast an 100% home record in the campaign to date, with victories over Greece, Ukraine and Montenegro.
It is the slip-ups on the road which have proven costly, not just the sickening defeat in Kiev but also the concession of the last minute equaliser in Greece.
At the end of campaign of such promise, Áine O'Gorman's cruel own-goal, Katie McCabe's penalty miss, not to mention Anastasia Spyridonidou's last-gasp lob, will probably emerge as the pivotal moments.
Pauw stresses that this all part of a learning process. She is quick to point to the growth of the team in the past two years but acknowledges that the team needs to pass through the mental barrier of qualification.
"Getting over the Ukraine game was very, very difficult," the Irish manager admits. "Even though we have hardly any time with each other, this team is growing so fast.
"But to break through the barrier of qualifying, you need a little bit of luck. There's no team who qualifies for the first time without luck.
"People can say we're not good enough yet but if the own goal had not happened, if the back pass had come to Courtney's right foot, we would have now been celebrating. If the penalty had been scored, we would have been celebrating.
"Ukraine were very good at stopping us playing and in the second half, they made a policy of that and we need to learn to deal with that.
"Realistically, they did not have one major chance. They had one dangerous shot but that came from our mistakes again.
"Growing to that level is avoiding mistakes. That is the big step. To really break through that barrier, you have to qualify once.
"We know that if we make the playoffs, we're going to qualify because we feel that this team has grown so fast."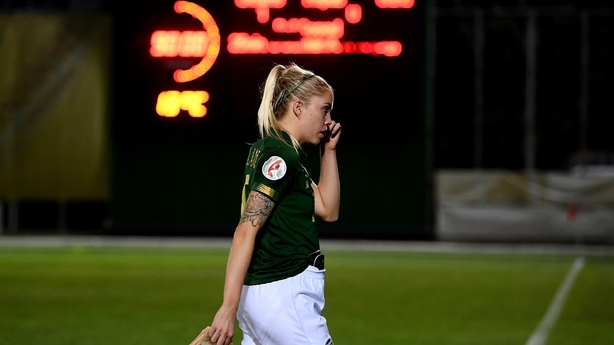 In addition to sending on the Long goal, Pauw wrote a letter to her players outlining in detail what "really happened" in the campaign.
Ireland had 'dominated' against teams whom had until recently been considered superior and had primarily conceded goals through their own errors.
"I've written a letter to the players and staff in which I highlighted our campaign and what has really happened in our campaign.
"And if you look at the campaign, apart from the Germany game, we did not concede a single goal from an attack of an opponent. Every single goal came from our mistakes. That is something we need to work on.
"We left it (behind us) in Ukraine. We left it in Greece. That's down to mistakes from ourselves. We dominated Ukraine like we never expected we would at the start of the campaign.
"There's too big a prize still lying there. And we know that if things go our way that surprises can happen. We would never give up until the finish line - even though the chances are very small.
"The message is that there is a chance we can succeed. It's still in our hands although the chances are slim.
"We will do everything in our power to get a result against Germany. Players are ready for that too.
"We might not be able but we will do everything we can get the result we need."
We need your consent to load this SoundCloud contentWe use SoundCloud to manage extra content that can set cookies on your device and collect data about your activity. Please review their details and accept them to load the content.Manage Preferences