David McGoldrick's retirement from international football did not come as a shock to Stephen Kenny, however, the Ireland manager admitted that the emerging attacking players in the squad will miss his influence.
The Sheffield United striker called time on his Ireland career during the week and manager Kenny said that he was aware that it was his intention to retire at the end of the campaign.
Ireland will go into next week's triple-header against England, Wales and Bulgaria without the influential forward, who made a real impact in the team, proving the national side's best player throughout the Euro 2020 campaign.
Kenny's side were eventually beaten on penalties in the play-off semi-final in Slovakia and subsequently McGoldrick announced that he was calling time to concentrate on his club career and family.
"It wasn't really a shock to me. It was always his intention to retire at the end of the campaign," said Kenny, speaking at the squad announcement press conference.
"He's a great guy, David. He was a very popular member of the squad. I would have liked for him to stay on and have a positive impact on all the young attacking players coming through.
"I felt he could have had an impact, but he has his reasons and I respect his reasons. That's the way life is. He was excellent in our game against Slovakia and we certainly wish him well."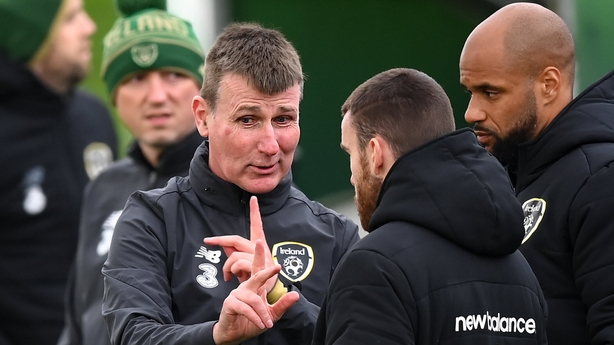 Kenny did not completely rule out a return to the squad in case of an emergency but he did point out that the player has been dealing with injuries that have affected his club career at Sheffield United.
"You'll have to ask him that. You never know," said Kenny, when asked would McGoldrick answer an SOS call from the squad.
"He can speak for himself, but obviously he had an injury he played with in Slovakia, the adductor injury, and I think it affected his training and subsequently lost his place at Sheffield United because his training programme was affected and he hasn't started the last few games there.
"He is a private man and he has his own reasons, and we have to respect that."
McGoldrick's departure will leave the door open for others, according to the manager, who included Luton Town's James Collins in the squad for the triple header, while he also kept faith with Ronan Curtis, who impressed in the away game in Finland last month.
"He's at this stage in his life – he's nearly 33 and by the World Cup, he'd be 35. Fair enough, you have to respect that.
"But listen, it opens up opportunities for other players."
And the player expected to benefit most from McGoldrick's departure will be Brighton youngster, Aaron Connolly, who has primarily featured on the left of an attacking three in the green jersey.
Connolly would have started the play-off against Slovakia but for the false positive Covid-19 test, which deemed the Galway native a close contact of the person involved.
And the striking prospect sees himself as a centre-forward and will, no doubt, relish the chance to cement his place leading the line for his country.
"While David McGoldrick, we would have wanted him to stay on, of course," said Kenny. "You're trying to get your best players in and I would have linked him up with Aaron Connolly, because they never got a chance to play together.
"[But] Connolly's best position is centre-forward and it opens it up for him to play in central areas, and that's something that we have to consider."