Striker Pat Hoban has insisted Dundalk feel safe after flying in for their Europa League clash with Rapid Vienna just days after a suspected terrorist attack in the Austrian capital.
The SSE Airtricity League Premier Division outfit face Rapid at the Weststadion tomorrow evening – a minute's silence will be held before kick-off and the players will wear black armbands – with Monday night's incident, in which a gunman killed three people and left several more wounded, casting a pall over the country.
Rapid CEO Christoph Peschek said that there would be increased security at the stadium but that authorities had assured the club that it was safe for the game to proceed.
Asked whether there had been a reluctance within the squad to make the trip, Hoban said: "No. We were given the go-ahead to come over and play, and that's our job, so we don't have any choice.
"Obviously seeing everything that happened, it is a little bit scary, but the reaction from the people in Vienna, the police and the security that we have over here makes us feel safe, so we feel safe to be here.
"It's obviously terrible what happened and the lads were obviously scared to see what happened from what they saw on social media. It was horrible to see.
"All you can do is give your condolences to the people that live here. It's just tragic."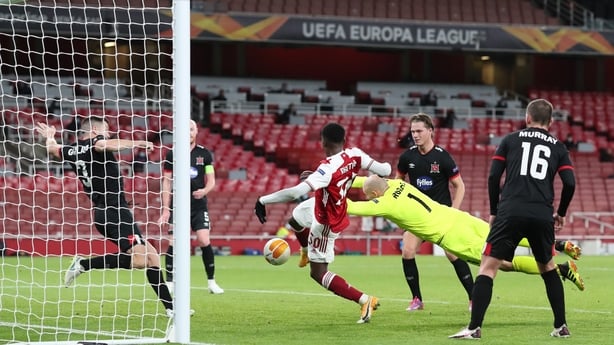 The Group B rivals will meet with both yet to collect a point and after defeats by Premier League Arsenal and Norwegian side Molde, Dundalk know that must change on the night.
Dundalk passed up the chance to secure European football for next season when a 1-1 draw at St Patrick's Athletic on Sunday left a top-three finish still up for grabs. They entertain Sligo on Sunday, and that remains coach Filippo Giovagnoli's main priority.
However, a team that held the Gunners for 42 minutes at the Emirates Stadium last week before slipping to a 3-0 defeat are far from throwing in the towel in Europe.
Asked if they believed they could get a result in Vienna, Hoban said: "We have to, we've no choice. We've no points after two games.
"I felt we definitely deserved something against Molde – they were very good in the second half, but Rapid Vienna are a better side, in my opinion anyway than Molde.
"We are playing in the biggest competition that we will probably play in our lives, and the quality of the opposition that you're playing against is always quite high.
"Hopefully we can put in a performance and come away from here with something. If that's a win, brilliant; if it's a draw, so be it."
Defender Max Ullmann urged Rapid, who currently sit in second place in the Austrian Bundesliga behind RB Salzburg, to leave nothing to chance.
He said: "We have to see that we match the performances from the Bundesliga. We know the importance of the game and will give everything for a home win."
Head Coach Didi Kühbauer added: "We face an Irish team that actually doesn't play a very typical Irish football, they also keep the ball in their ranks.
"Still, we have to accept that we're favourites in this game and we need to take three points with us so that we remain in this competition"