The so-called Islamic State has claimed responsibility for a deadly shooting rampage in Vienna yesterday, the group said in a statement on its Telegram channels.
The statement on the messaging app identified "a soldier of the caliphate" as being responsible for the attack in the Austrian capital that left four people dead.
In a separate statement, accompanied by a photograph of the armed assailant, IS propaganda arm Amaq cited "a gun attack yesterday by an Islamic State fighter in the city of Vienna".
Amaq also published a short video in which the armed perpetrator filmed himself pledging allegiance to the head of the jihadist organisation.
Austrian police had said earlier today that the shooting had been carried out by a known Islamist extremist who had spent time in prison.
Twenty-year-old Kujtim Fejzulai was shot dead after he opened fire with an automatic weapon in a busy area of the historic Austrian capital.
Interior Minister Karl Nehammer said video material evaluated by the police "does not at this time show any evidence of a second attacker". 
Fejzulai, a dual Austrian and Macedonian national, was convicted of a terror offence in April last year for trying to travel to Syria.
He was sentenced to 22 months in prison, but was freed on parole in December.
Mr Nehammer said he had been on a de-radicalisation programme and had managed to secure an early release.
He said: "The perpetrator managed to fool the justice system's de-radicalisation programme, to fool the people in it, and to get an early release through this." 
Asked whether the programme had failed, Mr Nehammer said there was a "fracture" in the system. 
While he said he did not want to "point fingers... we must look very closely at what can be improved."
Austrian security forces swooped on 18 different addresses, including Fejzulai's home, and made 14 arrests as they looked for possible accomplices and sought to determine if he had acted alone.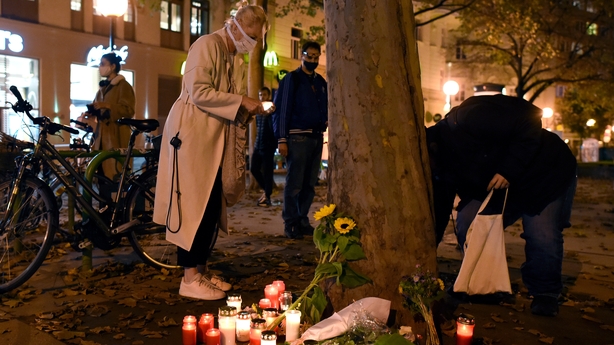 Also today, Swiss police arrested two men in an investigation of possible links to the main suspect in the Vienna shooting attack.
The 18-year-old and 24-year-old men, arrested in the city of Winterthur about 10km from Zurich, are Swiss citizens, police said in a statement.
Swiss Justice Minister Karin Keller-Sutter said the men were "obviously friends" with Kujtim Fejzulai.
"Two men were arrested this afternoon in coordination with the Austrian authorities," Zurich police said.
"The extent to which there was a connection between the two arrested persons and the alleged assassin is currently the subject of ongoing clarifications and investigations."
The Vienna attack came after several Islamist atrocities in France in recent weeks, including an assault on church-goers in the Mediterranean city of Nice.
IS jihadists declared a "caliphate" in large swathes of Syria and neighbouring Iraq in 2014, implementing their brutal interpretation of religion on millions under their rule.
But various campaigns against them in both countries whittled away the proto-state, and they were expelled from their last patch of territory last year in Syria's east.
The group has continued to claim deadly attacks in Syria and Iraq, as well as Afghanistan and West Africa.
IS also claimed responsibility for an attack Monday in Afghanistan on Kabul University that killed 22 people. 
Earlier, Chancellor Sebastian Kurz pledged in a televised address to "hunt down the perpetrators and those who stand behind them". 
An elderly man and woman, a young passer-by and a waitress had been killed in cold blood, and some of the 14 wounded victims were fighting for their lives, he said. 
"The attack yesterday was clearly an Islamic terror attack," Mr Kurz added. 
"This is not a conflict between Christians and Muslims or between Austrians and migrants. No, this is a fight between the many people who believe in peace and the few (who oppose it). It is a fight between civilisation and barbarism." 
Witnesses described crowds being fired on in bars as people enjoyed a last evening out before the start of a nationwide coronavirus curfew. Six locations in central Vienna were attacked, starting outside the main synagogue, which was closed.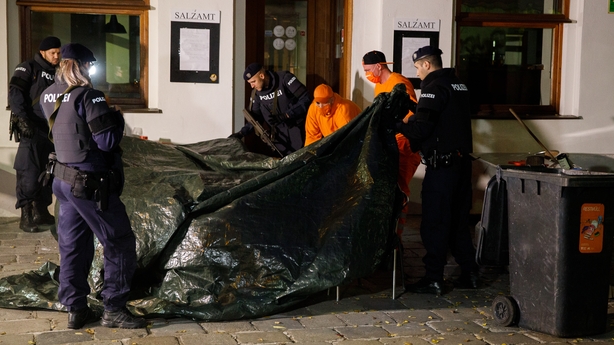 Austrian media quoted police as saying two arrests had been made in the nearby town of St Poelten.
A police spokesman said at least 1,000 officers were involved in the search. The army was guarding sensitive sites in the capital to free up police for the operation. 
The government announced three days of national mourning, and held a minute's silence at noon.
Oskar Deutsch, head of Vienna's Jewish community, which has offices adjoining the synagogue on a narrow cobbled street dotted with bars, tweeted that it was not clear whether the synagogue or offices had been a target. 
Videos circulated on social media of a gunman running down a cobbled street shooting and shouting.
The Austrian ambassador to Ireland has said the whole country is in shock and disbelief following last night's terror attack.
Speaking on RTÉ's Today with Claire Byrne, Thomas Nader said Austria is a small country that enjoys good relations with "every side and everyone".
Ambassador Nader said investigators are also looking "intensively" at who may have assisted the perpetrator and he was uncertain that the synagogue was the target of the attack because it is closed on Mondays. 
He said the city of Vienna was returning slowly to normal but schools remain closed in the city today. 
Minister for Foreign Affairs Simon Coveney said: "Thoughts are with our friends in Austria tonight after a terror attack in Vienna."