Katie McCabe is somewhat reluctant to acknowledge what could be achieved by the Republic of Ireland as they face Ukraine in Group I of UEFA Euro 2022 qualifying today, even though the temptation is so big.
Amid a breakthrough period for women's sport, Vera Pauw's side are close to reaching a major tournament for the first time.
With a new wave of support, and the men's team beginning a new chapter at a low ebb, there is the opportunity to create genuine history at the feet of the Girls in Green.
There are various permutations, but avoiding defeat would guarantee a play-off and a win could lead to automatic qualification next year.
McCabe, as the leader and leading light of the team, is very aware of what is a seminal time in her career.
"It's not just as a captain, it's as that little girl growing up to be achieving her dream of going to a major tournament," she told RTÉ Sport.
"I can't get too far ahead as we still have to play the game, but to possibly achieve it would be fantastic and to do it with my team-mates around me would be even more special.
"It's going to be something special, we are on the cusp of something that has never been done before. But me and the girls are focusing on the task at hand, how we can stop Ukraine and exploit their weaknesses.
"We are discussing the what ifs but we have to be focused on getting the job done. We are focused on the game on Friday."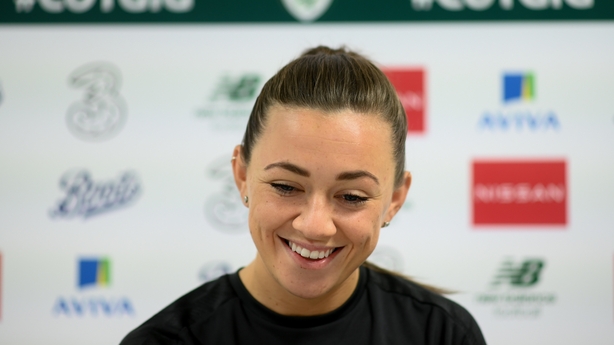 McCabe's stock has never been as high. A brilliant free-kick in a North London Derby last weekend helped Arsenal continue their flawless start to the season.
But there is still a limit to the fame for a 25-year-old who clearly possesses all the attributes to see her star continue to rise at a national level in Ireland, which can only be broken by the spotlight a major tournament would bring.
Team-mates speak of an increasing level of maturity as she takes on the responsibility at the forefront of the team at such a moment.
Katie McCabe Granit Xhaka
??
Worldie free-kicks pic.twitter.com/mzO4RDAo8C

— Arsenal Women (@ArsenalWFC) October 21, 2020
The motivation to make that next step for the team comes from family and the inspiration from those that came before, as well as sitting alongside.
"For me, I've got a little sister who is 12, turning 13, and all she wants to do is become a professional footballer. For me, (being) at the forefront of the Irish women's football gives her that hope she can achieve her dreams someday.
"And that's who we are doing it for. Not just for my little sister but for all the young girls looking up to us. For me, I was looking up at Emma Byrne, Yvonne Treacy, Ciara Grant, playing in FA Cup finals for Arsenal at Wembley. For those girls to be looking up to us is obviously fantastic.
"But it comes down to the people around me. Niamh Fahy, Diane Caldwell, Lousie Quinn, Denise (O'Sullivan), you name it. They always help to support me, be it improving on or off the pitch. I know I can also lean on those leaders, and they've helped to mould me into the captain I am."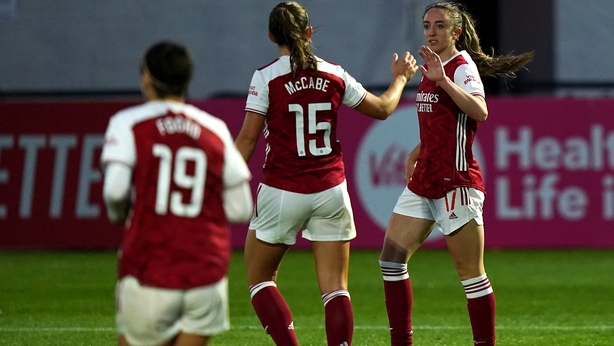 The first game with Ukraine was a thriller, played in front of a big crowd in Tallaght Stadium, but also fraught with nerves as the home side let a 2-0 lead slip before Natiya Pantsulaya 's own goal was enough for the win.
"That was Vera's first camp and we were excited to have our manager put in place. We wanted to get off to a good start and get the win. For that camp, I remember Vera coming in and solely focusing on getting the job done.
"We rallied around that, bought into everything she was saying and it's showed in the last few camps. We have had some great performances, and some players have really stood up. The quality we have in the squad is fantastic and we need to take that into Friday.
"Any game you prepare to play you want to go out and win. So obviously we want to go out and win and give us the best possible chance of qualification. It's going to be a difficult game, Ukraine will make it hellish for us over there. They are a tough, physical side and they had a great performance against Greece in the last camp."
Conceding sloppy goals has been a problem and could potentially ruin Ireland's chances of securing the result they need, so this week has had a focus on not allowing the mistakes from Tallaght, or the late goal in Greece, happen again.
There is one more factor, that even with a 5pm kick-off Irish time, there will be more people at home watching on due to the country entering the strictest form of lockdown. The prize is enormous on the biggest stage so far for the team.
"In the Ukraine game we gifted them goals so it's about eliminating our mistakes. That is something we have touched on in these camps, how we remain compact and organised and not give the opposition a sniff, really.
"We want to boost the nation's morale, and to turn a negative into a positive. The country can tune into us on RTÉ2 on Friday and get behind us, whether it's getting the flags out and jerseys on.
"It would mean the world to me and the girls to have that support back home. They say the Irish fans are the best in the world and no doubt we will have the nation cheering us on."
Watch Friday's crucial UEFA Women's Euro 2022 qualifier between Ukraine and the Republic of Ireland live on RTÉ2 and RTÉ Player from 4:30pm, with live updates on rte.ie/sport.