When Vera Pauw's Republic of Ireland team were preparing to face Germany last month, more than one voice stated that in truth the Ukraine game was the real target on the horizon.
That day is finally upon them. This Friday, the Irish team will be in Kiev as they look to take a big step towards a first ever European Championships qualification.
Following a 3-0 defeat to runaway group favourites Germans, consolidating second place and potentially jostling into one of three best runner-up positions is now the main ambition from an Ireland perspective, with two games to go.
With Germany still to come to Dublin in Ireland's final group game, getting a positive result against Ukraine is paramount, especially as the hosts lurk seven points back with three matches of their own to go, including today's game.
All will be revealed when the match kicks off at 5pm Irish time, live on RTÉ2 and RTÉ Player.
WEATHER
Light cloud and light winds expected in Kyiv on Friday with temperatures peaking at 17 degrees celsius in the afternoon and early evening.
COVERAGE
Online
Follow live updates on rte.ie/sport and the RTÉ News app or watch on the RTÉ Player.
TV
You can watch live on RTÉ2 and the RTÉ Player from 4.30pm.
PERMUTATIONS
When it comes to Group I, the equation is simple for Ireland. Beat Ukraine and Pauw's side secure second place and would even have the chance to battle Germany for top spot on 1 December in the highly unlikely event that the number two team in the world lose at home to a Greece side that they have already thrashed by five goals on the road.
But given that Germany have won six from six and scored 37 times without conceding a single goal, the focus from Ireland will definitely be on sealing second.
A draw would also be enough to keep Ukraine at bay and take second spot with a game to spare. Defeat in Kiev would open the door for the Ukrainians, however, as it would move them to within four points of Ireland with an added bonus of a game in hand. Their remaining fixtures after Friday's head to head are against Greece (a) next Tuesday and then Montenegro (h) on the same day that Ireland host Germany.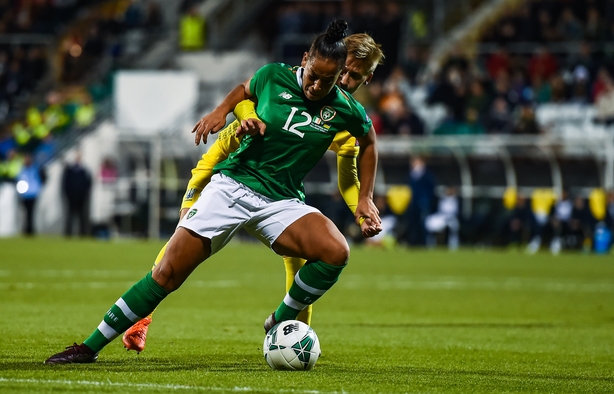 If Ireland do get the required result to effectively seal second place, qualification for the 2022 competition would then go one of two ways.
The most straightforward passage would be as one of the three best runners-up from all the groups.
As things stand, Ireland are fourth in the rankings of best second placed teams on 13 points from six games, behind Belgium (15 from six), Italy (15 from five) and Iceland (13 from four). Significantly, the Icelandic side are only above Ireland on goal difference, although they do have a game in hand.
France (12 from four), Russia (12 from six) and Czech Republic (10 from five) are the teams below Ireland with a possibility of leapfrogging their way into contention. Scotland, who have only played two games to date (winning both comfortably), are also an outlier given that their qualification games will now run all the way to February.
While the vast majority of teams currently in second have a game in hand, or even two, on Ireland, a win over Ukraine will at least put significant pressure on the other teams vying for the three best runners-up places.
LESSONS FROM OCTOBER 2019
The reverse fixture against Ukraine took place in October 2019 as Vera Pauw took charge of Ireland for the first time.
A 3-2 victory for the home side at Tallaght Stadium helped engineer momentum into the spring before the impact of the Covid-19 pandemic.
Katie McCabe and Rianna Jarrett scored two of the Irish goals along with the aid of an own goal for the third as Pauw lined the side up in a 4-3-3.
Ukraine, on the other hand, lined up in a defensive formation with five at the back. Their goals, which came from 2-0 down, followed a goalkeeping error from Marie Hourihan and an errant attempted clearance from Megan Connolly which suggests a case of capitalising on errors rather than fashioning goalscoring opportunities from scratch in that specific game.
WHAT THEY'VE BEEN SAYING
Vera Pauw (Ireland head coach): "[Ukraine] underestimated us. I think they were overwhelmed by our structure and the way we were approaching them.
"When I see how they played against Greece, which is their latest game, their perseverance to get as many goals as they could and the way that they did it, it's more that I've learned from that game than our first game with them."
Rianna Jarrett (Ireland striker): "For us, we've put ourselves in a great position but we know there's still a lot more to do. Friday's game is massive. We know exactly what's at stake.
"If we can go out and get the job done and get to that play-off that's a major thing for the country, and if we can do that hopefully it'll boost a lot of people in terms of what's going on at the minute.
Watch Friday's crucial UEFA Women's Euro 2022 qualifier between Ukraine and the Republic of Ireland live on RTÉ2 and RTÉ Player from 4:30pm, with live updates on rte.ie/sport.