It was a bittersweet night in Helsinki for Ireland centre-half Dara O'Shea who made his senior debut in Ireland's defeat to Finland.
The West Brom defender was a late call-up to the Ireland squad, having been with the Under-21 squad in Italy before being drafted into the senior squad following the depletion of Stephen Kenny's squad due to Covid-related player omissions.
O'Shea has been playing regularly in the Premier League this season with the Baggies and admitted after the game in Finland that it was a childhood dream fulfilled making his senior debut for his country.
But O'Shea was also deeply disappointed that his Ireland career would begin with defeat following one defensive error that led to the only goal of the game.
"I loved it," said O'Shea, speaking after the game. "It's been my dream since I was a kid to play for Ireland at senior level – I've done that now and it was amazing.
"But I suppose the result is just the disappointing part of the night."
Finland grabbed the only goal of the game in the 66th minute as the home side capitalised on a mis-placed Darren Randolph kick-out, and O'Shea, who played with real maturity throughout, alongside captain Shane Duffy, almost dug his keeper out of a hole but his clearing header went straight back to eventual goalscorer Fredrik Jensen.
"It's definitely frustrating. We should be winning games like that. We didn't deserve to lose the game, so that's why it's a bit of a kick in the teeth.
"We created chances and the ball just wouldn't go in the back of the net.
"You'll get punished at this level if you make mistakes, so that just goes to show. But we've just got to pick ourselves up now and continue on the good work."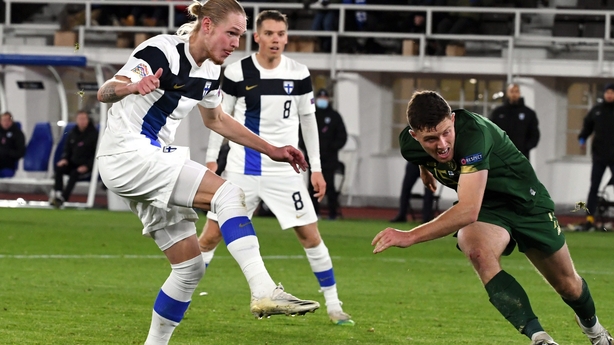 O'Shea said the transition to the senior side was made a lot easier due to the fact that he had played under Kenny when he was manager of the Under-21s so he knew what to expect and what was expected of him.
And while the 21-year-old Dubliner probably had an inkling that he would be called up as the senior side were thrown into disarray due to the coronavirus, he said that he knew that he would have to be mentally ready should the call come to join with Kenny and the squad.
"I know the way the gaffer works and I know the type of football he wants to play, and I've played it before," said O'Shea.
"I've had a lot of games under him now, so I kind of know what he expects from me, so I suppose it made it that bit easier slotting in and knowing what he wanted from me.
"Obviously having been in the last camp with the lads as well, I got to know them too, so it just made it that bit easier playing tonight.
"It's been a mad couple of days, obviously preparing for Italy and then getting the call to fly out and meet the lads in Ireland for potentially playing against Finland – it was something that I'd dreamt of, really.
"Mentally, I just knew myself that if called upon, I had to perform and had to give a good account of myself.
"I suppose that's all I had to do and that's what I tried to do tonight. Obviously the result didn't help but I really enjoyed it."