Stephen Kenny admitted that defeat in Finland was difficult to take, however, the Ireland manager would not point the finger at goalkeeper Darren Randolph for a mistake which led to the only goal of the game.
The Ireland manager felt that his side did not deserve to lose the game and he could not believe that his side did not manage to equalise following the 66th-minute Fredrik Jensen strike.
The Finland goal arrived courtesy of an underhit Randolph kick-out, which was intercepted by Teemu Pukki and converted by Jensen seconds later.
Ireland did rally for the final 25 minutes and created enough chances on goal to get back in the game but they could not break through with Lukas Hradecky making a couple of good saves to lead the home side to victory.
Aaron Connolly, Matt Doherty and Ronan Curtis all had chances to restore parity in the latter stages, however, the Finnish keeper stopped all three, most notably in injury time to claw away a perfect downward header from the Portsmouth forward.
And just minutes before the home side opened the scoring, Ireland could have gone ahead, as Enda Stevens' hooked effort landed on top of the crossbar.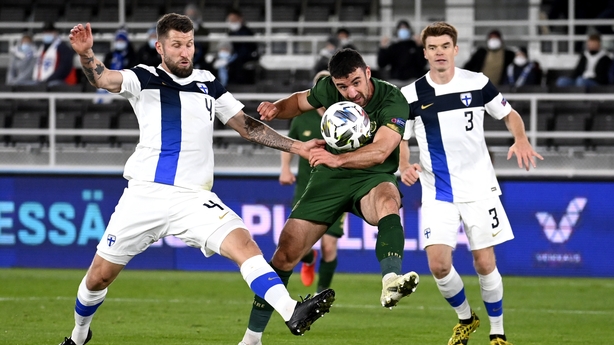 "When Enda Stevens hit the bar, it would have put us 1-0 up and a minute later we were 1-0 down," said a disappointed Kenny.
"That was difficult to take, we have given a present away for the goal.
"And that hasn't been like us, the previous two games, 120 minutes against Slovakia and against Wales we haven't conceded – two clean sheets."
Overall, we can consider ourselves unfortunate to lose
Kenny played out the Ireland chances in those final stages in what he believed was an evenly balanced game.
"Overall, we can consider ourselves unfortunate to lose," said Kenny in the post-match press conference.
"Matt Doherty had two efforts, a headed chance tipped over, and a shot wide, Aaron Connolly had two great efforts, Enda Stevens hit the bar and Ronan Curtis hit the post," he added, although the Curtis effort was actually a world-class save from Hradecky.
"And that was only in the last 30 minutes," said the manager.
"Finland are a good team, well drilled and well coached and had two good chances in first half. Overall it was probably an evenly balanced game."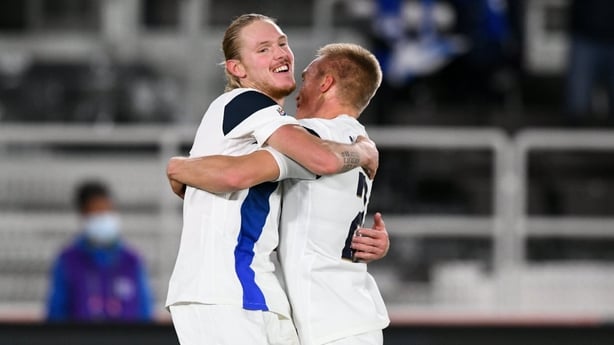 Speaking about the goal that Ireland gave away, Kenny said that it was something that they would just have to accept, saying that you cannot prepare for such scenarios.
"It's just one of those things we have to put behind us," said Kenny, speaking to Sky Sports.
"You can't legislate for a mistake sometimes. Darren has been very consistent for a number of years and it was just one of those things you have to accept. It was a disappointing goal to give away, of course.
Kenny felt that his side have been severely depleted over the past week with so many squad changes as a result of Covid-19 and injuries, while he also added that he felt fatigue played a role in the Helsinki loss following a run of tough games and two away trips to negotiate.
"It's been well documented that we lost eight players through Covid-related issues and some players through injuries also," said Kenny.
"There were periods of the game when we could have played better, and I think fatigue came into it with the third game in six days and two trips to Slovakia and Finland.
"Overall, the players showed their undoubted commitment by pushing right to the end to try to get the equaliser and showeda fair bit of quality.
"Maybe our finishing let us down. We have to accept the defeat."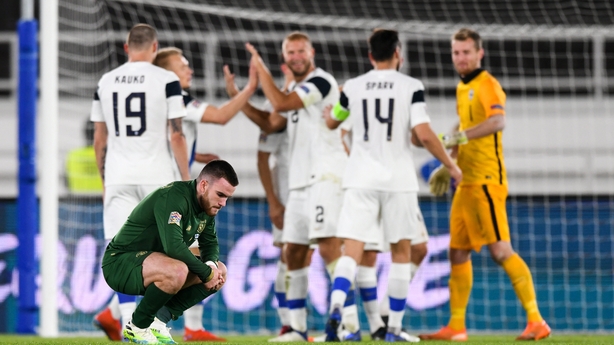 Despite the defeat, the manager was trying to remain optimistic and felt proud of his squad for the way that they coped with everything that was thrown at them in the last ten days, while he was also encouraged by the young players who have shown that the future is in safe hands.
"There were a lot of changes and some of the players who came in acquitted themselves brilliantly and we are very happy with that.
"The players have shown real character and the young players who have come in have shown a good mentality and I would be optimistic that they will go on and be important players for Ireland.
"We are in the dressing room wondering 'did we deserve to lose that?' and the answer is 'no we probably didn't', but that's not good enough from my point of view."