VENUE
Sunday 11 October, Aviva Stadium, Dublin 2pm
TV
Sky Sports Football
ONLINE
Liveblog on RTÉ.ie and RTÉ News Now app from 1.30pm
RADIO
Live commentary on RTÉ Radio 1 Sunday Sport.
Can we win a bloody Nations League game - and how much does it matter?
After the heartbreak of Thursday night, we try our best to shake off the apathy and ennui and dedicate our full attention to Ireland's latest attempt to win a match in the Nations League.
The Irish football public's embrace of the Nations League has fallen well below the level of lukewarm - a situation not helped by the team's almost uniformly dismal displays in the competition thus far.
That the shaky 1-1 draw away to Bulgaria in Sofia last month is probably Ireland's best performance in this new-ish tournament tells us a great deal about how things have been going.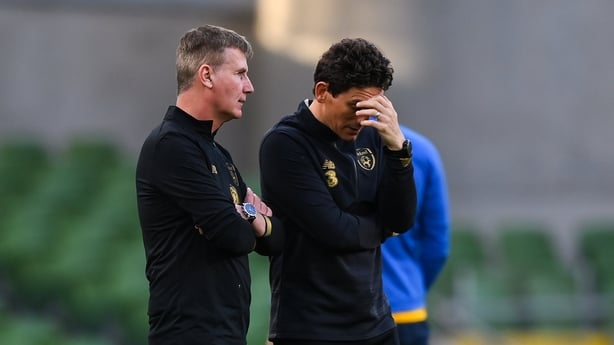 Then there's the fact that people approach the format of the Nations League, and its relationship to major tournament qualification places, as if they were asked to wrap their heads around Black Hole Theory or the Parallelogram of Forces.
The Nations League certainly carries less weight as far as 2022 World Cup qualification than it did for Euro 2020. There are only 13 spots available for UEFA countries in Qatar, ten of those going to the group winners through the traditional qualifying structure, with the ten runners-up progressing to the play-offs as per usual (we're old hands at that game).
However, there will in fact be 12 teams contesting those play-offs, as the two best ranked Nations League teams who - and this is the crucial bit - finish outside the top-two in the traditional qualification group will join those 10 runners-up. Thereafter, they are divided into three groups of four, with one team emerging from each group or 'path' via one-legged semi-final and finals, as per the system that has just seen Ireland flounder.
Got that? It seems remote, given their poor start, that Ireland will be able to avail of those two-best Nations League places. Given they're in League B, the best ranking they can achieve is 17th, though it's possible this would be enough if all the League A teams sail through via the traditional qualification route.
Horgan and Maguire called up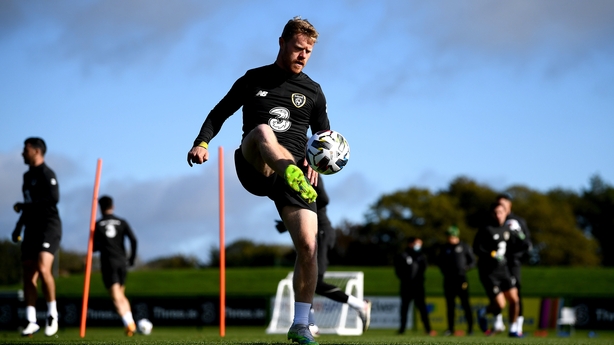 Aaron Connolly and Adam Idah are back in the UK, the hastily deleted tweet from the former in the wake of the Slovakia match indicating that he was not one bit pleased with the reasons for his exclusion on Thursday.
The 'bossman Steo' was no less frustrated himself, alluding to the comparative stringency of Ireland's Covid rules in his post-match interview and remarking that the players' forced omission was "very harsh". Certainly, many will ponder what Connolly's pace and dynamism might have achieved for the visitors in Bratislava.
While some social media users are cursing the health service bureaucrats, others are wondering whether more care could have been taken to avoid this situation on the flight over. Either way, it was a deeply unfortunate outcome.
Though fit to play, the pair remain ineligible under Covid rules for Sunday's game.
As replacement, Kenny has drafted in Daryl Horgan, one of the finest players he managed during his glittering spell with Dundalk, and Seanie Maguire, whose staggering goal-scoring figures for Cork City in 2017 were responsible for denying Kenny five titles in a row between 2014-18.
Horgan, who has made a bright start to life in the Championship for Wycombe Wanderers after joining from Hibernan last month, hasn't featured for his country since the Martin O'Neill era.
Maguire, meanwhile, bagged his first goal of the 2020-21 season last weekend as Preston came from 2-0 down to beat Brentford.
Update: Word has filtered through from Stephen Kenny's press conference that David McGoldrick, widely feted for his second half performance on Thursday night, will miss both the Wales and Finland games through an abductor injury.
Start with the team that started or finished?
In all the post-match comment on Ireland's performance in Slovakia, most of it praiseworthy, one of the topics to emerge is whether the team that finished the game was superior to the one which started.
The luckless James McCarthy, who'd been fairly solid as a defensive presence in midfield, traipsed off early in the second half to be replaced by Preston's Alan Browne.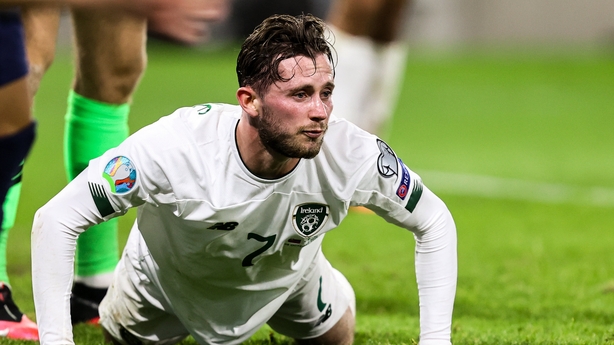 Jeff Hendrick started reasonably well in the advanced midfield role but his passing grew more ragged as the game wore on. He slipped back to cover the spot vacated by injured McCarthy and Browne pushed up the pitch.
The result was that Ireland's attacking threat ramped up considerably in the closing quarter, Browne getting two chances to score, one which was saved after being slipped through Stevens, the other in extra-time, when he re-directed a cross against the post.
Elsewhere, while James McClean gave a workmanlike and industrious display down the left side, executing a couple of important tackles on occasion, Ireland did carry more attacking menace when Callum O'Dowda was introduced.
How much this had to do with Slovakia becoming more stretched is open to debate. Either way, Ireland's selection possibilities are discussed in more detail here by Rob Wright.
Wales on high
BBC Sport Wales roused the nationalist instincts of the Welsh people on Thursday night with an ill-advisedly chirpy 'GIF' of the England crest when Dominic Calvert-Lewin headed the hosts in front in the Wembley friendly.
Various irate responses included an image of a man licking a boot - presumably an English boot - and comments along the lines of 'The ENGLISH Broadcasting Corporation showing it's true colours again'. We'll have to wait to see if Plaid Cymru get a bounce out of it.
Wales' 3-0 defeat to England was their first loss since June 2019, coming at the end of an eight-game unbeaten stretch where they secured qualification for the Euros and collected maximum points from their opening two Nations League games.
Ryan Giggs' team will be boosted by the return of Aaron Ramsey, who sat out the match in Wembley as a precaution due to a number of positive coronavirus tests at Juventus. The playmaker has been a bit-parter for Wales during their impressive run over the past two years.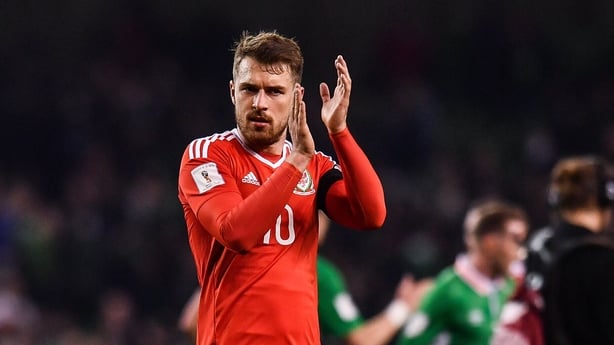 Bournemouth striker David Brooks was also rested with this game, the 23-year-old having endured a frustrating time in an international shirt since scoring in the 2-1 victory over Croatia.
As in the fateful game in Cardiff in 2017, Gareth Bale is still absent through a knee injury.
The ex-Real Madrid player is no longer revered as the galactico he was three years ago, making headlines primarily these days for his supposed golf habit and his gobby agent, who continues to issue the odd missives lambasting those who would attack his client.
History corner
Ireland have, just about, a losing record against Wales though most of these have been in friendlies.
Jack Charlton's first game as Ireland manager was our fourth defeat against Wales in four matches, all 'meaningless' friendlies.
Between 1990 and 2017, Ireland comfortably held the upper hand in the relationship, winning six, drawing four and losing one of the next 11 matches played in that timespan.
Two of those Irish wins were in competitive fixtures - might be a stretch to call the 3-0 spanking of the Welsh in the 2011 Carling Nations Cup a 'competitive' outing.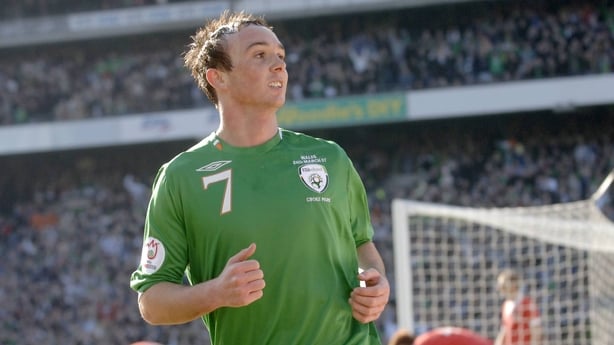 There was the 1-0 over John Toshack's Wales side, then at a low ebb, in the first Croke Park game in March 2007 and then the dramatic victory in Cardiff City Stadium in the pivotal World Cup qualifier in October 2017, by far the most significant and hyped match the two teams have ever contested.
Wales, of course, registered their first competitive victories over the Republic of Ireland in the inaugural Nations League, though the Irish public, as noted before, have been slow to plug into these games as properly 'competitive'.
Verdict
All told, Wales' status as slight favourites for the game is justified although a draw still seems the most likely outcome.
Ireland 1-1 Wales