It was a rollercoaster of a night for Irish football, and it ended in the pit of an emotional valley, but whilst there was despair, there is also hope.
Green shoots were visible of a new era under Stephen Kenny, but that doesn't take away the heartache of losing a game we should have won.
Two teams of equal measure, both keen to bestow the tag of 'favourites' upon the other, this European Championship play-off was always going to be a game that would be swayed by the finest of margins.
It's a game of inches, they say, and so it was.
Might Darren Randolph's right hand have had that margin, he may have kept Marek Hamsik's or Lukas Haraslin's penalty out.
Had Aaron Connolly and Adam Idah been 1.9 metres away as opposed to 1.7m, they may have been the difference.
Had Alan Browne's effort in the 105th minute been just a few inches to the right...
For all that was classy and admirable about the Irish performance, it was what they didn't do that was the margin, and that was to put the ball in the back of the net.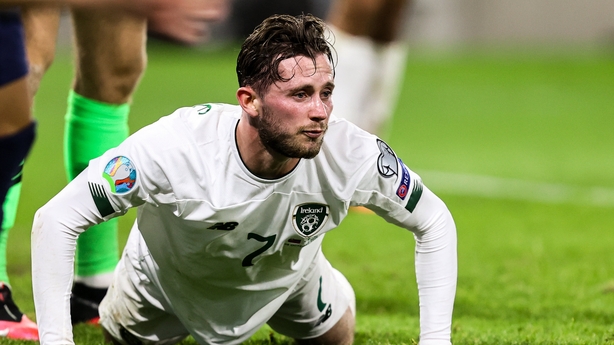 In the 85th minute, as David McGoldrick dribbled through the Slovak defence before picking out Callum Robinson to his right, the whole country just willed him, then Browne, then Conor Hourihane to just put the ball into the net, before the valiant clearance off the line by Kucka.
They are defining moments, particularly in a game that must have a decisive outcome. And whilst the disappointment is unavoidable, and marked the end of a campaign, it also gives rise to a new start.
It's just the third game into Kenny's reign but there was a difference.
There was an emotional connection to the team at a time of great turbulence for the country, and for the first time in a long while, it feels like there is hope.
Ireland had the conviction to press high and disrupt the Slovaks in how they wanted to build possession.
It didn't work every time and when the home side broke the press, they demonstrated their ability to orchestrate dangerous attacks with Hamsik pulling their strings.
At times he cut Ireland's shape open with incisive passes, none more so than in the 75th minute when he picked out substitute Lukas Haraslin, whose shot was denied by the brilliant positioning and block off the line by Shane Duffy.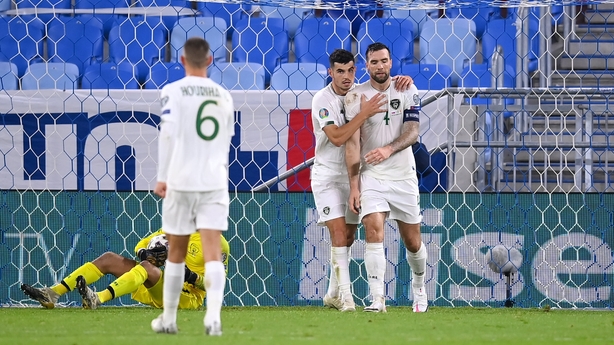 But Ireland, too, had their spells.
There were patient build-ups, pinning Slovakia to their 18-yard box, switching play until the picture inside the area was correct before putting the cross in, or creating intricate combinations with third-man runs from midfielders and defenders to break the lines and create the numerical overloads.
It was refreshing to watch.
Enda Stevens and Matt Doherty, given licence to advance and pull wide into the channels when James McClean and Robinson narrowed in to draw in the Slovakia full-backs, with the variation in the second half of Robbie Brady and Robinson occupying the wide channels to open the space for our full-backs to drive in centrally and overload inside.
At times quality in the final ball or cross was lacking, but the creation was good.
Thoughtfully constructed passages of play, intricate passing patterns, deliberate and calculated attempts to overload the opposition in their half, there was both rhyme and reason to what Ireland were trying to do.
Out of possession, it was the same.
"It's a tough one to take at the minute. We created chances and it just wasn't our night. It's heart-breaking," says Ireland skipper Shane Duffy. #RTEsoccer #SVKIRL #Euro2020 pic.twitter.com/LxnKSn54oV

— RTÉ Soccer (@RTEsoccer) October 8, 2020
When the press wasn't on, there was defending through really good shape. Connected and compact units tempted the Slovaks to playing balls that Robinson, Jeff Hendrick and McClean could pounce on.
The structure was solid and effective with McGoldrick dropping in tirelessly for the defensive actions and relentlessly for the attacking ones.
And there were corners too, six of them, but they were disappointing on the night. Normally an area where Ireland would dominate and extract their best chances, half of them resulted in free-kicks for the opposition and twice they proved to be serious counter-attacking opportunities for the Slovaks.
The first of those breaks came in the second minute of the game when Rusnak released Mihalik down Ireland's right channel drawing Enda Stevens away from his central position, and were it not for the fully committed 40-yard sprint and timely challenge by McClean on Ondrej Duda, Ireland would likely have conceded an early lead.
The Boys in Green will need to reflect on attacking set-pieces in the aftermath of this game but from Kenny's time at Dundalk, we know that goals from attacking corners were a big part of their success and there should be little doubt that these will improve.
Extra-time saw the visitors continue to try to create a winner as substitutes Callum O'Dowda and Browne started to impact the game and create more really good chances, but it wasn't to be and the game would be decided on spot-kicks.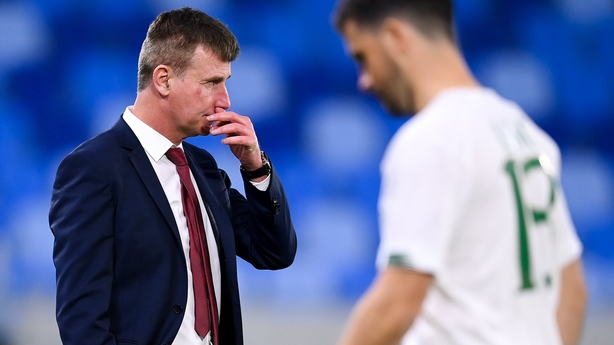 I don't believe that penalties are a lottery.
They are highly pressurised events and it's about executing a strike at goal that cannot or will not be saved.
They are not easy but also are not down to chance. Watching them is great, but it's so much harder when you're invested in one of the teams.
It wasn't to be on the night and Ireland's prolonged qualifying campaign came to an end.
But for every door that closes, a new one opens and for Kenny there is now the one thing he didn't have enough of in the build-up to this decisive match, and that's time!
Time to embed his philosophy with the players.
Time to explore the depth that he can have in his squad when the 2022 World Cup qualifiers come around.
The Nations League continues on Sunday with a home tie against Wales, and having another game so soon will help take the focus off the disappointment, but come next summer, it will resonate again.
Building something new takes time and whilst it is, and always will be a results business, we can believe in what the new manager believes an Irish team is capable of.