Diane Caldwell admits that the Republic of Ireland will have to have the 'game of their lives' in order to beat Germany in Saturday's Women's Euro 2021 qualifier, but the defender believes her side can cause a major upset.
Ireland currently sit atop Group I, a point ahead of Germany, who have a game in hand.
Vera Pauw's side also have their toughest games of the campaign to come as they play Germany home and away with a trip to Ukraine sandwiched between.
If Ireland can get even a point from those two games against Germany it would offer their qualification hopes a major boost, but the Germans have a perfect record in the group with four wins from four and have yet to concede a goal while scoring 31 times.
Caldwell, who plays her club football in Germany, knows exactly what her side are up against in Essen on Saturday (1pm).
"We're not under any illusions as to the challenges ahead of us, they're not ranked second in the world for nothing," she said.
"They've just had a really good result against England in a recent friendly where they beat them 1-0 and they're a team that's in transition but they've had an amazing qualifying campaign so far, 31 goals scored and none conceded.
"So it's going to be a pretty formidable challenge for us.
"We know that we're going to have to be at our best and have the game of our lives.
"At club level when you play the top teams like Wolfsburg and Bayern Munich who are full of German internationals, you know the pace of the game from the onset is going to be so high."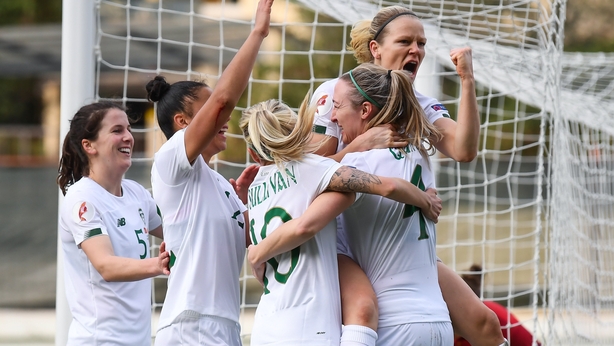 Caldwell has been plying her trade in Germany with SC Sand since 2016 and has faced most members of the German national team in that time.
As captain of SC Sand, Caldwell's experience and her level of knowledge about the German team could provide an extra edge for her international colleagues and she offered no shortage on information about the individual quality of the Germans when asked.
The 32-year-old said: "The real key players will be Dzsenifer Marozsán, she plays for Lyon, but the other key players would be Lina Magull of Bayern Munich and Linda Dallman, of Bayern Munich also, but I just heard that she's got pulled out of the squad due to injury.
"Alex Popp is always a threat, probably the best header of a ball in women's football.
"In every position, even if they've got injuries, they've got players that will come in and just be at the same level. It's all across the board, it's not even the first 11, it's the players on the bench as well."
Caldwell also warned of 22-year-old Bayern Munich striker Lea Schuller, who has averaged just over a goal every two games since making her international debut.
"Lea Schuller came from Essen, was a bit of an unknown talent and then just burst onto the scene.
"She has an amazing scoring record and is a really difficult striker to play against. She's got a bit of everything to her, she's athletic, she's tall, she's very good in the air and very good with her feet.
"She just loves to receive the ball and one contact turn and she's gone straight away. That's kind of her trademark and is someone that we need to look out for."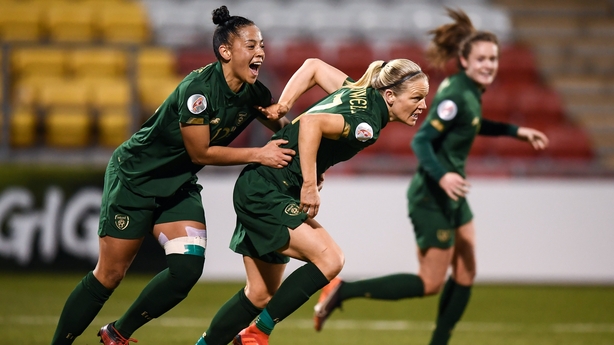 Speaking last month, Ireland manager Vera Pauw admitted that, realistically, winning in Ukraine was the priority but insisted that "we'll never leave an opportunity if we can get a result in Germany, because every point will count for (qualifying as) the best second-placed team."
And as good as the Germans are, both individually and as a collective, Caldwell refuses to be intimidated and insists that Ireland have to have faith in their own ability and in their manager's game plan.
Discipline and a high level of concentration will be key if Ireland are to take anything from the game, she believes.
"It's daunting as a defender but you just have to really stay concentrated," she said. "We need to be very thorough and precise in our game plan and preparation and it's just trying to take the game in chunks – trying to get to half-time still in the game.
"Obviously it's going to be backs to the wall stuff at times but you're going to need to have those transitional phases in the game, you're going to need to try to have an offensive mindset as well at times.
"It's going to be a team effort of hard work and concentration. [We have to be] very disciplined and stick to the game plan.
"It's just about having a specific game plan, knowing what your roles are and the key parts of the game to play through. Concentration is a big one, against the top teams they pray for those moments when you switch off or make a mistake."
---
WATCHLOI: Half-season Pass for the SSE Airtricity League Premier Division run-in
---
RTĖ Sport · RTÉ Soccer Podcast: Stuttering start for Kenny and Quinn's departure