Vinny Perth says that Slovakia's lack of knowledge of Stephen Kenny's Ireland can be an advantage ahead of the countries' Euro 2020 clash next month.
Kenny's reign started with a wobble over the last week, with a late 1-1 draw secured in Bulgaria before a disappointing first defeat to Finland in Dublin on Sunday.
The new Ireland manager was quick to point to the most important fixture on the horizon - namely Slovakia away - afterwards, while skipper for the weekend Shane Duffy said that fitness in the squad will improve in the interim period.
Originally, the Slovaks would have been preparing for a team under the guidance of Mick McCarthy, but the impact of Covid-19 on the sporting calendar means it's now Kenny in charge, and his declarations of a more possession-based game, that will arrive at the Tehelne Pole in Bratislava on 8 October.
Speaking on the RTÉ Soccer Podcast, Perth said it brings a different variable into the equation.
"Every manager has their own beliefs, and different ideas," he began.
"They're not going to be sure, for example, who is going to play in midfield. As an opposition analyst you would give your players very detailed (information) - 'This is Slovakia, this is the way they play, this is the way they keep the ball.'
"Just off the top of my head, I remember watching Slovakia against Wales, and they had over 60% odd of the possession. So they're a possession-based team.
"They would have been looking at Ireland, up until this weekend, saying 'we'll probably have the ball against these.' Their own coaching staff would be thinking that way.
"But now it's flipped, where they'll go, 'these might come and keep the ball against us. We're going to have to set up traps and work out how we dispossess them, and when we turn it over how we can hurt them.'
"So it's definitely an advantage in that sense that we've a different way of playing."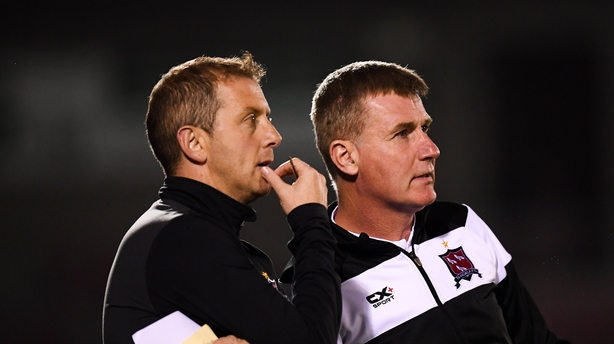 Perth has plenty of experience of Kenny's methods, with the pair having worked together at Derry City before establishing a very successful partnership at Dundalk.
Speaking from that experience, the new Ireland manager's possession game depends on defenders who feel confident on the ball, according to Perth.
"You can't concede goals when you have the ball. Particularly at international level, it looks like you need to be keep it for long periods, if you can.
"Even if I go back to the good Ireland teams over the last number of years, and centre-halves like (Richard) Dunne or (Kenny) Cunningham.
"They generally kept the ball around the back at different stages for periods just to take the sting out of the game.
"I spoke to Richard Dunne about this on many occasions, and he said international football can be slower at times.
"But then all of a sudden it just comes to life. The pace in attack from different players, and the speed just kicks in.
"So we do need to keep the ball. I think that's the right move we've made as an international team, to keep the ball and to be more comfortable keeping it.
"It's now whether we can flip that over from the attack point of view."
Listen to the RTÉ Soccer podcast on Apple Podcasts, SoundCloud, Spotify or wherever you get your podcasts.