Shane Duffy says he's hopeful that a sharper Ireland can be more ruthless when they take on Slovakia in the Euro 2020 play-off semi-final next month.
The Boys in Green played a first home game under new manager Stephen Kenny yesterday against Finland, but it wasn't a happy homecoming for the Tallaght native as they lost 1-0.
It marked a disappointing start to the new Nations League campaign, with Kenny's charges third in Group 4 of the B Division.
The central defender scored the only goal in 180 minutes of football - a stoppage time header against Bulgaria on Thursday - as Ireland's poor record in UEFA's new competition continued.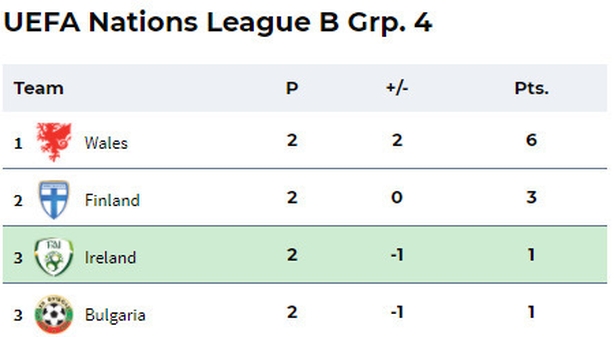 In truth, those games against the Finns and Bulgarians will quickly be forgotten as attention turns to the do-or-die clash in Bratislava on 8 October.
And for Duffy, who captained Ireland in both of their recent games, it's all about getting the sharpness back.
"We've got to pick ourselves up, and we've still got to believe and trust what we're doing," he said.
"It's still early days. I know it's not nice saying it but we've got to keep going and pushing ourselves, and wanting to get better, and wanting to play this way.
"This is the way the manager has decided to play and we've got to get used to it quick, or you won't play.
"We have a month. We'll have games under our belts in the league, and a lot of the lads will be in a better condition.
"Hopefully we get the majority of the lads playing every week and we come back sharper, a lot quicker - mentally as well. It's tiring when you make the wrong decisions out there.
"We'd rather more sessions to get used to the manager, but hopefully everyone gets a few more league games under their belts.
"We can't dwell on it. I don't think we've time to dwell on it. We've got a big game coming up next month.
"We've got such belief in that dressing room. We've been knocked down before and come back.
"We've a strong group, and we've got the likes of (assistant mangers) Duffer and Keith (Andrews), who've been there and done it as well, so we're confident that we can go on and get it right for next month."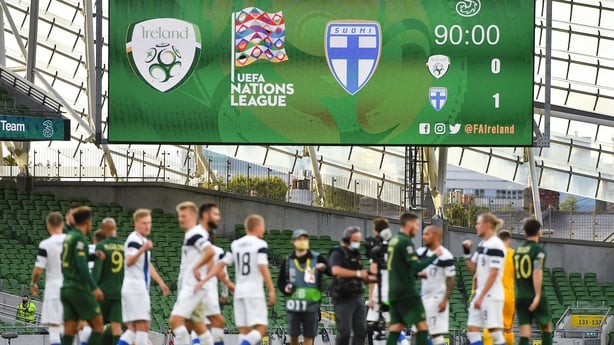 Having only trained together for the first time last Monday, the squad will now go their separate ways.
The Premier League returns this weekend in England, while Duffy will be getting used to yet more new surroundings after completing a loan move to Celtic last week.
He is hopeful that there will be communication with the Ireland management over the coming weeks.
"I don't know what the manager decides," he continued.
"We'd like to all stay in touch. I know Keith touched on it there, that hopefully me and John (Egan) and him can have some Zoom calls, and see what we need to do better.
"What we're comfortable with, and what we can do for the big game against Slovakia. We need to get it right for that."
Kenny has spoken about wanting to keep the ball on the deck more than under previous manager Mick McCarthy, saying he wanted to play in a style that kids would want to be involved in.
It's a more attacking brand of football, and Ireland had far higher possession stats in their two recent games than they've had previously.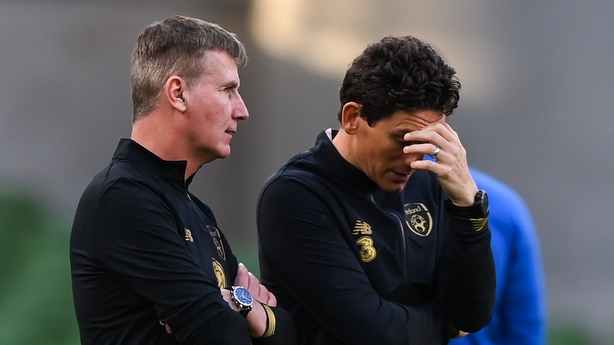 But it also means centre-backs Duffy, and his partner Egan, are more exposed.
The Derry man says he's confident he can adapt to the new system.
"I just go out there and try to play my game. Of course it's a little bit different because our full-backs are going to be a lot higher.
"We were 2 v 2 a lot tonight against their two strikers, so you've got to get used to it. But I'm used to it.
"I know people will want to say what they want to say about me, but I can defend in 1 v 1 situations. I've done it in the Premier League and at international level.
"I back myself and I don't see many players really getting the better of me. It's your position as a centre-half, you've got to deal with quick players.
"You've got to deal with big spaces. You've got to deal with being on the ball, and hopefully I'm trying to get better at that."