Stephen Kenny insisted that Ireland won't get too bogged down in two poor Nations League showings with the Euro 2020 play-off against Slovakia to come next month.
The new manager began his reign with a 1-1 draw away to Bulgaria on Thursday and saw his side fall to a 1-0 loss against Finland in the Aviva on Sunday evening.
However, the Boys in Green have, for a long time, had their eye on the one-leg semi-final play-off against the Slovaks on 8 October.
"We wanted to win them, our first game at home, of course we wanted to win but for us there's a bigger picture - that's Slovakia," Kenny told Sky Sports.
"We are a bit experimental in the games.
"I think that's evident and I think we want players to put their hands up and put themselves in the picture for Slovakia.
"We need to increase our attacking options, that's for sure for the game.
"We wanted to do that. Some players did quite well and that gives us real food for thought for the game next month."
Ireland struggled to create any clear cut chances against the Finns, who had never beaten the hosts, and despite some positive passages never appeared to have enough quality to earn the win.
They were indebted to goalkeeper Darren Randolph, who made a string of saves to keep the score down before and after Fredrik Jensen's 64th-minute strike.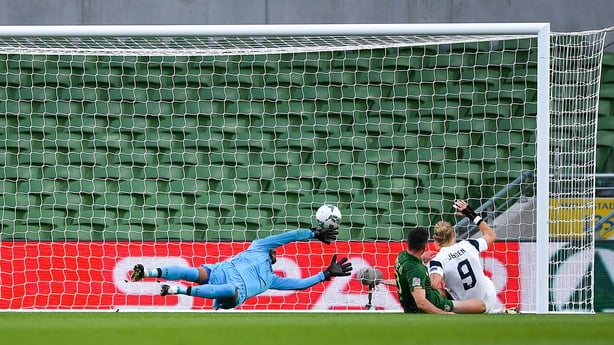 "I thought in the first 15-20 minutes we probably took a while to adjust to their 3-5-2 system and their switch of play to the wing backs," added the former Dundalk boss.
"Obviously, Darren had to make a very good save from Pukki early on.
"After that I felt we finished the first half in the ascendency and played quite well for a spell. We were sort of on top when we conceded.
"After that Finland had a better spell and we rallied, and had probably four or five really good chances and when you get them you have to take them.
"It's as simple as that. We are disappointed obviously to lose the game.
"If you look at all the games, Wales have won in injury time against Bulgaria and [scored] a late winner against Finland.
"Finland have beaten us here, we got a late equaliser in Bulgaria. They've all been won 1-0 and I think there's been nothing in the games.
"The ability to take your chances has been the critical difference."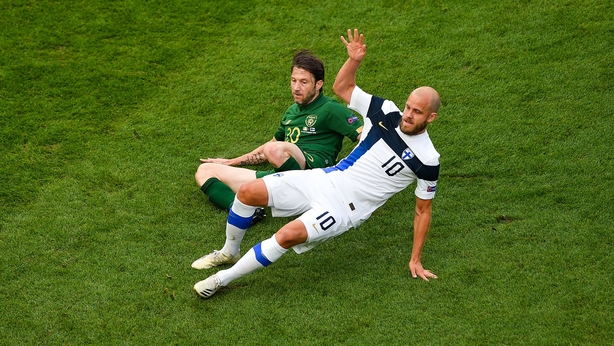 Midfielder Harry Arter insisted Ireland did not deserve to lose the game.
He told Sky Sports: "It's hugely disappointing I felt we didn't deserve to lose the game. We probably do enough to get a goal, but it felt like we defended well, won a lot in the game.
"We've got to make sure we see games out 0-0. If we're not going to create an awful lot, we need to make sure we don't concede.
"It's disappointing."
The midfielder admitted the team has to find a killer instinct in front of goal if they are to prosper.
He added: "I felt in the attacking areas, we could have been better. I don't think we had enough conviction up top - that's not a criticism of the lads that were playing there, as a team, whether it was the build-up was too slow or that final pass let us down.
"I felt we built up from the back very well, but we lacked that killer instinct which at international, we have to create and we have to get pretty soon."