Conor Hourihane may be one of the more technically adroit players in the Republic of Ireland squad, but the Cork man had no qualms about citing the merits of winning ugly when interviewed earlier today.
Hourihane was speaking in the wake of Ireland's 1-1 draw against Bulgaria in the UEFA Nations League last night, which kicked off the managerial reign of Stephen Kenny.
Kenny's previous sides have been vaunted for embracing an expansive style that has often been at odds with the fare served up by the national side, but the Aston Villa midfielder maintained that winning remains the number one priority, even if doing so with panache was now an option that would be afforded to him and his international colleagues.
"We're in a results business," a pragmatic Hourihane insisted.
"We all want to win and we all want to get good results first and foremost.
"You simply have to win and win ugly at times, that would be absolutely fine as well. But if we can win and play well at the same time, that's the thing everyone strives for.
"The opposition will be trying to win as well. If it was an easy game, we'd all be winning and we'd all be playing great every single week.
"We just try to take the manager's ideas on board as much as possible. He's given us a lot of info to try to take on board over the last three or four days.
"We want to play well, we want to win, of course, and that's what everyone's after."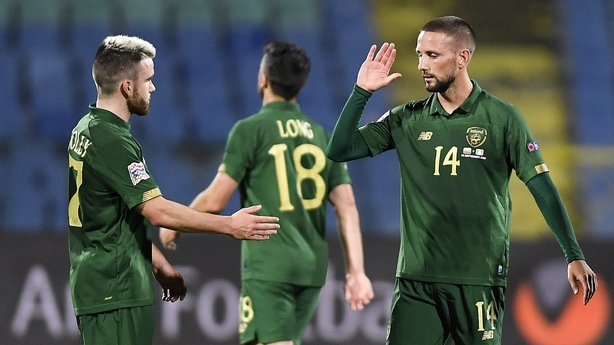 Ireland made a bright start in Sofia, where James McCarthy returned from the international wilderness after a four-year absence, while debutant Adam Idah, Aaron Connolly and Callum O'Dowda spearheaded a youthful attacking threat that wasn't quite as potent as fans would have hoped for beforehand.
In the end, it was left to an old hand – and an old head – to snatch a point for Ireland on their sortie to Sofia, with captain Shane Duffy cancelling out Bozhidar Kraev's 56th-minute opener at the Vail Levski Stadium with a towering header at the death.
Hourihane now hopes the result and a little more time in camp can serve as building blocks to a better result on Sunday at the Aviva Stadium, when Ireland face a Finland side coming off the back of a 1-0 loss to Wales.
"The manager has come in and we have only had three or four days to take on as much information as possible," the 29-year-old added.
"We tried to play the right way, the way he wants to play, and that's more possession-based. We had 60-odd percent possession, which is good. We created some good chances, I think maybe if we had taken one of them earlier it would have been a different game.
"It's been a change in style, a change in direction there's a new freshness with the young lads coming into the squad.
"It's a new time, new era, new playing style by the looks of the other night, which is great. So it's a very exciting time.
"Hopefully results will follow. It was nice to get a result, albeit a draw, but it's something to build on."