Former Republic of Ireland striker Stephen Elliott believes that Stephen Kenny's side would have benefitted from the presence of a player in the mould of Glenn Whelan – or possibly Whelan himself – after their 1-1 draw against Bulgaria in the Nations League on Thursday night. 
An Ireland side featuring 19-year-old debutant Adam Idah found themselves trailing to Bozhidar Kraev's 56th-minute opener at the Vail Levski Stadium, before captain Shane Duffy earned the visitors a share of the spoils with a towering header in stoppage time. 
Encouraging early signs from an Irish perspective waned as the match progressed, with Elliott left concerned by what he saw in Sofia.
"The second-half performance wasn't great, I don't think, by the Irish team. I think Bulgaria were the better team," he told Game On listeners on RTÉ 2FM. 
"I didn't really get a sense of any difference after coming away from that second half.
"We're all kind of celebrating, it so happens to be Duffy scoring the goal again, and getting us out of jail a little bit.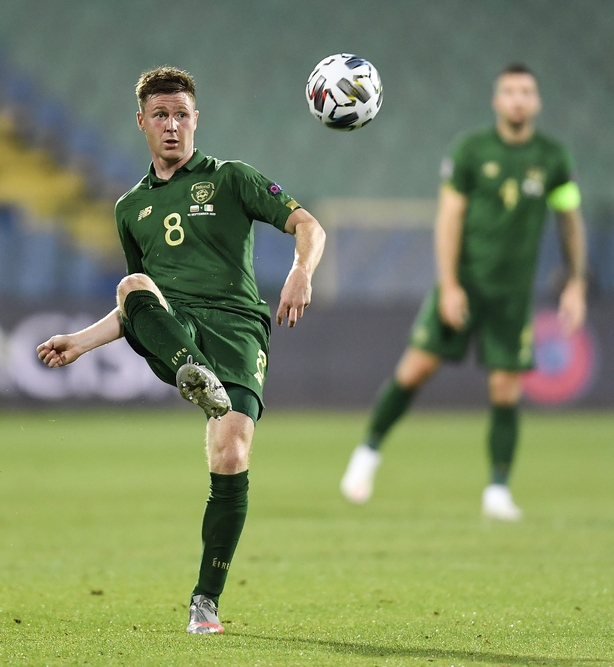 "But I would just look at the second half as very worrying. I think the team's shape and the midfield looked very much all over the place. 
"I think McCarthy struggled in there."
If the contrast between Ireland's initial outing under Kenny and their previous displays under Mick McCarthy wasn't as great as some had hoped for, Elliott's choice of a difference-maker is likely to surprise many fans.
Whelan has always said he would never retire from Ireland duty but was not selected in Kenny's first squad.
Elliott said: "I'm not saying bring Glenn Whelan back, but for me he was probably one of our better players over the last couple of years in protecting the defence, and I think it highlighted tonight how important he was to the team.
"I think we need somebody that can play the role that Glenn Whelan can play, and if they can't then why are they overlooking somebody like Glenn? 
"Because I think he would have done a better job in there protecting that backline and making the outlet ball for our wingers."