Stand-in captain Shane Duffy was disappointed with the Republic of Ireland's failure to claim victory in Bulgaria but pleased by the team's fight and commitment to new manager Stephen Kenny's game plan.
Ireland needed a 93rd-minute header from the Derry man to ensure Kenny's reign began with a 1-1 draw rather than defeat in the UEFA Nations League B4 clash in Sofia.
"It was nice to get the goal at the end, but overall a little bit disappointed with the game and the result," Duffy told Sky Sports. "A bittersweet moment.
"I fancy myself every game if the delivery is right and I had a few chances tonight. I knew when Brades (Robbie Brady) came on I was going to get a chance with him.
"He has a wand of a left foot and we grew up playing together. He knows where I like it and he stuck it on my head.
"I think we we were the better team. The chances they got were from our sloppy play, they didn't really break us down otherwise. We had a lot of possession (63%) and a few chances.
"We want to win every game and try to get going with this team, but it was important we didn't lose the game.
"That's a positive and the attitude of the lads, who kept going till the end. When we equalised we kept going to try and get a winner."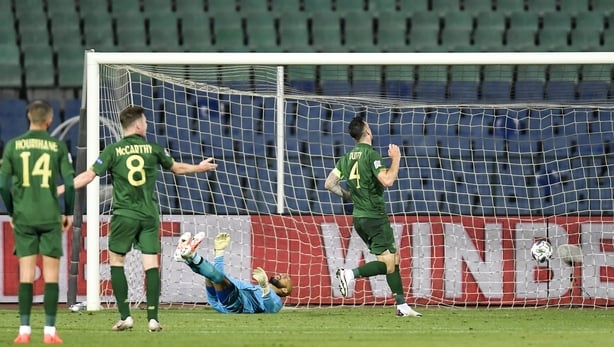 Duffy was one of a couple of players culpable for Bulgaria's opener when Bozhidar Kraev was left unmarked in the 56th minute.
"I probably took the blame myself," he said. "It was sloppy defending. I didn't get in quick enough and they punished us.
"I haven't played a lot of football so it was tough out there at moments to get going.
"Disappointing, but hopefully I can put it behind me and the more games I get under my belt I can get sharper and fitter.
"It was like a pre-season game for most of us, we haven't had many games. I haven't played in a long time."
Duffy said that new boss Kenny had impressed upon the team the importance of retaining the ball and he was happy they didn't resort to route one, even when trailing.
"It's early days under the new manager, a couple of days training, and he's trying to get his ideas in. It will take a little bit of time but we'll keep trying," said Duffy.
"We had a lot of possession. We worked on that in the few days, trying to get higher up the pitch and getting our front three pressing their back four.
"Me and John (Egan) had a lot of the ball early on but they had a mid(field) block where it was hard to break through and they were waiting for our mistakes.
"A lot more possession-based and even when we went 1-0 down we didn't retreat to just lumping it, we kept to the style, and that was positive."
It was the first match Duffy had played since his father Brian died suddenly in May, aged 53.
"It's the first game where he's not been here," he said. "So it was emotional of course but I'm a professional, I want to play football and focus on the game.
"I know he's there for me, and was probably looking down on me in the last minute."