Republic of Ireland manager Vera Pauw believes that UEFA should stage her side's remaining Euro 2021 qualifiers in a Covid-19 'bubble' next year rather than make them travel to Ukraine and Germany in the coming months.
Ireland face the Germans in Essen on 19 September before a trip to Kiev to take on Ukraine on 23 October. Germany are due to come to Dublin on 1 December.
Ireland top Group I with a game more played but with the Germans expected to win the group, the tie in Ukraine is likely to proved decisive to hopes of qualifying for a first ever major tournament - assuming it goes ahead of course.
Denise O'Sullivan has joined Brighton on loan to ease travel for the crucial matches but the likes of Heather Payne (Florida State University) and Julie-Ann Russell (Sydney University) will face major headaches travelling to and from Europe.
Ireland's players will travel directly to a training camp in Duisburg, Germany on 13 September to try to minimise disruption but Pauw thinks the games should be held in February's international friendly window instead.
"It surprises me that UEFA is only considering the September game, to get that out of the way and then look at Ukraine," Pauw told RTÉ Sport.
"We as an organisation would like to see it as a project, all three games together, but UEFA only wants to worry about September first.
"If you don't take the Ukraine game with the Germany game, you will have the problem later that you now face where out of nine weeks, six weeks quarantine.
"Germany doesn't have players all over the world, we do. Ukraine doesn't have players all over the world, we do, so it's unfair competition.
"I would propose to create a bubble in February and play all three games in that window of the friendly tournaments, because at the end I don't know how to get to Ukraine. The games are scheduled to be played in Kiev which has the highest infection rates in Ukraine at the moment.
"There is something going on in this world that we need to take into account and that is why I wonder if it is wise to play these games.
"That's a personal opinion from me, a person looking at the situation and thinking I'm not sure. But I'll be in there with my full heart."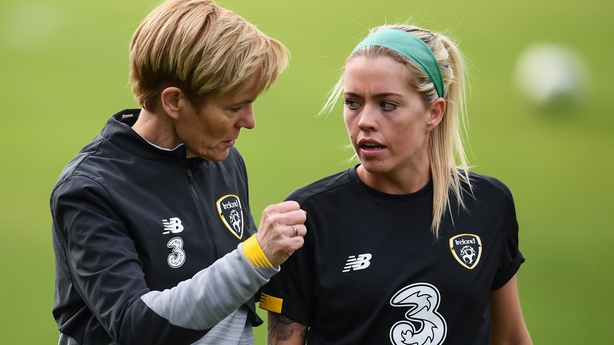 Pauw agreed this week to extend her Ireland contract until after Euro 2021 if Ireland qualify. The deferred tournament will now be held in England in July 2022.
The Dutchwoman says the FAI are keen on a long-term deal that would keep in her charge for the 2023 World Cup qualifying campaign but that she cannot commit to that at this stage.
"Of course the association has asked about that and they want to have a long-term agreement but my husband (former Netherlands manager Bert van Lingen) is older than I am (57). He turned 75 this year and we are very much close so I don't want to take long-term agreements because I don't know what life will bring.
"That is the reason that I have not signed.
"We know that if we qualify we already have to play qualifiers for the World Cup before the tournament in 2022.
"That is there, and the association has raised it, but for me my private life does not allow me to make those decisions."