For the last 24 hours, a good news story has been leading the headlines. The rescue of cousins Sara Feeney and Ellen Glynn by a local fisherman, after the pair got into difficulty while paddleboarding at Furbo Beach in Co Galway, has lifted collective spirits at a time when spirits do need lifting.
Despite strong waves and winds, both Feeney and Glynn stayed calm and believed they would be rescued.
"We said there's no point in panicking, just stay positive and everything will be fine," Ellen Glynn told RTÉ's Today with Sarah McInerney.
After a night spent in cold waters with the waves pushing them out towards the Atlantic Ocean, the sight of a fishing boat coming towards them in the distance would signal the end of their ordeal.
Fisherman Patrick Oliver and his son Morgan were part of the search team.
"I didn't know they were out looking for us. I thought they were out fishing. I said thank you so much. I said we have been out here since last night and no one is looking for us," Glynn added.
Prior to tonight's Airtricity League First Division match between Galway United and Longford Town at Eamonn Deacy Park a minute's applause will take place to thank all of the service staff and volunteers who took part in the search and rescue of Ellen Glynn and Sara Feeney.
Ellen is the daughter of Johnny Glynn, who currently serves as Galway's head of youth development. The wider footballing community will perhaps best know Glynn as the man who scored the goal that saw the westerners defeat Shamrock Rovers to clinch the club's only FAI Cup success in 1991.
In a domestic career that spanned over 15 years, Glynn also had spells at Cork City (League and FAI Cup winner), St Pat's Athletic, Sligo Rovers and Shamrock Rovers.
Reflecting back on that day of cup glory in 1991, John Martin, in the Irish Independent, described Glynn's winner as "one of the most brilliantly executed goals since soccer set up house at Lansdowne Road almost two decades ago".
The start then of an eventful summer for the Galway city native. Departing from Shannon Airport, en route to Boston for his summer holidays, Glynn discovered that Jack Charlton's Ireland were on the same flight for a game against the USA in Boston. A meeting with Packie Bonner informed Glynn where the team were staying in the Massachusetts city.
And so the following day, the then 25-year-old, along with his sister Linda went to the hotel hoping to meet the players. Timing is everything. As the Irish squad arrived in from a training session, Irish Times journalist Peter Byrne introduced Glynn to Jack Charlton. With only two strikers in his squad, Jack asked the Galwayman if he had his boots with him? Of course he had.
Before long, Johnny Glynn was training with the Irish squad. At the Foxborough Stadium, with 51,000 fans in attendance, mainly Irish fans, Glynn was warming up. He was ready for action. Sadly for him, the call to enter the fray never came on that hot hot June afternoon. The game finished 1-1.
Speaking recently about that day 29 years ago, Glynn told the Galway Advertiser: "I didn't get to play, and so did not get an Irish cap, but I was grateful for the opportunity and lucky to be in the right place at the right time."
Another sporting outcome, much more recent, within the last 24 hours in fact, also has a link to Galway United
He Knows No Fear became the longest-price winner in the history of Irish or British racing when winning the the Irish Stallion Farms EBF Maiden at Leopardstown at odds of 300-1.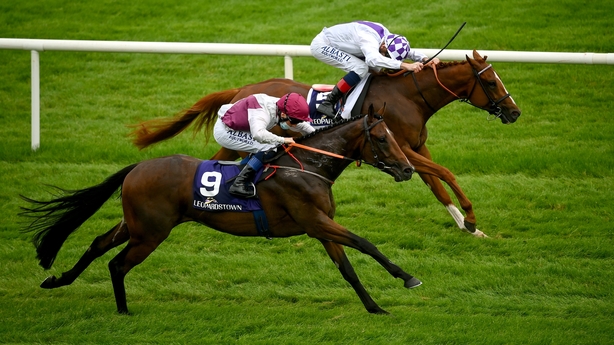 He Knows No Fear is trained and owned by Luke Comer, who along with his brother Brian are billionaire property developers. They are founders and owners of the Comer Group. Galway United are sponsored by the Comer Group.
The brothers have ambitious plans for the First Division outfit. Since 2013, they have pumped over €2million into the club. Last year, the Comers purchased a site for less than €1million near Athenry that will serve as a base for Galway United's footballing academy.
And while Luke Comer and his team will be celebrating their 300-1 success at Leopardstown, it's not the first time the handler has sent out a horse at such long odds.
Barry's Run went off at odds of 300-1 in the 1991 Irish Derby. He finished sixth.
But Thursday was a remarkable day and a fortuitous day in Galway and for those connected with Galway United.