League of Ireland clubs have been warned they will face heavy sanctions if they do not fully comply with Covid-19 protocols.
Waterford's Premier Division game against Sligo Rivers on Tuesday was postponed after two of the Blues' players displayed symptoms consistent with having the coronavirus.
On Wednesday, Waterford confirmed that one player has received a negative test, while the second player is still awaiting his result.
On Tuesday, Waterford FC's club doctor Sinead Fitzpatrick resigned from her position. No explanation has been given by the club for her departure, or whether it is linked to the suspected Covid-19 cases. There is also no suggestion that Waterford have been guilty of breaching any protocols.
Speaking in general terms on Wednesday afternoon, FAI interim CEO Gary Owens said the association will "have to come down hard" on any club that fails to adhere to the appropriate guidelines.
"We will need to come down hard on the clubs that are not following protocols because there is too much at risk," Owens said.
"Why do we go back and resume? Because there are a lot of challenges. We may still have the same problems in January and we want to know how do we play games in a Covid-19 environment?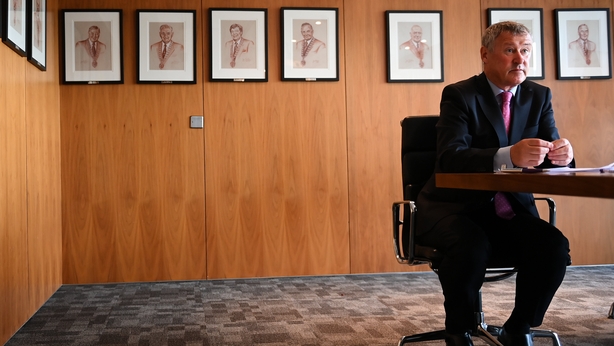 "How do we play behind closed doors? What would streaming look like? What protocols do we have? We were never going to get through a season without some challenge to someone being positive.
"How do we react to that and how do we start again? And all those questions are important. We could enter into next season with the same criteria and are watching matches streaming, rather than actually having fans in the ground."
"If we make any mistakes, there is a huge amount at stake."
Asked if points deductions or walkovers were a possibility for clubs found guilty of any breaches, Owens replied: "We'll definitely have to think about sanctions for the people who are not following the protocols. There is no point putting them in if there are no sanctions for ignoring them.
"We have the compliance officers and they go to all the matches. We can't control what any of the players do at night - they can go to a party, they can go to a bar - so you just have no control over that."
Owens stressed that clubs who signed players from abroad were made fully aware of their obligation to ensure quarantine measures were properly undertaken.
He also highlighted the knock-on effect any lapses will have with regards to the four Irish clubs due to compete in Europe and the Republic of Ireland national sides.
"From an expert medical group, we're trying to get the dispensation for players from the international and European competitions.
"We'll have an interesting conversation where the games are played. So all of these messages we give out from top to bottom are going to influence international team exposure, European teams and our own national league.
"It's important we get it right. If we make any mistakes, there is a huge amount at stake."
Subscribe to WatchLOI to stream 55 Airtricity League matches and selected FAI Cup games this season.