Jack Charlton lifted the country "by the scruff of the neck" at a time when life in Ireland was blighted by unemployment and emigration, according to Niall Quinn.
The former Republic of Ireland boss's funeral is being held in England this morning and Quinn, who won 92 international caps, paid tribute to Charlton, the English World Cup winner who brought the Boys in Green to centre stage of world football in the late 1980s and early 90s.
"We were very lucky that we were part of a special sporting happening or period of time, but I think it was the way it touched the country at the time," Quinn, currently the interim deputy chief of the Football Association of Ireland, told RTÉ Radio 1's Morning Ireland. 
"We weren't exactly firing on all cylinders as a country.
"Unemployment was at its highest levels ever, emigration was the order of the day, and here was a football team giving us all something to be proud about and a manager, an Englishman, who had taken us by the scruff of the neck – what a job he did.
"I remember him first and foremost as a great family man and a man who just brought joy and fun into everything we did as players. We almost became part of a second family of his.
We need your consent to load this rte-player contentWe use rte-player to manage extra content that can set cookies on your device and collect data about your activity. Please review their details and accept them to load the content.Manage Preferences
"His granddaughter Emma Wilkinson has posted a Facebook video and it tells you everything that perhaps we didn't see in Jack Charlton.
"We saw the footballing force of nature, there's no doubt about that. It was an incredible time for us all and for us players it was amazing.
"But I also look back on the care and attention he showed to every one of the players, not just tactically to help us win matches and move our careers forward, but to help us off the pitch.
"He'd take the time to try and understand us off the pitch.
"That's the difference with this man, he was so human, he was so caring and that all came home to me the other day when I spoke to his gorgeous wife Pat, who reminded me of how fond he was of Gillian (wife) and I, and that was something that shook me to the core and brought it all back.
"He created a family atmosphere and all of us strived to be in it, we hid injuries from our club to get over on the trips."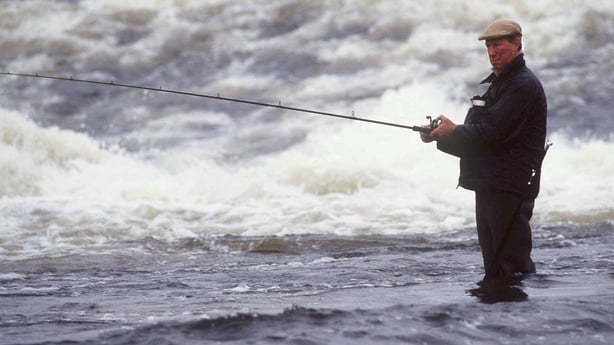 Asked if Charlton was conscious of the effect he had on the country, Quinn said: "I think he realised it when he'd go off for a quiet weekend fishing off to Mayo or somewhere and he couldn't really do an awful lot without people coming over and explaining how he was changing their lives.
"He stopped and listened and talked to everybody. Jack took time for everybody and he was such a fun man as well and he had great wit and wisdom and he was happy to depart some of that on to everyone he spoke to and that's what endeared him to everybody so much." 
To coincide with the funeral in England, the FAI and fans groups have asked radio stations to play the Italia 90 anthem Put 'Em Under Pressure at 12.30pm.
The FAI has also encouraged people to wear green today in memory of Charlton. 
"As hard as it is to hear and feel and know that he has passed, I think the mark he left on Irish life, we can celebrate it today, one time where we can come together and feel part of Jackie's Army just one more time," added Quinn.