James McClean says that he has received "more abuse than any other player during my nine years in England," and has called on his Ireland team-mates to support him.
The Derry midfielder, who plays with Stoke City in the Championship, made the claim in a post on his Facebook page on Monday.
"I have seen some of my fellow Irish team-mates post a black square in support of anti-racism as well as post condemning the discrimination, and AGAIN rightly so!," he wrote.
"Have I ever seen any of them ever post a public condemnation of the discrimination I get, which funnily enough is a discrimination against them also? That would be a no!"
The post comes after the FAI today condemned racist abuse which David McGoldrick had received over the weekend. The Sheffield United striker scored twice against Chelsea, before sharing screenshots of messages that had been sent to him.
Meanwhile last week, West Midlands Police in the UK arrested a 12-year-old boy in relation to racist engagements with Crystal Palace forward Wilfried Zaha on social media.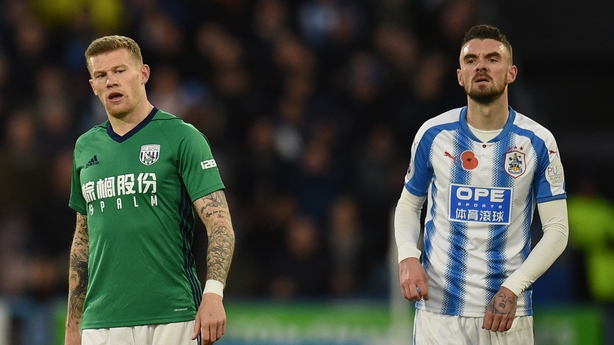 McClean called the comments "vile" and said that "nobody should be subjected to it", before saying that the he had received abuse over a prolonged period of time.
"I receive and have received more abuse than any other player during my nine years in England," he continued, "whether that be death threats, bullets sent in the post, birthday cards, letters etc.
"This is not a cry for sympathy, but one to ask the question (-) what is the difference?
"12-year-old boys get arrested for posting racial abuse online to Zaha, again rightly so, has anyone ever been held accountable for mine? No."
Earlier this year McClean was fined by his club, and agreed to close his Instagram account, after a post with him wearing a balaclava drew criticism.
He apologised unreservedly in March for the upload which read: "Todays (sic) school lesson - History."
It wasn't the first time McClean had been involved in some social media controversy, after closing his Twitter account twice in a nine-month period up to February 2013.
He first came off the platform in May 2012 for death threats he had received, before reactivating his account and tweeting about the Wolf Tones.
But the 31-year-old believes that he has been treated unfairly by certain sections of the media.
"Have I ever had my abuse condemned by the media (Sky Sports, TalkSport, Newspapers)?
"No! In fact, quite the opposite. The slightest thing that I do that might cause offence to anyone is highlighted by them."