June 1990.
A summer job on a building site in London was a means to an end. A few quid in your pocket at the end of the week; a few quid more to take home with you to make sure you had a roof over your head when the new college term started.
As well as hooking up with friends in Bethnal Green and Hammersmith, there was also the World Cup to look forward to in the English capital.
Being brought up near the garrison town of Sligo and with plenty on both sides of the family in love with the sport, it was no surprise that I too would become enthralled by the beautiful game
Liverpool's 7-0 demolition of Tottenham on a September afternoon in 1978, first took my interest. The theme music of Match of the Day that I could hear from my bedroom was the precursor for me to paint pictures from Barry Davies' description of the action.
I remember Eamon Dunphy on the touchline at the Sligo Showgrounds when the other Rovers came to town.
Aged 20 by the time Ireland reached a first World Cup, I had endured a fair few ups and downs of being a football fan. Though as the years have moved on I'm less inclined to get too downhearted - and I'm happy about that.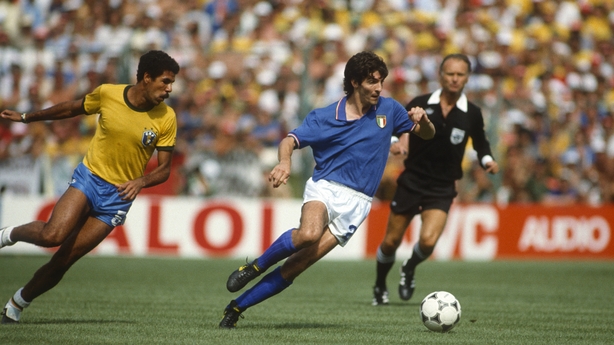 That said, I was eagerly looking forward to Italia '90, hoping it would match the quality of Spain '82. The latter tournament was a month-long carnival that brought shocks, a sense of injustice for some and brilliant football against the backdrop of the searing Spanish sun.
A Republic of Ireland side managed by Eoin Hand were unlucky not to make it - a goal disallowed for no apparent reason costing them dearly on a sodden night in Brussels.
The Irish played five matches at the World Cup of 30 years ago. I watched four of them in a pub and the other in my digs. For some reason I decided to watch the Egyptian game all by myself, no doubt wanting to analyse at close quarters a first victory for the Irish on the biggest stage of all.
Aimless long balls and a scarcity of goalmouth action summed up an awful, turgid encounter. Would my view of the game have differed if I had gone to the pub? Probably not. It was still muck.
We need your consent to load this YouTube contentWe use YouTube to manage extra content that can set cookies on your device and collect data about your activity. Please review their details and accept them to load the content.Manage Preferences
Back in Ireland, Eamon Dunphy caused a stir when he threw his pen away. I wasn't aware of that. No internet or mobile phones to inform us of any outrage. Instead, I turned to the wireless, where the reception for RTÉ Radio 1 wasn't great. Still I could make out that Offaly were giving Kilkenny a good spanking in the Leinster hurling semi-final.
And so the assortment of characters on the building site north of Watford - the English, the Asians, the Canadians, and the Irish. World Cup and general sporting chat dominated many of the exchanges as the concrete was laid.
I remember Mick O'Reilly from County Meath. A gentle man, but somewhat sad of eye. His wife had died a few years earlier. Mick loved Meath football and Manchester United, yet his curiosity on whether Olé, Olé, Olé had anything to do with David O'Leary did make me chuckle at the time.
There was Walter from Limerick, who offered a straightforward introduction: "Hello, I'm Walter, but people call me Wally" An interesting character who pronounced his words without ever moving his lips. Wally was an Arsenal fan, who took great satisfaction in recalling the day the Gunners won the double in 1971 and his fun weekend in Dublin when Limerick claimed the All-Ireland in '73.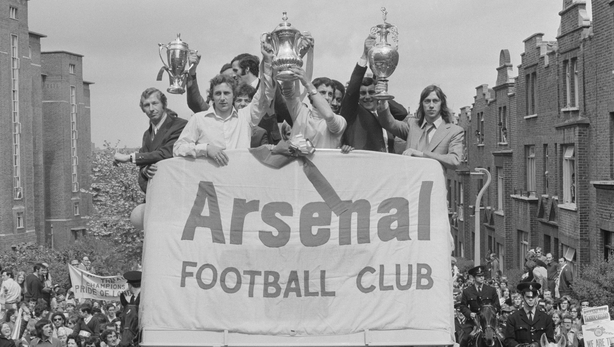 Johnny Hopkins from Mayo, Tom Howard from Clare, Mick McHugh of Donegal and Cork's Johnny O'Callaghan all spoke intelligently about what might transpire in Italy, and were equally engaging when it came to politics and other weighty matters. Their observations and forms of expressions were in marked contrast to the close-minded, ignorant views of others.
And so to the experience of watching the games in the pub. Whether it was in Hammersmith or St Albans, it was all good fun. Plenty of green jerseys to be seen, with our amiable hosts also in the mood to celebrate. As for the football on the telly, only segments of the games come to mind. Sheedy's equaliser against England and Mark Wright's winner for England against Egypt stick out in advance of what happened against Romania.
A warm, humid Monday afternoon in June. It was an afternoon kick-off against the Romanians and so we abandoned the building site early and headed back in towards London. Arriving at our destination in Hammersmith, the place was hopping. The match started, and with many heads in the way, my view was obstructed. Thankfully, after getting in a round of drinks from the bar, the view was somewhat better upon your return. Extra time came and then the penalties.
When O'Leary struck home the decisive kick, the place rocked, drinks had to be held tightly, amid all the hugging and jumping around. You could feel the room sway amid a joyous, carnival atmosphere.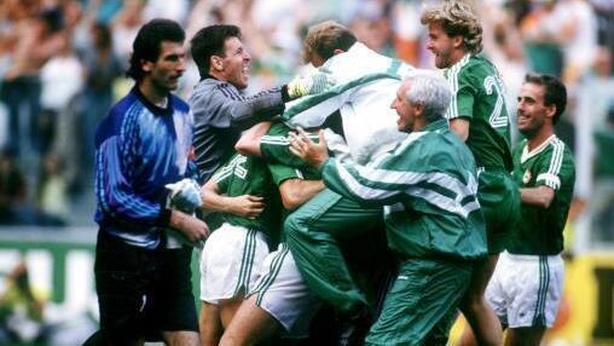 One gentleman, I remember, opted to use the toilet sink as a place to relieve himself. Nobody was outraged at that sight.
Hours later I was back in the digs, watching the highlights on BBC, where their coverage was enhanced by pictures of the joyous scenes in Dublin.
The late journalist Con Houlihan, who was in Italy covering the tournament, summed up things when saying: "Italia 90? I missed it. I was in Italy at the time''.
Ireland was one happy place after that Romania game - it was where it was happening. It didn't matter that the game itself was dull and that others teams at major tournaments had also advanced via spot kicks, the entire population did hold its breath and then leapt for joy when the team had booked their quarter-final spot.
Those of us not on Irish soil were only getting snippets of what was going on. We knew that mass on the evening of the Italy-Ireland game was being brought forward.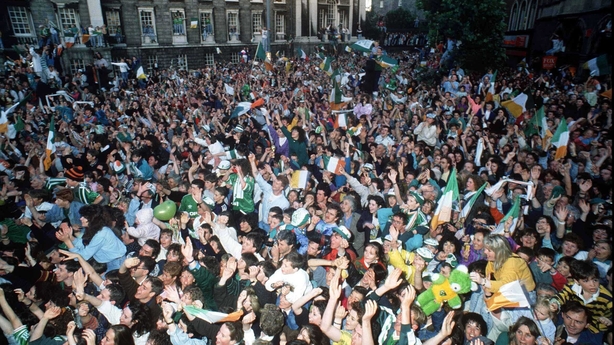 Ireland's journey ended and as the team were feted on their return home, I was again watching football back in the digs. England were lucky to get past Cameroon in their quarter-final. A few days later I recall ITV presenter Nick Owen going on about the cruelties of penalties as the English made their exit and Paul Gascoigne cried.
And so that was Italia '90 from somebody who wasn't that far away from where it actually took place.
Thirty years on we still go on about it. A happy time for all who were caught up in it. Nothing more, nothing less.