It was close to the perfect start.
In our first ever World Cup, playing that lot from across the water in our first game and coming from behind to get a well-earned draw.
The bunting was out, the kerbstones has been painted green, white and orange, every kid on the road had their own Penney's knock-off jersey and Ireland had just given England a bloody nose with a 1-1 draw, thanks to Kevin Sheedy's 73rd minute leveller.
There was little time to celebrate however and even in the immediate aftermath of that game in Cagliari, Jack Charlton was on the television telling everyone how important it was to go and get the two points from Egypt.
Egypt? Should be easy enough. What the average 10-year-old knew about Egypt back then was some half-remembered history lesson about the pyramids and the fact that Judith Chalmers seemed to be there every couple of weeks on Wish You Were Here.
I mean with all that sand, they couldn't be great at football, right? Should be a handy one for Jack's lads and then we can see about upsetting the Dutch, who were as ever, all fighting with each other anyway.
That confidence and blind faith in the Boys in Green lasted until about 20 minutes into the game.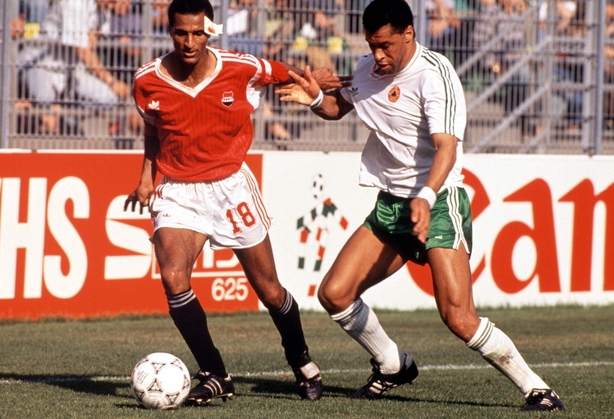 The problem was clear as day for the dozen or so kids crowded around the front room of my friend's house in Tallaght. "The Egyptians aren't even trying to score," was the lament. "They're just kicking the ball back to their goalkeeper and wasting time," which of course they were.
What followed was one of the worst games of football ever witnessed.
Egypt's 'defence at all costs' system involved the ball being passed back to goalkeeper Ahmed Shobair, him picking it up, strolling around for a minute or so while his team got back into their 4-6-0 formation and then booting it upfield.
Ireland's response to this? Belting the ball into to the box from the halfway line and hoping for something to happen. It brought us this far, so Jack saw no reason to change things.
Unfortunately it was a tactic predicated on the fact that Ireland would be up against a team that wanted to try and score a goal. Egypt were playing us at our own game and helped to show the world what happens when an immovable object meets another immovable object. Not much as it turns out.
We looked on in bafflement and confusion as the game slowly ticked on towards the inevitable 0-0 draw but there would be a measure of compensation for all the excitement and fireworks that the game lacked afterwards.
Enter Eamon Dunphy.
We need your consent to load this rte-player contentWe use rte-player to manage extra content that can set cookies on your device and collect data about your activity. Please review their details and accept them to load the content.Manage Preferences
"I felt embarrassed for soccer," he said in the aftermath of the game. "Embarrassed for the country. I feel ashamed with that performance. Everyone in the country has been let down. The Egyptians were terrible, they are terrible. We should be ashamed of the way we went about the game. This is a great footballing country…only to go out and play that rubbish."
To say there was uproar, would be an understatement. Words that no group of 10-year-olds should know, let alone use, were flung at the TV in a similar manner to that which Eamon launched his pen across the RTÉ desk that day. The adults in the room not only allowed it but indulged it. Sure wasn't it blasphemy from Dunphy, heresy even? You can't say those things about Jack, about Ireland! Didn't he understand, it was Egypt's fault for not even trying to score?
That rant and the fallout from it is every bit as much of the Irish story of Italia 90 as the penalty shoot-out against Romania.
Condemnation of Dunphy was swift and universal and by the time the next game rolled around against the Netherlands, half the country was wearing t-shirts with Jack kicking Eamon up the arse. As ever the traders on Moore Street had their fingers on the pulse of the nation.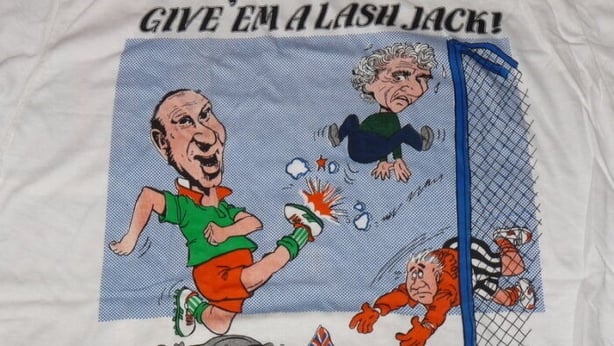 But here's the thing. Even though I wore the t-shirt and defending Jack as much as the next lad, there was a nagging doubt there. I mean this was a team full of players from the best clubs in one of the best leagues in the world.
We have never had a better group of players. The likes of Paul McGrath, David O'Leary, Ray Houghton, Ronnie Whelan, John Aldridge, this was a team that was better than and deserved more than the kind of football they were playing.
As a nation, we were just so happy to be at Italia 90, that we didn't bother thinking about what we should be doing once we got there. The approach and tactics were dreadful but the players somehow made them work, of course they did, they were that good.
Dunphy was the scapegoat but really he was merely the man to point out that there was a rat floating in the punch bowl.
So now, 30 years later, it's time to finally admit what 10-year-old me could never accept.
Eamon was right.
Watch the Italia 90 Theme Night on RTÉ2 and the RTÉ Player from 9.40pm on Saturday, 20 June.