Republic of Ireland and Sheffield United defender Enda Stevens has hit out at some of the criticism and pressure applied to Premier League footballers by British politicians as being 'a bit below the belt'.
Stevens is one of the dozens of Premier League players to sign up for Players Together, an initiative to provide financial assistance to the National Health Service during the Covid-19 pandemic.
Talks aimed at implementing the scheme had been progressing for weeks and were in advanced stages when UK Health Secretary Matt Hancock began a campaign of singling out Premier League footballers and applying pressure on them to take a pay-cut.
Stevens believes that footballers were made to be scapegoats and accused Hancock of having a 'sly dig' at them.
"I think the criticism was unfair," the Ireland international told 2fm's Game On. "A lot of footballers do stand up and represent themselves very well in terms of community and charity and I thought it was a bit uncalled for.
"We do try and we do help and we realised the responsibility that we have and it is a big responsibility because so many kids look up to you.
"I just felt it was a little sly dig at us because our group chat and Sheffield United, we were always in conversations in ways we could help.
"It's not something you can just do overnight, we had to come up with a plan and find the best possible way to help and what we wanted to do was to help the front-line and help the NHS where it was most beneficial.
"We've been in those conversations and these things take time and we were just sat back and put under a lot pressure, it was a bit below the belt.
"I think what we've come up with, the Players Together scheme, is a great scheme and hopefully now we'll see the benefit to that. Thankfully we've all come together at a good time and we can really help the front-line workers.
"All we want to do is help, we do realise the responsibility we have and we do need to stand up and help. That's what we were trying to do and hopefully this scheme will work really well and will be a big help to the NHS and the front-line workers."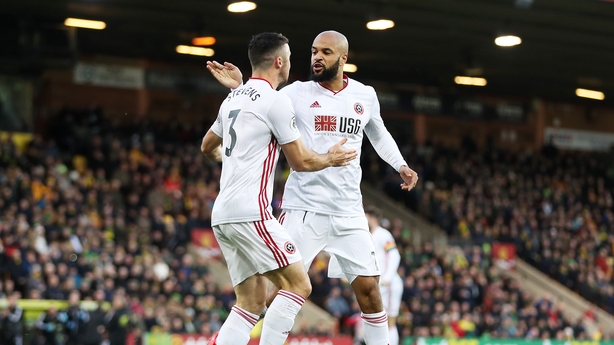 Stevens is working at keeping himself fit at the moment and while his standard training regime has gone out the window, the Sheffield United star revealed that players are keeping themselves ready to return to action, whenever that may be.
"We've been all set programs and there's four or five of us per group with a strength and conditioning coach," he said. "We've all been sent home with a bike and weights and certain things we can do and they send us in programs new each morning.
"When it first started to break we never really thought it would get to this extent and obviously when it did it was a bit surreal and scary.
"Now you've just got to put your safety and people's safety first and hopefully we can get through this and get the season back on track and get the competitiveness back into us and really push for a European spot which would be a fantastic achievement for us.
"I picked up a little calf strain just before the season was called off so, timing wise, that kind of suited me so hopefully now I won't miss a game and will stay fit but I've always been lucky enough not to pick up many injuries."
Whenever soccer does return Stevens will have a new international manager in the shape of Stephen Kenny, who will take charge for Ireland's crucial Euro 2020 play-off with Slovakia.
Kenny has already talked up the quality of the Irish defence, including Stevens, and the former Shamrock Rovers player is eager to work with his new boss.
"It seems so far away with all that's going but it's something to look forward to obviously. He [Kenny] has got such a great reputation in the League of Ireland.
"He's probably the most successful manager the league has had and he's going to bring in his own ideas and his own style and he's going to try to implement what he was doing with the Under-21s with the senior team.
"It's going to be good and it's something to really look forward to."