Stephen Kenny has promised to embrace his chance to lead the Republic of Ireland with the kind of fearlessness that has defined his best teams.
The Dubliner says he will do so on a defensive platform he rates as being one of the best in Europe.
Kenny - who officially took the reins from Mick McCarthy last weekend - spoke to RTÉ Sport's Tony O'Donoghue on Thursday and opened up on his vision for the future.
The Covid-19 pandemic has changed the plan for Ireland. McCarthy has been deprived of taking a swing at the play-offs, which have twice been postponed and do not currently have a definitive date.
It means Kenny, who'd been due to take over in August, is the man tasked with getting the team past Slovakia in the semi-final and either Bosnia or Northern Ireland in a decider.
It's another twist in his remarkable journey, but the 48-year-old does not intend to shirk the challenge. He's ready to stamp his authority on the panel, and singled out four men who could be key to helping him do it.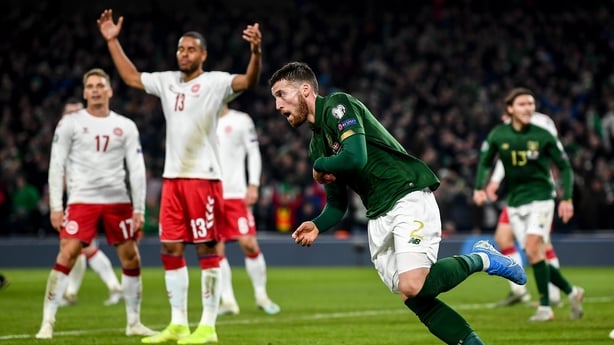 "When I look at the squad, and look at other international squads around Europe... we sat down and analysed it," Kenny said.
"We wrote down all the back fours in Europe and where we compare with ours at the moment.
"When you look at the back four against Denmark, and you see Shane Duffy, John Egan, Matt Doherty and Enda Stevens playing - to me they're in the top ten back fours in Europe. That's a definite opinion. I challenge people to (disagree with) me on that.
"With Seamus Coleman - who didn't play in that game - and Ciaran Clark, who came on at half-time, that's six. There's a great platform there.
"We've got to get the rest right. I've different views on the shape of the team and how, tactically, we'll approach it, but we've a great platform. 
"That's the hardest thing to get right sometimes, getting your back four right. We've got a very, very good back four. Darren Randolph has been very consistent as well."
Kenny was just 26 years old when he took over at Longford Town in 1998. He won promotion to the Premier Division, then led them into Europe. He'd go on to win the league with Bohs, deliver the FAI Cup and four League Cups in two separate spells at Derry City and, of course, dominate domestically during his transformative era with Dundalk.
Kenny concedes that his feats in Europe with the Lilywhites ultimately earned him the Ireland job. They made it into the Europa League group stages in 2016 and won an army of admirers with their ambitious, attractive style.
Big scalps were taken along the way, and the good work has continued with the Ireland under 21s, who've flourished under Kenny's guidance.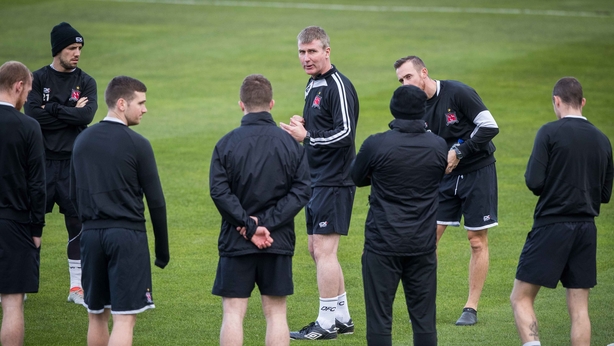 "I've managed some terrific players and worked with some outstanding coaches in the league over the years. This is the pinnacle of my career," he added. 
"I'm looking forward to it now.
"I haven't got this job because of the number of trophies I've won. I think it's based on the style of play. I think that's why I was appointed. With the under 21s, we were fourth seeds, we're top of the group now.
"We were in with Italy, Sweden and Iceland. We've payed Brazil, the Mexico Olympic team twice. It's been a great learning experience for me in international football over the 15 months. I've definitely benefited from that.
"I believe in the talent we have. We've an emerging crop over a period of time who will influence the squad. It's my job to get them to fulfil their potential, to get players to try and achieve their full array of their talent."
It's possible the play-off will be Kenny's first game in charge but more likely his first contest will come in the autumn's Nations League clashes with Bulgaria, Finland and Wales. 
No matter what way the cookie crumbles, he feels ready.
"It is very unfortunate for Mick McCarthy as manager that the play-offs were cancelled in March and cancelled in June. I'm sympathetic towards that. No date's been fixed. They could be in October/November. We'll have to wait and see and prepare accordingly.
"If it's my first game, I'm ready. I'll make sure the team is ready. If it's in October and we've five games to prepare, all the better, that's a better scenario. Regardless, it's a good opportunity. Slovakia are a very good team but certainly it's one we're capable of winning.
"With a lot of the young players coming through, and the players that are there, it's an exciting time for Irish football."
Kenny has spoken about his own patriotism before and he really fostered that spirit with the under 21s. He reiterated his passion for the country, a feeling he believes all Irish people share.   
"Everyone is very proud. That's part of being Irish. Our country is very important to us, particularly at a time like this. All the Irish abroad are looking at Ireland and wondering about the situation back home. That's part of our nationality. We're very proud.
"We're going to enjoy it. What an opportunity. We're going to enjoy our football, enjoy the training, enjoy managing an coaching this team. We look forward to it."