Kenny Cunningham believes the Football Association of Ireland must act quickly to resolve Robbie Keane's contract before the cash-strapped association is left in a "ridiculous situation".
New Republic of Ireland manager Stephen Kenny's appointment of Damien Duff, Keith Andrews and Alan Kelly as his assistants has left Keane out in the cold.
However, Keane remains a highly paid FAI employee - his contract as Mick McCarthy's assistant being considerably longer than the now departed manager's.
McCarthy left the post last week after the Euro 2020 play-off game with Slovakia was pushed back to September at the earliest, while Kenny's contract was due to kick in on 1 August, according to a succession plan engineered by former FAI chief executive John Delaney.
As it stands, Keane is in limbo, without a coaching role within an association that was in receipt of an €18m government bailout late last year.
"It has to be resolved and it will be resolved, we can't be paying that amount of money, whether it is Robbie or anyone else, and not have a position for him within the association and doing no work," said Cunningham on the latest episode of the RTÉ Soccer podcast.
"That is a ridiculous situation.
"They haven't come to an agreement, I would expect that to be sorted out very quickly. It is in nobody's interest for this particular situation to be dragging out."
We need your consent to load this SoundCloud contentWe use SoundCloud to manage extra content that can set cookies on your device and collect data about your activity. Please review their details and accept them to load the content.Manage Preferences
FAI interim chief executive Gary Owens told Sunday Sport on RTÉ Radio 1 that negotiations are ongoing with Keane, suggesting the country's leading goalscorer and cap holder was not consulted before McCarthy's exit was confirmed.
"It's not treating Robbie shabbily to say there is not a position for him. I think it is odd to give Robbie such a long contract when Mick was given a 12-18 month contract," said Cunningham.
"Not that Robbie did not deserve a long contract, but it seems pretty obvious that if you're bringing someone into a supporting role with a manager, they have a contract the exact same length as that manager. If they did we would not be having this discussion.
"If there is no position for Robbie he will take a step back, and Robbie will have a conversation with the FAI and come to some kind of agreement."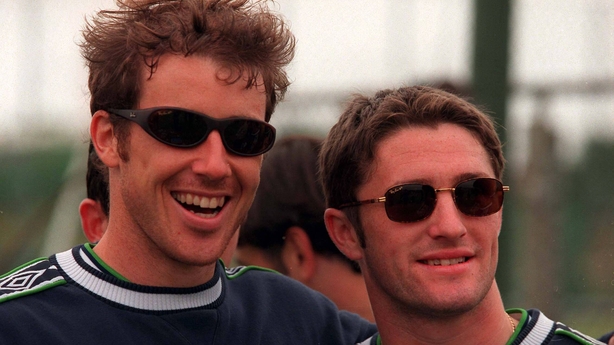 Cunningham believes his former team-mate will have another opportunity to work with the FAI, but will take this opportunity to focus his energies on Middlesbrough, where he is assistant to Jonathan Woodgate. 
"It doesn't look like there is a position for Robbie. I don't think that is a reflection on Robbie's individual attributes as a coach, the fact that Stephen has not brought him in - the chemistry has to be right for these management teams and that is Stephen's judgement call.
"He is obviously leaning towards Damien and Keith in that regard. You have to respect that.
"It might be hard to take but Robbie is a young coach and a young man. He is still developing, he is coaching at Middlesbrough and he will refocus on that and there will be lots of opportunities in the future of Robbie to reconnect with the senior international team." 
Cunningham has been impressed with the fledgling coaching careers of his former team-mate Duff and Andrews and is excited to see how they contribute to Kenny's project.
"I'm quite excited looking to what is coming down the road, looking at what Stephen has put together at Under-21 level," he told host Adrian Eames.
"I look at the make-up of the management team and the individual qualities those peoples possess. By all accounts, talking to Damien and people who have seen him work, he has thrown himself into coaching over the last couple of years. He is highly motivated and a lot of people speak highly of him.
"He has only been coaching for a short period of time but the move to Celtic has helped him, working in a high-level environment. His stature as a player will help him.
"Him and Keith working under Stephen will be a very strong management team. Keith is very bright and has a good eye for the game. The dynamic looks well. Alan Kelly brings lots of experience."
Listen to the RTÉ Soccer podcast on: Apple Podcasts, SoundCloud, Spotify or wherever you get your podcasts.