The FAI has indicated that Robbie Keane could still have a role to play within the association, with interim chief executive Gary Owens confirming discussions are ongoing with the 39-year-old coach.
Having announced a number of appointments today to the senior and U-21 set-ups following the announcement yesterday that Stephen Kenny was taking over from Mick McCarthy with immediate effect, the absence of Keane's name was conspicuous.
The Middlesbrough assistant manager was brought in when McCarthy was appointed in Novemebr 2018, and while he has two years left remaining in his contract, it was thought that he would not be part of Kenny's plans for the future.
However, speaking to RTÉ Radio 1's Sunday Sport, FAI interim chief executive Gary Owens said the door has not been closed on the country's record goalscorer.
"We are in discussions with Robbie and his agent about what role he might play. I wouldn't rule him out," he said.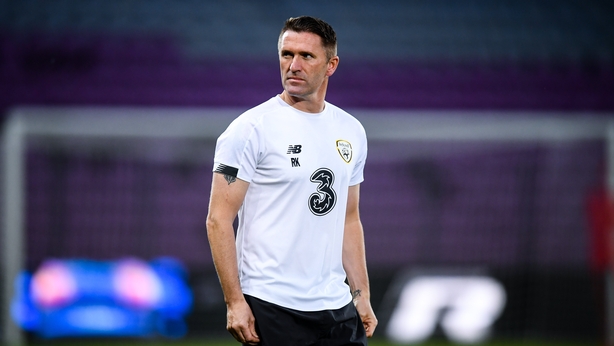 "Robbie has been one of our best players and he would have a lot to offer."
Keith Andrews, Damien Duff and Alan Kelly were added to Kenny's coaching ticket, while Jim Crawford has been promoted to manager of the Republic of Ireland Under-21 side and will be assisted by John O'Shea.
Kenny's first game in charge will be the Euro 2020 play-off semi-final against Slovakia, a fixture that has been postponed twice due to the coronavirus pandemic and as yet has no date in the diary.
Owens says that it will "probably be November" when the Bratislava encounter is played.
"We have been trying to get the play-off in the November series, rather than in September or October," he revealed. "That would give Stephen and his team the chance to play some friendlies and Nations League matches in advance of the play-off."
It could be a busy autumn schedule for the Boys in Green, with potentially nine matches to be fulfilled that would provide a much-needed boost to the association's coffers.
Owens, however, outlined why the financial situation isn't as bad as suggested in some quarters.
It is strange times, but not desperate times
"With no football at all levels, it means cashflow is under pressure," he said. "The upside of having nine matches rather than six in the autumn means we can recover, so it is strange times, but not desperate times.
"I think we can recover.
"We would then be in a relatively strong position and if we did qualify, the financial benefits are huge for us. The fact we have gone from six to nine [games] is quite helpful given our finances."