RTÉ soccer pundit and former Republic of Ireland international Richie Sadlier said the FAI's decision to part ways with Mick McCarthy was the most sensible course of action given what he asserts was the "ludicrous" scenario created by the original succession plan.
McCarthy, whose second stint in charge of the national team lasted under 18 months and comprised of 10 games all played in the calendar year of 2019, today graciously accepted the decision of FAI to honour the original agreement and press ahead with Stephen Kenny as senior manager.
The outgoing boss had been preparing to lead the Republic of Ireland into the Euro 2020 playoff phase in March, with two away wins required to secure qualification for the championships, four of whose matches are to be held in Dublin.
But the Covid-19 emergency has torpedoed those plans, along with so much else. The football calendar is on hold with no set date for its return.
The FAI have found themselves in a particularly awkward position given the rather unorthodox managerial arrangement hammered out by the previous regime in November 2018.
"I'm glad it's been resolved so quickly and the FAI have been so decisive," Sadlier told RTÉ Sport. "I don't think it was in anyone's interest for it to drag on.
"I think the reasons given in the statement make a hell of a lot of sense. This gives Stephen the most amount of time to be able to prepare for the playoff game or the Nations League - whichever comes first.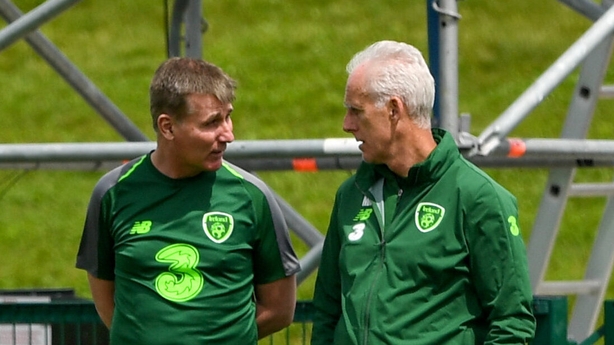 "I'm not surprised that, going by what the statement said, that Mick accepted the decision given the wider situation."
One wonders had Ireland qualified for the Euros automatically back in November, prior to the present delay, would McCarthy have been afforded to the leeway to remain in charge until summer 2021?
Either way, the disruption and the potential and unforeseen overlap of the European campaign and the 2020-21 Nations League, has cruelly undermined the FAI's carefully laid out succession plan.
For Sadlier, this succession plan was flawed from the beginning.
"There's a couple of things that we may not know the full details of but what I'm led to believe is Stephen Kenny had a fairly watertight contract. He was starting as Ireland manager on the 1st of August.
I don't think it was workable, even if you park all the legal issues, to keep Mick in charge
"If the FAI didn't deliver on that, I'm sure it would have cost them a huge amount of money. I don't know whether that was a factor in their decision but I assume it was a reality.
"I don't think it was workable, even if you park all the legal issues, to keep Mick in charge.
"It's impossible at the moment to say when the playoff will be played for certain. So it's possible that the playoff could be played on the other side of the Nations League fixtures. It's not possible at all to allow Stephen Kenny to be the Nations League manager and Mick McCarthy to be the Euros manager if there's an overlap between the two competitions.
"That would be a ridiculous scenario to aim for so they had to go for one of the two.
We need your consent to load this rte-player contentWe use rte-player to manage extra content that can set cookies on your device and collect data about your activity. Please review their details and accept them to load the content.Manage Preferences

"I do think it's a ludicrous situation because the succession plan was done for flawed reasons but nonetheless I think this is the sensible outcome given the other options.
"I'm not surprised at all that Mick accepted that decision. Given the wider situation, I can't imagine Mick would be so tone-deaf as to kick up a fight, either publicly or privately, that his job has been impacted by the wider situation, given the hardship that so many other people are facing in this country and every country in the world.
"Going quietly and respectfully and magnanimously, I would have expected that from Mick in any circumstance, but particularly in this one."
How will McCarthy's second stint be viewed? Adjudging it a success or a failure is rather tricky given that he wasn't allowed complete a full campaign.
In Sadlier's view, given what he contends are the limitations of the current squad and the desperately low morale of the set-up and Irish football public upon his arrival, Mick's efforts can be classified as a "difficult job done well".
"There was so many games where it was uninspiring, there were so many games where we were left feeling pretty deflated afterwards. There were disappointing results towards the end of the campaign.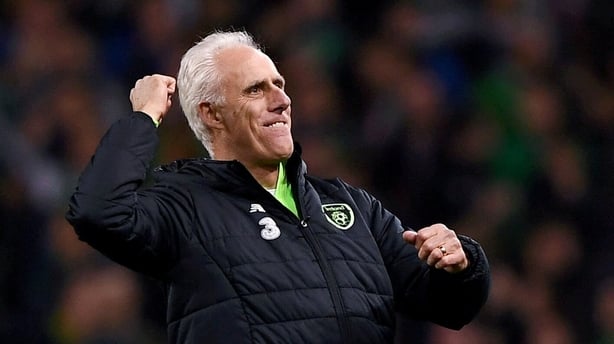 "But I think a thing which is absolutely relevant in any discussion of Mick McCarthy or how he did, is the limitations of this group of players. And this is exactly what Stephen Kenny is going to have to deal with now.
"The squad of players that Ireland managers have had to pick over the last few years, compared to any previous generation of Ireland squads - they don't compare well.
"And if you think about the circumstances in which Mick took the job. Do you remember how low the morale was? Do you remember how so many people were disinterested in Irish football? Or how negative they were?
Overall, I think it was a difficult job done well
"Everything about the previous regime, the style of play, the results, the comments of the senior management, everything about it in terms of confidence and morale and optimism was as low as I can remember us being for many, many years.
"I think Mick has improved that. We are still in the competition. We could still possibly qualify for the Euros. Overall, I think it was a difficult job done well."
Sadlier is cautious about proclaiming himself optimistic or pessimistic for Kenny's reign, stressing that it's far too early to judge how he'll approach it.
However, he suspects that some of the younger crop, who've made waves under his stewardship at U21 level, may be elevated to the senior ranks sooner than they otherwise would have been.
"We're in the dark as to what Stephen Kenny will bring to the international team. We're all impressed with how he did with the U21s, anyone who followed the League of Ireland in the last few years would be hugely impressed with him.
"So, he comes in justifiably with a lot of people thinking highly of him and wishing him well. But it's an unanswerable question at the moment what he's going to do at the moment with the Irish team and what his views are.
"But I do think what Stephen will do differently is that the players who have been doing well this season, I'm thinking Molumby, Adam Idah, other younger players that Mick publicly said he wouldn't have considered as being ready for the playoffs, I think they may be called up for the senior squad by Stephen."