Outgoing Republic of Ireland manager Mick McCarthy admitted it was a "bitter-sweet" feeling to leave the job before the Euro 2020 qualification campaign had concluded but said he "fully supported" the action the FAI had taken.
McCarthy's second stint as Ireland manager came to an end this afternoon with the FAI confirming that U21 boss Stephen Kenny would be elevated to the senior job with immediate effect, an outcome roughly in line with the original arrangement agreed in November 2018.
The disruption caused by the Covid-19 pandemic has seen Euro 2020 pushed back to 2021 and Ireland's upcoming qualifier against Slovakia postponed until September at the earliest. This prompted speculation that the agreement may be tweaked so as to enable McCarthy to see out the Euro 2020 campaign.
However, word came through today that the association intend to honour the original agreement.
Speaking to FAI TV, McCarthy was in philosophical and upbeat mood, praising the FAI hierarchy for bringing clarity to the situation and staying it was right that Kenny would get time to prepare before the playoffs.
"What are my thoughts? I said on December 1 2018 when I took the job that I'd be leaving on July 31st come what may.
"Those discussions were based on us qualifying and maybe doing really well in the Euros. I said I was leaving and that's still the case. It's been brought forward because of what's been happening worldwide.
"That's hugely disappointing but I fully understand it as well. I see Age Hareide is the same, the Denmark coach who is a pal of mine. He started the same competition and he's leaving now.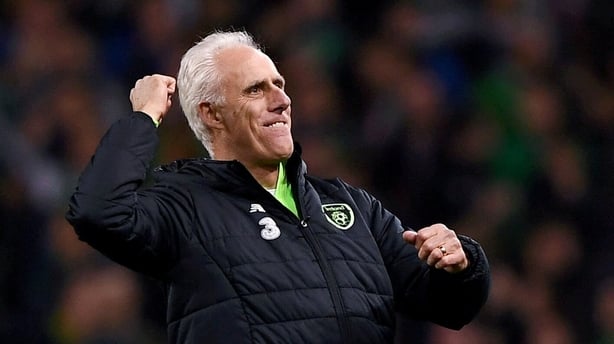 "Because his successor was already picked to take over and mine was the same. It's disappointing I can't finish it off. I think we've had a really good campaign.
"We were almost there in November when we played Denmark. Sadly we didn't (get through then).
"And so the playoffs have been pushed back and I fully understand it,. Stephen's been contracted to take over in August and good luck to him. He'll get the chance to qualify.
"It gives everybody clarity. To the real credit of Gary (Owens) and Roy (Barrett), they've taken over and made this decision quickly. And I support the decision. It's only right and fair that Stephen that gets his chance before October 1st.
"It's bitter-sweet but I fully support it. And I'm absolutely staying in football. What it does mean is I'm back on the market! I can look for a job with impunity."
McCarthy thanked all his staff for their professionalism and commitment over the 18 months and said he suggested there was a re-connection between the players and supporters during his reign, particularly during his final game in charge, the 1-1 draw with Denmark in the November qualifier at the Aviva.
"If there was a re-connection needed, we certainly got that through the performance of the players.
"It gradually got better, c'mon we all know that. I look back on that Gibraltar game, first game in on an astroturf pitch and it blowing a gale and an aeroplane taking off at 8 o'clock, when we just scraped through.
"But we did scrape through. I said at the time, what a horrible game, horrible performance, the only thing was the result. And that is what mattered.
"We've lost one out of ten and the only one we've lost was in Switzerland away and as we've seen they were the best team in the group.
"It's been brilliant. I've loved being back, I've thoroughly enjoyed it. It's been an absolute pleasure and honour to do the job again. And I'm leaving Stephen with a healthy balance to be quite honest.
"I said yesterday to Roy that the one thing I would certainly ask for when leaving is a couple of tickets for next year's Euros when we've qualified and I can come back and watch with the rest of the fans, who have been wonderful towards me and my staff and the players from day one."