So will it be June flights to Bratislava or Vienna? Republic of Ireland Football fans are known to be quickly out of the blocks whenever a draw is made involving the Boys in Green, snapping up flights and working out the optimum cost effective routes to football venues near and far.
But even the most ardent fans must be pausing for thought before opening the laptop and scanning the Ryanair and Aer Lingus offers.
There have been many great adventures on the road with Ireland as the wonderful Boys In Green documentary on RTÉ reminded us recently. 
But even the most optimistic, shamrock shaking punter must wonder about whether Ireland's play-off with Slovakia - now pencilled in for sometime between the 1 and 9 June this year - can possibly go ahead and even if it does whether it would be even safe to travel.
The news from UEFA that the Euro 2020 finals will be put back a year was hardly a surprise and was unquestionably the right decision. But it does still leave more questions than answers, not least for the FAI.
It was to have been a celebration. The 60th anniversary of UEFA with the Euro 2020 finals hosted in twelve different cities across the continent -  including Dublin.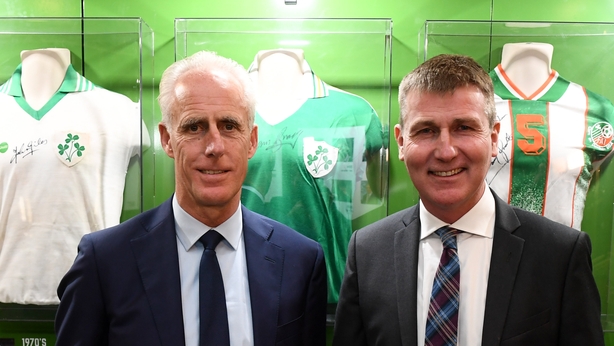 Today's decision by UEFA to postpone the Euros for a year means that instead the pan-European Football festival can become part of the centenary celebrations of the founding of the Football Association of Ireland.
But who will be the man in charge of our senior team to lead us in those celebrations?
If that re-fixture of the play-off with Slovakia or indeed the subsequent game with either Bosnia or Northern Ireland gets further delayed because of health concerns and travel restrictions it will present the FAI with another difficulty as Stephen Kenny is due to take over from Mick McCarthy as manager in August of this year.
What to do for the new FAI? Interim CEO Gary Owens and Niall Quinn along with Roy Barrett and his board will have to grasp the nettle of a skewed succession plan. 
There will be a loyalty among the current playing staff, and probably his old team mate Niall Quinn as well, towards Mick McCarthy a patently decent man who is working to get the most out of his squad.
He was offered the chance to qualify for the Euros and he still has that opportunity. Stephen Kenny was promised the reins of power by August at the latest and his new crop of exciting Under 21's are chomping at the bit to take centre stage.
This is a difficult call in extraordinary circumstances that nobody could have foreseen. In a cash-strapped organisation perhaps the financial imperative will hold the biggest sway.
However, if the FAI decide to stick with Mick, will Stephen Kenny be prepared to wait his turn when his contract has a locked in commencement date?
UEFA say that moving Euro 2020 came at a huge cost but that priority was given to domestic competitions. In a move that will be appreciated by struggling clubs here UEFA say that funding for grassroots football will not be affected.
The FAI supported today's UEFA's decision and thanked Dublin City Council, the Aviva Stadium and the Government saying they looked forward to welcoming Europe to Dublin in their centenary year.
It could yet be one of the most interesting years in their long and eventful history.