"We were kings of the world, except we didn't realise it! But we never thought we'd fall off pretty soon."
What goes up... all good things... these are the initial utterances of universal truths in most human stories.
And to be fair, they apply in a lot of cases. Rare is the tale of unadulterated and unmitigated ascents to the top or uninterrupted sejours once you get to the summit.
In The Boys In Green Episode 1 last Monday on RTÉ One, we reveled in memories of the Republic of Ireland's arrival on football's world map, shocking England at Euro 88 and then following it up with an adventure that left its mark beyond sport as Jack Charlton's team turned the 1990 World Cup into a cultural touchstone which all of us, whether we love sport or not, can quote George Hamilton ad verbatim.
A nation held its breath, exhaled with the swish of David O'Leary's boot and celebrated at home, Italian soil and further afield.
But back to those universal truths. There almost certainly has to be a comedown and an end like the one journalist Declan Lynch alludes to up above.
For the Charlton era, that would eventually come with a play-off defeat against the Netherlands which meant no place at a Euro 96 tournament that was closer to home than previous and future adventures.
But descents have a staging point whether they be swift pitstops or slow declines. 
Episode 2 of The Boys In Green will be live on RTÉ One at 9.35pm this Monday, 16 March and follows that journey as the late 1980s tapestry woven by Ireland's greatest manager to date slowly unraveled.
'The best you've ever seen' - Part two of the @RTESport documentary about the glory days of Irish football airs on @RTEOne and @RTEPlayer 9.35pm on Monday #rtesoccer #TheBoysinGreen @LoosehorseSport pic.twitter.com/zZi9OBAKCh

— RTÉ Soccer (@RTEsoccer) March 11, 2020
Still, there are plenty of moments to smile about on the way down.
The sun is out during USA 94 - not always a good thing for the players (Steve Staunton needed a cap for a reason and it didn't do John Aldridge's blood pressure any good either) nor for the the style of play - but how often will we see an Irish side beat one of the best teams in the world at one of planet earth's grandest venues in front of an audience of billions?
That tournament sees Charlton sprinkle the old guard with grains of youth as Jason McAteer recalls in the documentary of his role as one of the Three Amigos.
"[Charlton] wanted this injection of youth. So myself, Gary Kelly and Phil Babb, we were literally the three kids," he recounts.
"We were nicknamed the Three Amigos because we were always together and I remember us doing a press conference and we were all wearing wigs and stupid hats and the media took to it."
Beyond those moments of levity, USA 94 would end in flat fashion before the Euro 96 qualifying campaign.
But it is a friendly the following year in 1995 that provides a dark moment of pause and one in which the documentary details the effect it had on Ireland's manager as he watched a group of fans from his own birth country spark a riot at Lansdowne Road in 1995.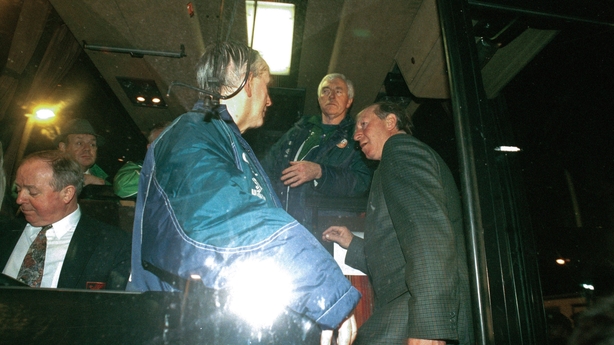 Richie Sadlier, who was there that day as a child, vividly recalls the sight of "grown men trashing the stadium" amid a deluge of projectiles and how "scary it was at the time" to be caught amongst the carnage.
And for those who had a sense of Charlton's character, they are in no doubt that he was crestfallen to see what had happened. The archive footage shows his fury but a sadness would have followed.
"I've always said to people that Jack was way more sensitive than anybody ever thought," says Tony Cascarino who even now in the documentary carries a sense of shock at what he saw.
"That night would have sat badly with Jack because he was a proud Englishman that would not have wanted to be associated any of that type of behaviour."
At that point, the contractual relationship between Charlton and the FAI was coming towards its conclusion just before he could mark a decade in charge.
But we do get to see the warm send-off that our fans gave him as he departed the scene.
All good things must come to an end... but that doesn't mean you forget just how good they were.
Watch Episode 2 ofThe Boys In Green on Monday 16 March at 9.35pm on RTÉ One. Episode 1 is available on the RTÉ Player.
Directed by Ross Whitaker, the award-winning film maker behind Katie, Shane Lowry – Open, and Anthony Foley – Munsterman, and produced by Loosehorse, creators of hit sports docs Giles, Micko and Blues Sisters, The Boys In Green is the definitive two-part series for RTÉ celebrating a magical era of Irish sport as we approach the 30th anniversary of its greatest occasion – Italia '90.