As the Republic of Ireland look to move a step closer to potential qualification for the 2021 UEFA Women's European Championship, Diane Caldwell's experience will be invaluable.
Almost a decade and half on from making her debut, the 31-year-old Balbriggan native is preparing to win her 75th international cap.
Representing this country always appeared to be pre-ordained - if her father's predictions were anything to go by.
"From the very beginning, it was always my dream to play football," Caldwell told RTÉ Sport's Marie Crowe as Thursday's crucial qualifier against Greece looms.
"I specifically remember my dad, he always said to people, to the neighbours, 'she's going to play for Ireland one day'.
"But at that age, we didn't even know that there was an Irish women's team.
"So now looking back on it, I'm like, 'did he think I was going to play for the men's [team]?' Where did this kind of vision of his come from?
"As I got older and into my early teens, then we actually realised that there was a women's team. So the dream became more of a possibility."
We need your consent to load this YouTube contentWe use YouTube to manage extra content that can set cookies on your device and collect data about your activity. Please review their details and accept them to load the content.Manage Preferences
Her initial plan to make those dreams come through was to go to the United States and play at collegiate level there, before taking the professional route which she did from 2006 at Hofstra University.
"My parents were fully supportive of it," Caldwell added.
"They did say that 'any time you feel homesick or you don't like it, you can just come home'. But I never felt homesick once and I haven't been home since I was 17."
That odyssey abroad has taken her from the USA to stepping stones in Iceland and Norway and now to her European end goal of Germany.
As her cap tally mounts, she of course has been back regularly on Irish soil to don the national team green.
"It's crazy when you look at the amount of caps you have," she said.
"For me, obviously it would be special to reach maybe 100 or so. But the number for me is not so important.
"It's doing something with them and I really want to get to a major tournament with Ireland. That's been the ultimate goal and we're close now but we still have a long way to go.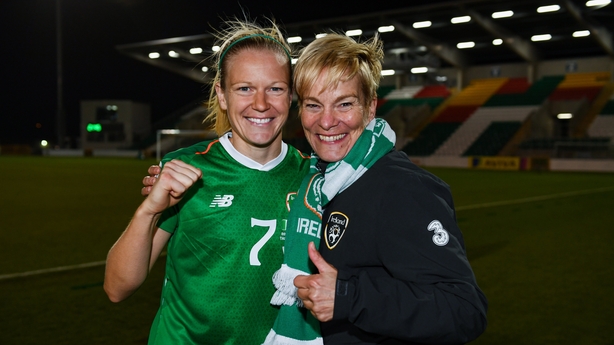 "Definitely, while I am still able to play, I want to achieve something with this team."
Vera Pauw's team are looking to build on the progress made under predecessor Colin Bell and Caldwell credits him with improving standards and raising expectations, including in her own career.
"Before Colin, I was kind of always thinking, 'I wish I had a great coach that had such an impact on my career'," she said.
"I had never really had that coach who had a big impact on me and then I signed for Sand (her current German club) and he signed at the same time.
"He is an intense guy. It took a while for us to obviously build our relationship. It didn't happen overnight.
"Then it was two or three games into the season, we had injuries or whatever, he called upon me for a cup game and then ever since that moment, I've played every game."
Caldwell added that Bell played a key role in cementing her role as a centre-back rather than being overly versatile as she had been before.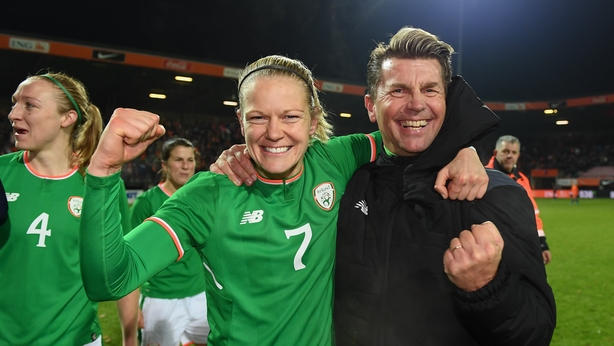 "He really brought out the best in me and really pushed me," she adds, describing him as "like a father figure".
While Caldwell did lose the chance to work with Bell on a daily basis when he left SC Sand, his takeover of the Ireland team meant they would continue to work together during international windows until his departure in June 2019.
"A lot of people thought he shouldn't have left and I think he regrets that decision," she said, adding that she remains in contact with him.
"I know he regrets that decision now but that's football and if you are put in that same situation of getting a massive opportunity in men's football in England, would you say no? I don't know."
His successor Pauw has made steady progress since then with Ireland sitting second behind powerhouse Germany in Euro 2021 qualifying Group I after three games and knowing a victory over Greece would put more daylight between themselves and third spot.
"She's very different in her methods," Caldwell said of Pauw.
"I think she's more scientific with her training programme and is very individual with periodisation, training load, so I am learning a lot from her in that regard.
"What I like about her, she's very concise, very simple with her messages and makes it very clear what she wants from us and we are in a good position now."
The draw against Greece last time out was "frustrating" she admits as the Irish team were on course to make it three wins from the opening three games before the home side's late, late leveller.
There is a chance for revenge against the same opposition on Thursday and in front of a home crowd, Caldwell is hopeful of righting those wrongs.
"The home advantage is massive for us," she said.
Follow the Republic of Ireland v Greece (kick-off 7.15pm) on Thursday via our live blog on RTE.ie/Sport and the News Now app or watch live on RTÉ2 and RTÉ Player from 7pm.