As Tottenham prepare for a UEFA Champions League knockout tie against RB Leipzig, an injury crisis has engulfed the forward department of the first team.
Spurs have been without Harry Kane since January with the England captain not expected back until April.
The north London club suffered a further blow at the weekend with news that Son Heung-Min could miss the rest of the season after the South Korea international underwent surgery on a broken arm suffered in a match-winning performance against Aston Villa.
The spotlight has moved back to whether Tottenham manager Jose Mourinho has changed his stance on Troy Parrott.
However, he has continued to exercise a note of caution when it comes to the Republic of Ireland teenager, stating: "My thoughts are that Troy Parrott is not ready."
With the path to first-team action seemingly closed despite the Spurs injury crisis, Liam Brady, Richie Sadlier and Kevin Doyle gave their takes on Parrott's situation on RTÉ Soccer Social.
We need your consent to load this Facebook contentWe use Facebook to manage extra content that can set cookies on your device and collect data about your activity. Please review their details and accept them to load the content.Manage Preferences
The young striker recently signed a three-year deal to tie his immediate future to Tottenham. But Sadlier does not see that as a major issue and highlighted the pitfalls of a loan move.
"I wouldn't be critical of Parrott signing a contract at a club even though the manager has come out and said he's a long way off at the moment," he said.
"Going out on loan is great in principle, but the reason you go out on loan is if you can be guaranteed first-team football, and someone who is 18 with as little experience of professional first team football isn't going to get that guarantee in many places.
"So on paper, send him out on loan, toughen him up, get him experience, but it's trickier to find a manager out there who is going to guarantee playing a kid in first-team football."
Doyle added that "you have to remember he's only 18".
"But he does look the part when we have seen him play for the [Ireland] Under-21s and his international debut," said the former Wolves, Reading and Ireland striker.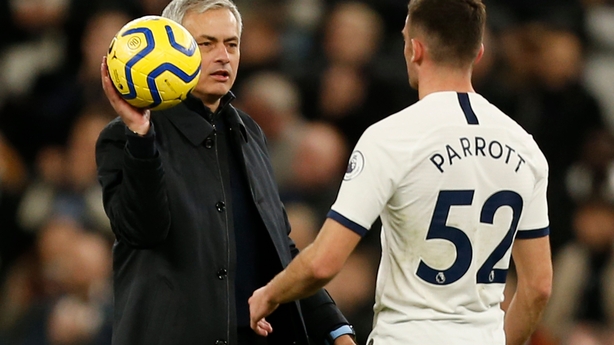 "But we don't see him every day. We don't see him in training for the first team at Spurs.
"We don't know what he's like. He might be finding it very difficult there and Jose Mourinho is maybe trying to protect him by not throwing him into the deep end.
"But Mourinho doesn't give young players chances historically. You would have to be exceptional. It would not give you confidence if you are Troy Parrott, reading these comments. They are desperate for a striker.
"[Parrott] is a player who is in and around his international squad. So he is someone he - if he has any faith in him at all - should have on his bench or talking about a bit more positively."
Sadlier added that Mourinho's private comments to Parrott are likely to be more nuanced than those he expresses publicly.
"I would assume Troy is hearing more than just simply reading the quotes from Mourinho," he said.
Brady also believes Parrott is unlikely to feature in the Ireland squad for the upcoming Euro 2020 playoff against Slovakia based on his most recent game-time.
"I think the lad needs to go on loan," he said.
"I think that lad really needs to go out and play, maybe Championship at some level."
We need your consent to load this YouTube contentWe use YouTube to manage extra content that can set cookies on your device and collect data about your activity. Please review their details and accept them to load the content.Manage Preferences