Jack Byrne has said that he speaks to his good friend and fellow Ireland international Troy Parrott on a regular basis and believes that the Tottenham teenager is currently very happy with his club situation.
Byrne and Parrott grew up in the same part of Dublin and both made their first start for their country in a recent friendly international against New Zealand, and while the Shamrock Rovers man is looking forward to the start of a new season in Dublin, speculation has been rife as to what is the best course of action for Parrott to follow to further his career.
#THFC: Lloris (C), Aurier, Alderweireld, Vertonghen, Sessegnon, Winks, Lo Celso, Dele, Lamela, Son, Lucas

📲 @WilliamHill latest (18+) https://t.co/iUBIJaT7Wb #THFC ⚪️ #COYS pic.twitter.com/McvFsAM1cC

— Tottenham Hotspur (@SpursOfficial) January 22, 2020
Parrott made his Spurs Premier League debut last month off the bench against Burnley, however, manager Jose Mourinho revealed this week that the striker was not the man to fill Harry Kane's role in the first team while the England forward is out injured, but rather that he has potential and still needs to work a lot.
"I've talked to him about the situation," said Byrne, speaking at the launch of the SPAR FAI Primary School 5s Programme.
"Obviously, I can't say [what we spoke about] but, he's really happy at Tottenham, he loves it.
"He's training with the best players, training with one of the best coaches in the world.
"I probably speak to him every few days, to be honest, not necessarily about football but about whatever."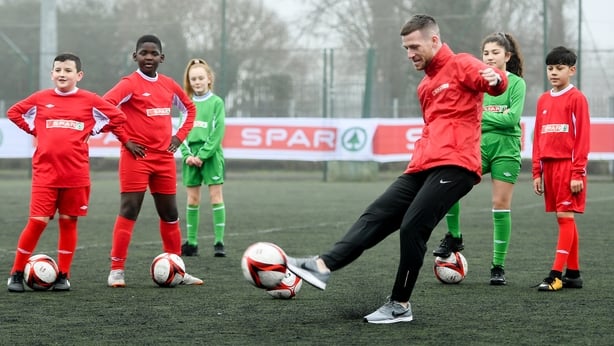 And while Byrne feels that Parrott is happy to remain patient at the north London club, he also believes that the player will take the opportunity when it is inevitably presented to him.
"He has the ability too, that if he was given the opportunity he would do well.
"He is very confident that if he was given the opportunity at Spurs.... and I'd be very confident that he would do it, so it's about him getting that chance.
"I know he is happy and enjoying himself, so with time he will grow into the player that he's meant to be; everybody finds that level eventually."
Byrne also emphasised that time was very firmly on Parrott's side and suggested that people forget how young he is, considering he does not turn 18 until next month.
"It's a difficult situation for him at the moment. Does he go on loan? Do the club want to send him out on loan? I don't know. I'm not Jose Mourinho.
"For his own development, he's only a kid and he's training with some of the best players in the world at Tottenham, it can't be bad for him to stay there.
"I just think he needs to take his time and listen to good people around him. He needs to go with the flow.
"I think some people do forget he's still only 17, but maybe because of how good he is and how good he can be.
"There's obviously the added pressure when you make your Tottenham debut and then you go on and make your Ireland first team debut and you're not coming on for five minutes in these games at the end of the game and being thrown on as a carrot.
"He started against Colchester and he started against New Zealand. He's shown that he can be a real top player. I think you just need to see how it pans out and let it flow naturally."