Troy Parrott needs to leave Tottenham Hotspur on loan if he is to develop as a footballer, according to Liam Brady.
The former Republic of Ireland international was speaking on RTÉ Soccer Social and while his fellow panellists Kevin Doyle and Vinny Perth weren't as convinced, Brady believes the teenage sensation needs to get first-team football.
The 17-year-old sits top of the goalscoring charts in this season's UEFA Youth League after finding the back of the net in Tottenham's 1-0 win over Olympiakos on Tuesday, his sixth goal in the competition.
Parrott, who made his senior debut against New Zealand last month and also scored in Ireland's recent 4-1 win over Sweden in the U-21 European Championship qualifiers, has been linked with a loan move away from Tottenham.
A 65-minute appearance in the Carabao Cup is all he has to show this campaign at senior level and though Jose Mourinho is now at the helm, a whole host of clubs, including European heavyweights Juventus, Real Madrid and Bayern Munich, have reportedly expressed an interest in the striker.
Brady feels time away from the London club would be of benefit to the youngster.
"I think he needs to go somewhere where he is going to play," the former Ireland international and head of Arsenal's academy told RTÉ Soccer Social.
"Going to Dortmund or Bayern at 17, I don't think it guarantees him playing time.
"I remember when Jermain Defoe was a young player at West Ham United, he was only 17, he went on loan to Bournemouth and I they were two leagues below the Premier League, but he was scoring goals and playing against men and I think that's what Parrott has to do now.
"I'd like to see him get a loan move, I don't think he needs to leave Tottenham. There is plenty of time for him to get experience elsewhere and come back and get into the Spurs team."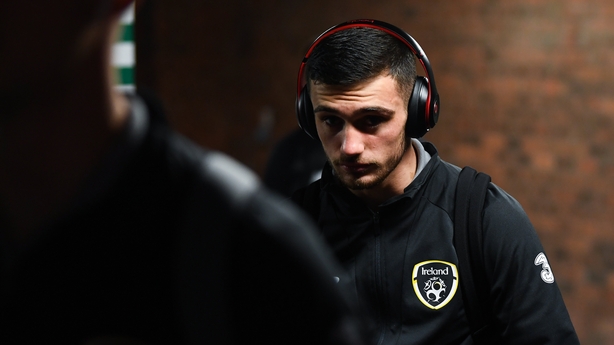 Dundalk head coach Vinny Perth says he isn't convinced by the argument that Parrott needs first-team football at such an early stage in his professional career.
"I'm not sure. It depends where he goes and the style of the manager he plays under," he said.
"There is an argument that getting first-team game time will help his development, but there is also an argument that he is around some of the best players in the world and one of the best coaches in the world.
"The loan move has to be the right club and the right environment. I'd certainly wait until the summer and see how his relationship with Mourinho works out."
From an Ireland perspective, you'd like him to go out on loan right now and play some games
Former Ireland striker Kevin Doyle is another who has been very impressed by what he has seen to date from the Dublin teenager and can see the logic behind both sides of the argument regarding Parott's immediate future.
"From an Ireland perspective, you'd like him to go out on loan right now and play some games if he is to have any chance of getting into Mick McCarthy's Ireland team for the Euro 2020 play-offs.
"From a development point of view, going out on loan at 17, he still has time to wait for maybe another year, grow more confidence."
While Mourinho has been criticised in the past for not bringing players through from club's youth teams, Doyle insists that that cannot be used as a reason at this stage for the Dubliner to depart.
"If he's that good, he will impress Jose Mourinho or somebody else on loan. Mourinho might not be there for more than a couple of years.
"That should be of no issue to him and he shouldn't be using that as an excuse in a few years' time that this manager came in and his career stalled."