Republic of Ireland striker Troy Parrott will have no problem adapting to life under new management at Spurs, according to Under-21 national manager Stephen Kenny.
The Spurs forward broke into the first-team squad this season, however, the London club sacked Mauricio Pochettino on Tuesday and swiftly named his replacement at White Hart Lane.
Former Chelsea and Manchester United manager Jose Mourinho has been unveiled as the new man at the north London club, yet future Ireland manager Kenny believes that Irish teenager, Parrott, will adapt accordingly.
"Troy is very adaptable," said Kenny, speaking to RTÉ Sport after his side's impressive 4-1 victory over Sweden at Tallaght Stadium.
"Obviously, goalscorers are rare enough so you have to grasp them.
"Natural instinctive goalscorers, and he has that. I suppose [now he has] a different challenge."
Kenny was delighted by the striker's performance in the victory over Sweden where he was asked to play in two different roles throughout the vital Euro 2021 qualifier.
Parrott started the game in a central role off striker Adam Idah, and then moved to a wide left position for the second half.
Ireland turned around a 1-0 half-time deficit to put in a masterclass second half, where they scored four goals, while Parrott got his name on the scoresheet.
And Kenny revealed that he put in a request for Parrott to return to the Under-21s following Monday's senior international, where he was an unused substitute in Ireland's 1-1 draw with Denmark.
"We put a request in to see the lie of the land if he didn't come on," explained Kenny.
"It's an unusual sort of situation, not one I've been in before. When someone of his ability comes along, you definitely take him, you definitely play him.
"In Sweden, he came on in the number ten position, got two unbelievable goals, nearly got a hat-trick, when a 17-year-old does that, that's special, but tonight was a real team performance.
"His goal was brilliant because he had a lot to do."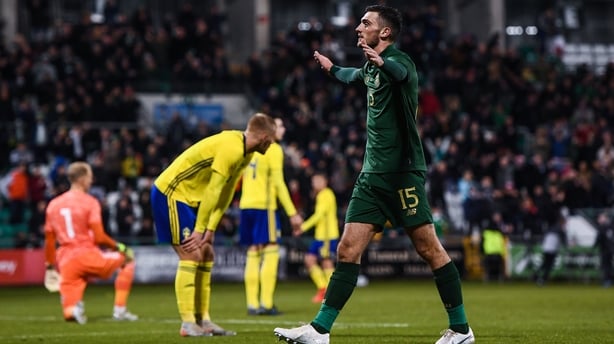 And Kenny believes that Parrott adapted perfectly into his side's shape, coming from club football, where he plays an unorthodox centre forward's role.
"Troy is a number nine. He plays there for Spurs but they have system of play with Harry Kane where you play as a number nine but drop right into midfield all the time and link the play.
"It's unorthodox, not many teams play like that, so Troy is schooled in that way of playing.
"But what he is is a brilliant, brilliant finisher and he has great instincts for getting into goal scoring opportunities and smells his chance.
"And he has a different way of scoring goals, it's great to have that, he's only 17, it's amazing."
The manager explained that Parrott was asked to put in a shift for the team on the left side of attack, which allowed him to bring Conor Ronan on at half-time – a move that really inspired the side to the three-goal victory.
"He had to put in a shift for the team, he had to be selfless tonight. He wouldn't be ecstatic about moving to the left.
"He wouldn't complain either but their right back [Felix] Beijmo is a raider, a good player who gets forward well, he's one of their best attacking players, so Troy had to do that shift up and down.
"But what it allowed us to do was play three quarters of the game on the right…and Troy came in on the left when we had the ball, so we were able to overload that area.
"So the three goals came from the right wing but he was involved in it really for some of the build-up for that on the left."
Meanwhile, Kenny was also full of praise for man of the match Adam Idah, who scored one of the goals, set up Lee O'Connor for another and proved a real threat throughout, most notably in the second half where he caused endless problems in the heart of the Swedish defence.
"Chalk and cheese for Adam tonight," said Kenny.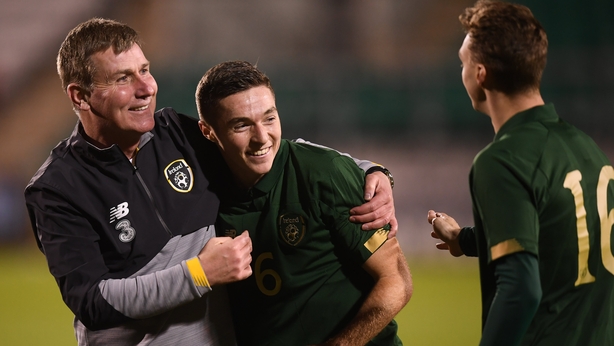 "The first half he was very quiet, their centre-halves were physically big men and he struggled against them.
"The service wasn't great, over-hit passes and under-hit passes and he struggled to get into the game. But in the second half he did much, much better and did great.
"He needed a goal, and goals have been in short supply in recent times. Underage he was a prolific scorer, so I was delighted to see him score, because it has been bothering him that he hasn't scored.
"But he is so quick and has the physical attributes to hold the ball up, and when he is playing regularly, he looks a really, really good player. It is just about getting the level of consistency in his performances."
And Kenny believes that Idah has improved significantly since last summer, as a result of being embedded in the Norwich first team squad, a trade off for not getting to play regularly with the club's Under-23 side.
"He is not playing matches at the moment, and we had to say to him, 'you need to knock on your manager's door and say you want to play Under-23s' and he did that and he played one or two games.
"The way it works over there, once you are part of the first team, you don't always play Under-23s because you are part of the training group, and when you lose your players for two days when they go and play Under-23s, that is two training days…so clubs in general are selfish about that overall.
"I think even since the Toulon tournament, he has got stronger and his hold-up play has got better, and I think that is a benefit of training with the Norwich first team every day.
"So to be fair to Norwich, they have done terrific work with him, it is just not easy for a young player to get in and play in the Premier League, but he has been in and around the first team and for one so young, that is progress."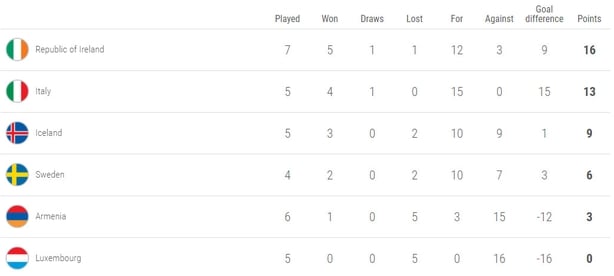 Looking ahead to the rest of the Euro campaign, Kenny's side sit top of the pile, three points ahead of Italy, however, the Azzurri have two games in hand.
Only the group winners qualify automatically for the Hungary and Slovenia-hosted tournament, with one place going to the best runner-up. The other eight second-placed sides will play-off for the remaining four places.
Kenny's side will be pushing to top the group, which could come down to the vital away clash with Italy next October.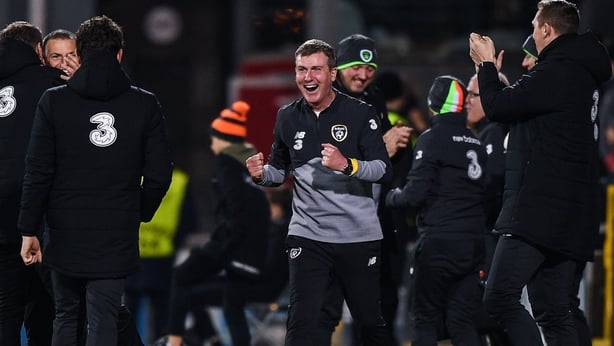 "I think Sweden are a good team," said Kenny.
"They battered Iceland, so for us to go ten points ahead of them…"
"[They have] three matches in hand, but one of those matches is against Italy, so it is a strong position for us to be in. And I think we will go to Italy to win the group in the last game."