There's not a ticket to be had for Friday night's huge First Division showdown between Drogheda United and Shelbourne.
Both clubs have fallen on hard times in recent years - Shels have had just two campaigns in the top flight since 2007 while Drogheda have spent three of the last five seasons in the second tier.
There are reasons for both camps to be optimistic these days however.
The two teams have bright young managers at the helm - Ian Morris (32) at Shels, Tim Clancy (35) with the Drogs - and they've built two formidable, attractive sides.
The mission is simple for Shels: win and the title is theirs; a draw leaves them three clear of the Drogs and requiring a point at home to Limerick in their last match to seal it; a loss would see the hosts go top on goal difference. Drogheda finish their regular season at Bray Wanderers.
This one feels like a cup final. Shels sold out their allocation at the start of the week, while the last of the home tickets were snapped up on Thursday. A crowd of 2,200 is expected.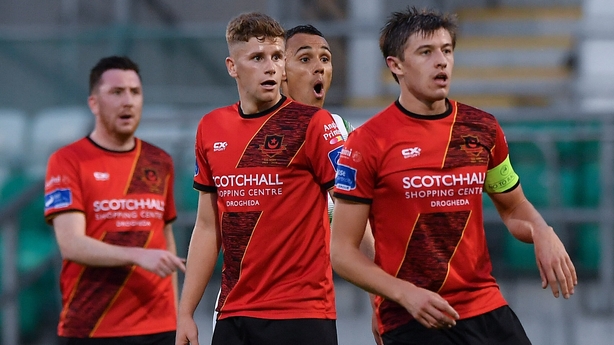 On this week's RTÉ Soccer podcast, two men who've had a foot in both camps cast their eye on the showdown, and the ramifications the result could have for the League of Ireland as a whole.
"It'd be great to see Drogheda get back up, but a club of the magnitude of Shelbourne, who've been so many years out of the Premier Division, it's just amazing that they're not up there," said Mick Cooke, who managed the Drogs for two years between 2011 and 2013 and played for the club in the 70s.
"I would like to see Shels get up, but I'd like to see Drogheda go up as well. I thought when I was at Drogheda we were on the cusp of something. I departed, but they are a club close to my heart.
"I played in cup finals for them managed in cup finals for them... but unfortunately I could have a silver mine at home I've that many runner-up medals. It was nice to be there anyway."
Johnny McDonnell has come as close as anyone to getting Shels back to the Premier Division since they suffered the drop in 2013. He was at the helm in 2014 when they finished second in the First Division but then lost a promotion/relegation play-off against Galway United. McDonnell subsequently left Tolka Park to manage Drogheda for a year.
"The thing with Shels, if they do go up, I just think they'll bring the gates up," he said.
"The fans will come out. You saw the recent game in Dalymount (against Bohs in the FAI Cup). They have a huge, huge core support."
Cooke agreed, but warned that getting out of the First Division is a tricky task.
"It's a peculiar division and it's hard to get out of it. I remember one year with Monaghan there was Sligo, there was Derry, there was Cork Hibs.
"I just feel this year, there was a slight falling off in the interest of the league overall. We need Shels, we need Rovers... something to get the interest up."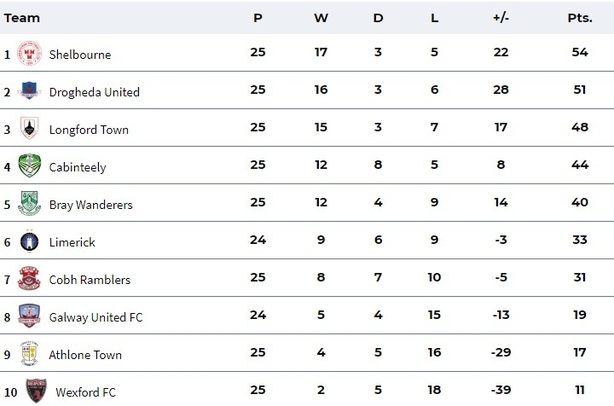 Shels travel up the M1 with a clean bill of health. Morris is only without long-term absentees JR Wilson and Dan Byrne.
They will face the league's top scorers - Clancy's men have netted 57 time this campaign, though they're a little leaky at the back, giving up 28 goals to date.
The hosts have to go for it. With a goal difference six better than Shels, a Drogs win will likely leave them one more victory from the title, unless Shelbourne rack up a huge winning tally against Limerick.
Whoever misses out will have the safety net of the play-offs, but with glory in touching distance, both will have eyes only on that league crown. Expect a belter.
Listen to the RTÉ Soccer podcast on Apple Podcasts, SoundCloud, Spotify or wherever you get your podcasts.